4 New Lawsuits: Priest Took Boys" Nude Photos, Groped Them
By Haidee V Eugenio
Pacific Daily News
September 28, 2017

http://www.guampdn.com/story/news/2017/09/28/4-new-lawsuits-priest-took-boys-nude-photos-groped-them/711254001/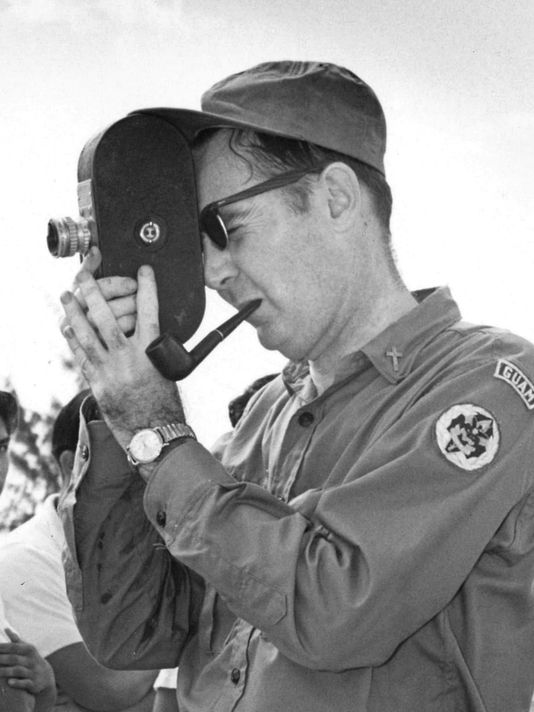 In this Pacific Daily News file photo dated Aug. 15, 1965, Louis Brouillard is shown filming footage in an outdoor setting. In the full frame of the picture, which is cropped, boys, some in Boy Scouts uniforms, stand around Brouillard.



Former priest Louis Brouillard took nude photos of boys, groped them, touched their private parts, and induced them to read adult magazines in exchange for food treats and merit badges, according to four lawsuits filed in local court on Wednesday and Thursday.

Brouillard is accused by plaintiffs identified in court documents only as R.C., L.P., M.M., and F.P., all represented by attorney Michael Berman.

The men, now in their early 50s, demand a combined total of $30 million in minimum damages.

They alleged that Brouillard sexually abused and molested them in the 1970s when they were minors and serving as altar boys and/or members of the Boy Scouts of America. They said Brouillard would walk around them naked.

Two of the four boys said Brouillard would encourage them and others to read adult magazines such as Penthouse and Playboy so that they would be an easy prey for the priest.

One of the boys, L.P., said in his lawsuit that the priest encouraged him and other boys to smoke tobacco products.

All four said in their lawsuit that the priest would treat them to McDonald's or other restaurants for swimming naked.

"He would also take pictures of the boys as they were nude and swimming, without their consent," one of the lawsuits says.

The four cases bring the number of Guam clergy sex abuse lawsuits filed in local or federal court to 125 as of Sept. 28.

All of these lawsuits named the Archdiocese of Agana as a defendant, while many also named the Boy Scouts of America and its Aloha Council Chamorro District, along with former and current priests, other clergy and others.

Brouillard's deposition

Attorney David Lujan told Superior Court Judge Michael J. Bordallo during a different case on Thursday that he will be traveling to Minnesota next week for Brouillard's deposition.

Brouillard is the only accused clergy member to admit publicly to sexually abusing minor children when he was on Guam. He has been accused by 75 former altar boys, former Boy Scouts and others, of sexually abusing, molesting or raping them.

Lujan represents all plaintiffs in clergy sex abuse cases filed in federal court.

Brouillard was ordained as a priest on Guam in 1948 and left in 1981 for Minnesota, where he continued to serve as a priest. In 1985, the Diocese of Duluth removed him from practicing as a priest after he was credibly accused of sexual abuse.

In 2013, the diocese released a list of former priests who had credible accusations against them, and Brouillard was on the list. The archdiocese on Guam continues to send a monthly $550 check to Brouillard, some 36 years since he left the island.

Reporter Haidee Eugenio covers Guam's Catholic church issues, education, business and more. Follow her on Twitter @haidee_eugenio. Follow Pacific Daily News on Facebook/GuamPDN and Instagram @guampdn.

PDN reporter Jasmine Stole contributed to this report.