St. Louis Priest Settles Part of Civil Case against Accuser and Clergy Abuse Survivor's Group
By Robert Patrick
St. Louis Post-Dispatch
October 10, 2017

http://www.stltoday.com/news/local/crime-and-courts/st-louis-priest-settles-part-of-civil-case-against-accuser/article_a4276ba8-954f-5c35-9e87-8d7b36763894.html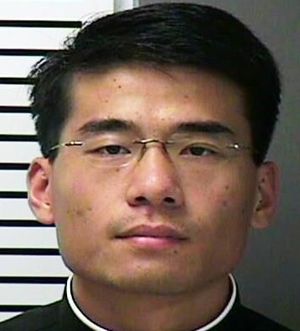 Rev. Xiu Hui "Joseph" Jiang



A Roman Catholic priest has settled part of a federal lawsuit he filed against the mother of a boy who accused him of abuse, the group that supported the accuser and police, court filings Tuesday say.

In a filing in U.S. District Court in St. Louis, a lawyer for the Rev. Xiu Hui "Joseph" Jiang wrote that the case had been settled with Survivors Network of those Abused by Priests, or SNAP, and SNAP officials, and that Jiang and the mother of his former accuser had "reached an agreement in principle."

The formal dismissal of that part of the case should be filed before Oct. 23, Jiang's attorney Neil Bruntrager wrote.

Bruntrager declined to comment Tuesday. Lawyers for SNAP did not return messages seeking comment.

Jiang filed the federal lawsuit in 2015, less than two weeks after criminal charges filed against him in St. Louis were dropped.

The charges claimed he'd sexually abused a boy in a bathroom of St. Louis the King school, the elementary school at the Cathedral Basilica of St. Louis.

The lawsuit says the abuse allegations were false and destroyed Jiang's life. Jiang was treated unfairly because of religious and ethnic discrimination, denied due process by police, who failed to properly investigate the case, and defamed by SNAP, the suit says.

Pause

Current Time 0:00

/

Duration Time 0:00

Stream TypeLIVE

Loaded: 0%Progress: 0%0:00

Fullscreen

00:00

Mute

Last year, U.S. District Judge Carol Jackson ruled that because of SNAP's failure to turn over evidence about people making allegations against Jiang, she would consider it established that SNAP conspired against Jiang and defamed him.

In May, Jackson ordered SNAP to pay $25,100 toward Jiang's attorney fees. Jackson has also ruled that the accuser's parents failed to turn over discovery to Jiang's lawyers.

The case continues against police defendants. A lawyer for the police declined to comment Tuesday.

Criminal charges against Jiang in an unrelated case in Lincoln County were dropped in 2013.

His accuser then filed a civil suit, claiming Jiang molested her under a blanket in 2012, when she was 16.

Jiang denied that at trial, and a jury found in favor of Jiang and the archdiocese. A judge ordered the woman to pay $29,200 in legal expenses to Jiang and $19,316 to the St. Louis Archdiocese.

Jiang came to the United States from China in his 20s to pursue the priesthood and was sponsored by St. Louis Archbishop Robert Carlson. Jiang served as a deacon in Michigan before coming to St. Louis with Carlson in 2009.