St. Pius First Nm Stop for Perrault
By Olivier Uyttebrouck
Albuquerque Journal
October 20, 2017

https://www.abqjournal.com/1080959/church-records-show-1970-abuse-allegation-roiled-st-pius.html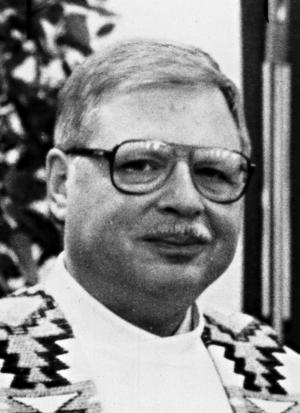 Arthur Perrault



St. Pius X High School leaders were hit with a "bombshell" in 1970 when they were told of allegations of sexual abuse against the Rev. Arthur Perrault, a teacher at the Archdiocese of Santa Fe's flagship high school.

Those allegations remained secret for decades, but documents released this week pull back the curtain on how those school leaders and the archbishop responded.

And the documents show that, once again, a priest was simply moved to another post where he had access to new victims. They also show that Perrault was sent to St. Pius in the first place as a "good test period" to allow the archbishop to observe the 20-something priest after he was released from a Jemez Springs center that treated pedophile priests.

The father who made the allegation warned the board member that if Davis took no action, he would file a "sodomy suit" against the archdiocese, according to the deposition.

The threat prompted the board member to seek a private meeting with the archbishop, where he told Davis that the archdiocese faced a lawsuit if Perrault remained at St. Pius.

"I remember to this day what Archbishop Davis did," the board member recalled. "He put his right arm on my shoulder and said, 'We can't have that. I'll honor my commitment.' " Three days later, Perrault was dismissed from St. Pius.

Davis then authorized Perrault to work as chaplain to the student community the University of Albuquerque, a now-defunct Catholic college operated by the archdiocese.

Jemez Springs

The incident at St. Pius was not the first time, nor the last, that allegations of Perrault's sexual attacks on boys would reach the ears of an archbishop of Santa Fe.

Perrault had been accused of sexual attacks before he arrived in New Mexico in January 1966.

The Archdiocese of Hartford, Conn., where Perrault was ordained in 1964, ordered him to undergo treatment at a facility in Jemez Springs operated by the Servants of Paraclete. The now-closed Via Coeli facility received priests from across the U.S. accused of sexually molesting children.

Perrault, then 28, was sent to Jemez Springs after "two alleged incidents of homosexual approaches to some of the young men with whom he was working," in Connecticut, Via Coeli psychologist John Sanchez told Archbishop Davis in a 1966 letter.

Despite the allegations, Davis assigned Perrault to a teaching post at St. Pius X High School less than three months after he arrived at Jemez Springs.

The psychologist recommended that Davis accept Perrault to the Archdiocese of Santa Fe and "keep him at either the high school or college level." The assignment at St. Pius would provide "a good test period" that would allow Davis to observe Perrault's behavior outside Via Coeli, he wrote.

Never charged

Court records show that Perrault is accused of sexually abusing 38 children during his years in New Mexico.

Of those, 11 alleged attacks occurred during Perrault's tenure at St. Pius High School from 1966 to 1970. The alleged attacks occurred at St. Pius, in Perrault's home, or at two churches where he worked on weekends.

He has never been charged with a crime.

Letters written in the early 1980s show that later allegations against Perrault prompted then-Archbishop Robert Fortune Sanchez to order that he undergo a psychological evaluation.

That evaluation found that Perrault "acted out his homosexual orientation only with youngsters and has never had an ongoing, adult homosexual relationship," psychologist Joseph VanDenHeuvel told Sanchez in a June 1981 report.

The psychologist said Perrault "made mention of the fact that he had 'been in trouble' because of illicit sexual activities with students," VanDenHeuvel told the archbishop.

St. Bernadette

The psychologist described the 6-foot-tall, 220-pound Perrault, then 43, as being "characterized by immaturity, excessive self-centeredness, dependency and a basic passivity" with an impaired ability to form "lasting, satisfying relationships with others."

VanDenHeuvel recommended that Perrault receive ongoing psychological counseling, but made no recommendations about his work as a priest.

Just seven months after receiving the report, Sanchez assigned Perrault to a pastoral post at an Albuquerque parish.

"I am pleased herein to assign you to St. Bernadette Parish for weekend assignment to assist the pastor," Sanchez told Perrault in a Jan. 6, 1982, letter.

"Thanking you, Father Arthur, for your service to the good people of St. Bernadette Parish, and to the Pastoral Center, while wishing you all the Lord's Blessing throughout this New Year," Sanchez wrote.

Perrault became the pastor at St. Bernadette in 1985 and remained there until he fled New Mexico in 1992, just days before an Albuquerque attorney filed a lawsuit alleging that he sexually assaulted seven children.

Perrault turned up last year in Morocco working at an English-language school for children, from which he was subsequently fired. It is not clear where he is now.