Brouillard Cooperative, Making an Effort to Answer Difficult Questions
By Haidee V Eugenio
Pacific Daily News
November 1, 2017

http://www.guampdn.com/story/news/2017/11/01/shell-deposition-begins-priest-who-admitted-sexually-abusing-guam-kids-suggested-call-around-6-7-am/816503001/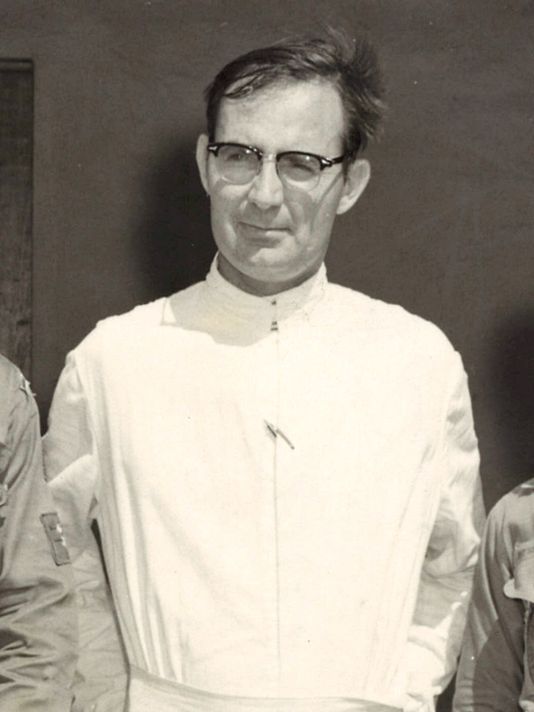 Father Louis Brouillard is shown in an undated photo from the Pacific Daily News archives.



Former island priest Louis Brouillard was cooperative and appeared to make an effort to answer difficult questions during the first day of his deposition in Minnesota, according to one of the attorneys involved in the dozens of lawsuits accusing Brouillard of child sex abuse.

Brouillard, who has admitted to abusing boys decades ago on Guam, this week is providing additional sworn evidence related to more than 80 lawsuits accusing him of sexually abusing or raping Guam children. As of this week, Brouillard is named in 87 lawsuits.

Seattle-based attorney Steven T. Reich, a partner at the law firm Pfau Cochran Vertetis Amala, said Brouillard has a "fairly decent memory, despite being 96 years old."

Brouillard, "appeared to make an honest effort to answer the difficult questions put to him," Reich said after the first day of Brouillard's deposition, which lasted three hours. The deposition is in Pine City, Minnesota, where Brouillard now lives.

All the parties agreed to depose Brouillard for three hours a day, until Friday, Nov. 3, Reich said.

Brouillard was a priest on Guam from 1948 until 1981, and also served as a scoutmaster for the Boy Scouts of America.

Altar boys were encouraged to also join the Boy Scouts, and many of the lawsuits state Brouillard abused boys while on Boys Scouts outings, often while Brouillard and the boys were swimming.

Reich declined to provide details about what Brouillard said during his deposition because it is not public record at this time.

Reich, whose law firm is working with Guam-based attorney Kevin Fowler to represent clergy sex abuse survivors, said the deposition happened at a community center in Pine City.

Reich said Brouillard was accompanied by his attorney, Thomas Wieser, of the law firm Meier, Kennedy and Quinn, based in St. Paul, Minnesota.

Attorneys for three other plaintiff groups were present for the deposition, as was the counsel for the Archdiocese of Agana and the Boy Scouts of America, Reich said.

Reich said he's the only one from his law firm present, and will be in Minnesota until the deposition is completed.

Hawaii-based attorney Randall Rosenberg said attorney Lee James, of the mainland-based James, Vernon and Weeks, is attending the deposition in Minnesota. Rosenberg and James are working with Guam attorney Anthony Perez to represent clergy sex abuse plaintiffs.

Guam attorney Michael Berman, also representing clergy sex abuse victims, said one of their attorneys, Philip Okney, is at Brouillard's deposition.

Attorney David Lujan, representing all plaintiffs for cases filed against Brouillard in federal court, is also in Minnesota for the deposition.

Archbishop Michael Jude Byrnes has said archdiocese counsels John Terlaje and Michael Patterson, from Seattle, will be at the deposition.

As of Tuesday, more than 140 Guam clergy sex abuse lawsuits have been filed in local and federal courts against the Archdiocese of Agana, priests, and others associated with the Catholic Church, along with the Boy Scouts of America.

The parties have been pursuing mediation in an effort to settle the cases out of court. The archdiocese has revised its policies to protect young people, and created a program to provide counseling, treatment and compensation.

In phone interviews and a signed affidavit last year, Brouillard admitted to sexually abusing more than 20 boys on Guam and offered his apologies to the boys he may have harmed.

Brouillard said, in his written affidavit, that Guam church officials at the time, including Bishop Apollinaris Baumgartner, knew about his activities and asked him to pray. He was ordained as a priest on Guam in 1948.

Despite Guam church officials reportedly knowing about Brouillard's abuses while on island, Brouillard continued to serve as a priest in Minnesota, from 1981 to 1985, when he was removed from active ministry. In 1987, he retired in Pine City, where he still lives.

In 2013, the Diocese of Duluth released a list of priests with credible allegations of child sexual abuse while serving in the diocese. Brouillard's name is on that list.

Three recently filed lawsuits accuse Brouillard of continuing to abuse Guam boys while in the mainland, by flying them out to Minnesota in the early 1980s.