Revered South Bay Monsignor Accused of Covering up Sex Abuse

By David Rosenfeld
Beach Reporter
November 9, 2017

http://tbrnews.com/news/redondo_beach/revered-south-bay-monsignor-accused-of-covering-up-sex-abuse/article_5c562fc6-c0f8-11e7-a417-b30025dfd442.html




For 22 years, until 2003, Monsignor Michael Lenihan led the congregation at St. Lawrence Martyr Catholic Church in South Redondo Beach where he continued to live until his death in 2011. By most accounts the Irish-born Lenihan was a revered spiritual leader.

Now, an attorney handling a child sex abuse case against former St. Lawrence priest Chris Cunningham claims Lenihan knew the priest was accused of sexual assault before Cunningham arrived at the Redondo Beach parish in 1998. The lawyer also said he has a witness prepared to testify that Lenihan was notified about the incident involving a child at St. Lawrence school before Cunningham was transferred to another parish in 2001 where he allegedly continued to molest young boys.

The St. Lawrence alleged victim was recently added to a 2015 case against Cunningham and the Archdiocese of Los Angeles for molestation reportedly committed at St. Louise de Marillac in Covina. That was Cunningham's next post after the Redondo Beach parish.

According to a lawsuit filed in Los Angeles County Superior Court, the sexual assaults occurred when the victim was 12 and 13 years old, attending St. Lawrence Martyr School. He is now 31. Cunningham was 26 at the time.

The victim's attorney, Anthony DeMarco, said the incidents occurred more than once in the rectory and on school grounds, during school hours when the child was isolated.

While he would not yet provide details of the accusations against former associate pastor Cunningham, DeMarco said the former priest's conduct was "undeniably sexual."

DeMarco said Lenihan, Cunningham's superior at the time, knew about the allegations and helped transfer Cunningham to other parishes where similar abuse is alleged.

"Guys like Cunningham can't do what they do if those in charge around them were really looking out for the kids," DeMarco said. "Instead of doing that, it appears Monsignor Lenihan was looking out for the brotherhood of clergy."

One former church employee at St. Lawrence said she witnessed Cunningham take a group of teenage boys up to the rectory. She reported it to Lenihan because she "didn't think it was right," according to a statement she provided the court.

She suspected Cunningham of being sexually inappropriate with children and said that after she reported her observations to Lenihan, Cunningham was never the same around her.

"Chris (Cunningham) never interacted the same with me, not even looking me in the eyes," the witness said according to a statement. "Thereafter, I noticed that he would leave in any situation where I arrived to find him interacting with children."

St. Lawrence Martyr School began in 1956 serving close to 300 students in preschool through grade eight. Today, roughly the same number of students are currently enrolled in the school comprised of 10 classrooms on church grounds in South Redondo Beach.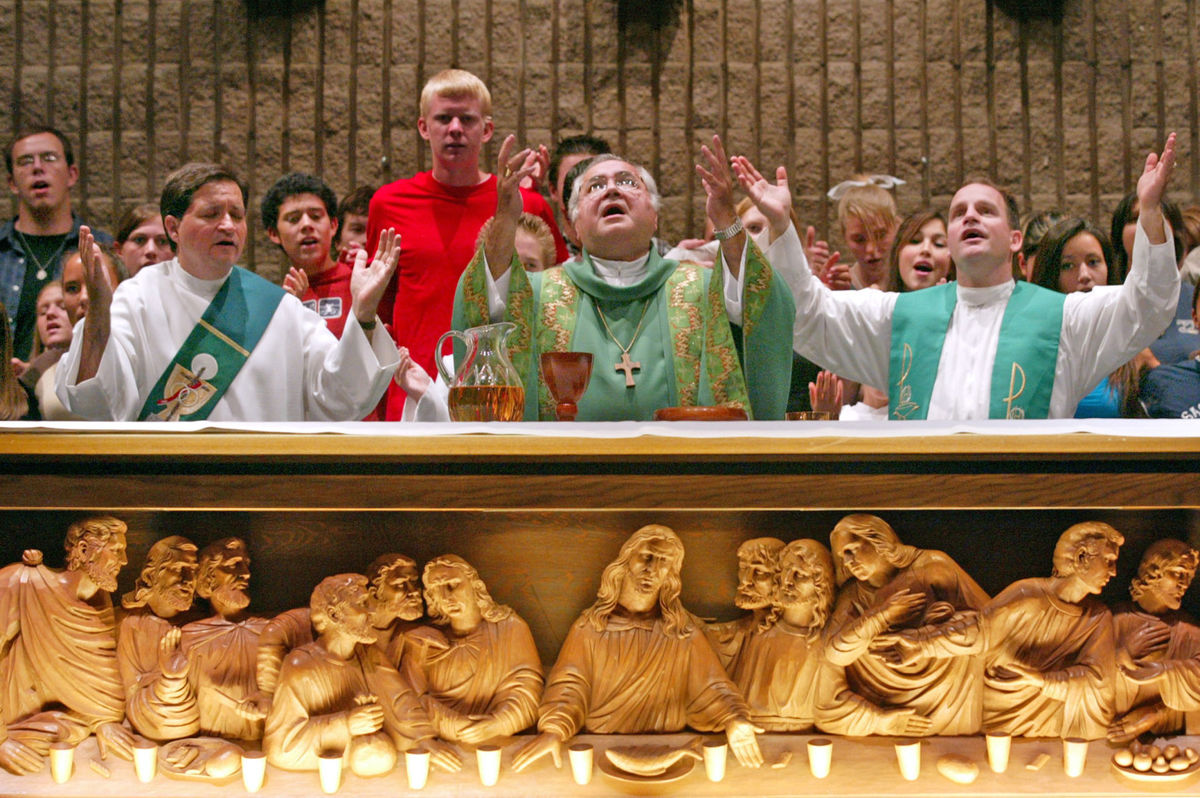 Deacon Al Valles, left, Bishop Gabino Zavala and Pastor Chris Cunningham raise their arms during the breaking of the bread while surrounded by all teenagers in attendance at Sunday night (September 21, 2003) mass at St. Louise de Marillac Church in Covina. (Photo by Jennifer Cappuccio/Freelancer/SVCITY)



A 'well-liked' pastor

Current head pastor, Monsignor Paul Dotson, who arrived to St. Lawrence in 2002, expressed compassion toward alleged victims but said he had no personal knowledge of any abuse. Since about 2004, in accordance with the Archdiocese of Los Angeles, the school maintains strict procedures for dealing with suspected child abuse cases in which all church and school employees are trained, Dotson said.

"If I have some suspicion, even if I know the person and may not believe it, I have to report it," Dotson said.

"I'm sorry for anything that's happened," he continued. "I told people if they know anything, obviously they should say something. Our number one goal is to see that our children are protected on all levels, spiritually and physically. Everyone here is very much dedicated to that."

An attorney for Cunningham has denied any sexual misconduct. Robert Flummerfelt of Canon Law Services, which is representing Cunningham, said in an email the former priest denies the allegations.

"Chris firmly denies these allegations fully—he has NEVER sexually abused anyone," Flummerfelt wrote. "Our office will defend him fully on this matter."

Rene Ayala, a longtime church member who still works at St. Lawrence as a children's minister, said that Cunningham grew up in Redondo Beach attending the church as a child along with his extended family.

"I was not aware of any untoward behavior," Ayala said.

Kathy Carell, who attended mass at St. Lawrence while Cunningham was there, said she remembers the young associate pastor for his spirited sermons. In fact, Cunningham's sermons were the reason she attended St. Lawrence even though it was further from her house than two other churches.

"I just liked his sermons," Carell said. "I liked the way he spoke."

She said Cunningham, as a young pastor, had a certain charisma about him.

"I remember I was really surprised when he left," she said.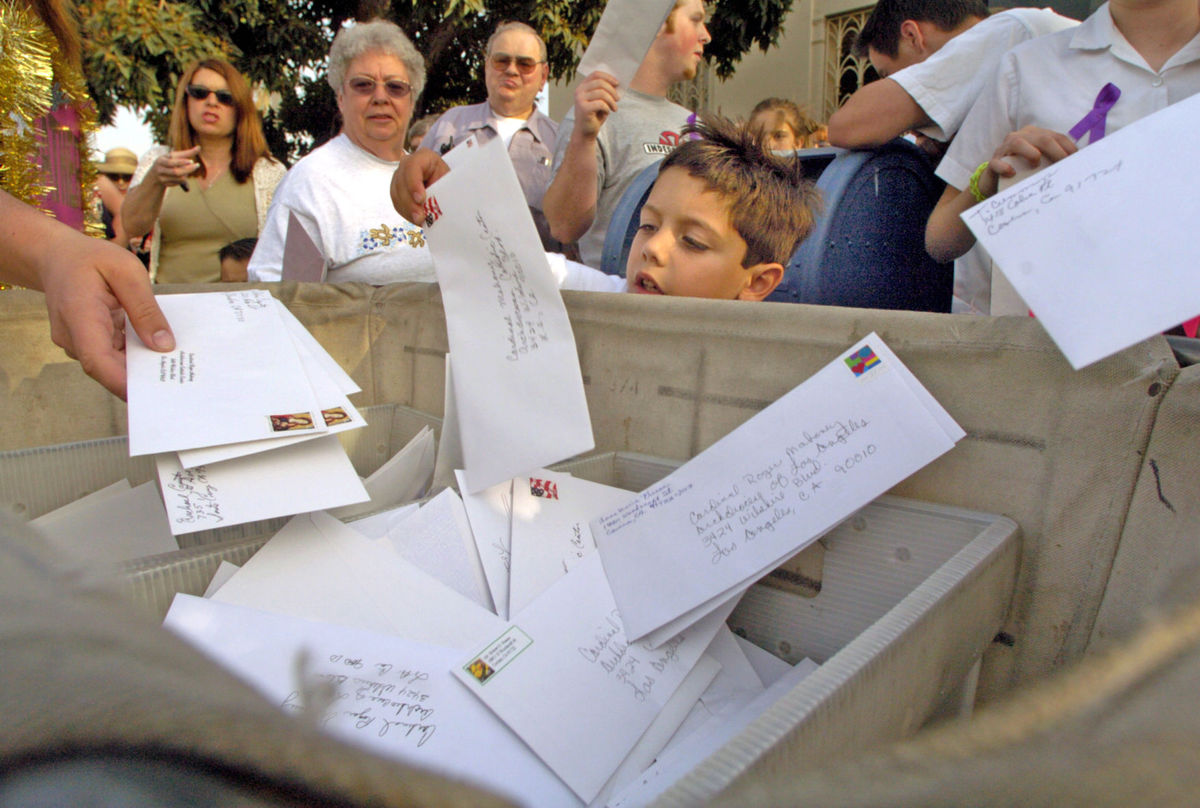 Brandon Roman, 5, who attends kindergarden at St. Louise de Marillac Catholic Church, plays with letters addressed to Cardinal Roger Mahony asking for the return of Father Chris Cunningham, as parishioners mail them in front of the Covina Post Office on Monday, March 22, 2004. (San Gabriel Valley Tribune/Staff photo by Bernardo Alps/SVCity)



Pattern of behavior

At each of the parishes that Cunningham served before and after coming to St. Lawrence, people reported suspicious behavior with young boys that included one-on-one outings, taking them up to the rectory, wrestling with them and being overly touchy.

Before arriving at St. Lawrence, Cunningham served from 1994 to 1998 at St. Mary's Catholic Church in Palmdale where it is alleged Cunningham sexually assaulted a minor, according to court records.

In one incident at St. Mary's, a witness described seeing Cunningham pin a child face down on the ground with the boy's legs spread. Cunningham was kneeling between the boy's legs and holding him down, according to court records.

In 2001, Cunningham was transferred without explanation from the Redondo Beach parish to St. Louise in Covina. It's alleged he sexually molested at least three other teenage boys there until 2004, according to DeMarco's lawsuit.

One person reported seeing the priest frequently leaving the parish parking lot with a couple of boys in his car, leading groups of kids into the rectory and walking alone with a boy on a number of occasions. The same witness said Cunningham's continued touching of young boys seemed "creepy," according to court records.

Another witness from St. Louise reported seeing the priest kissing two young boys at a local Denny's. One of the boys later admitted the incident to officials at the church, according to court records.

Cunningham was then transferred to Our Lady of Assumption Catholic Church in Ventura.

Within a month of his 2004 arrival in Ventura, Cunningham took a group of teens to Europe for World Youth Day. During the trip, one of the volunteers reportedly discovered him in a room alone with one of the boys. Cunningham was holding the child's belt in his hand, according to court records. It was shortly after the trip, following an alleged report to the head priest, that Cunningham took a leave of absence from the ministry and never returned.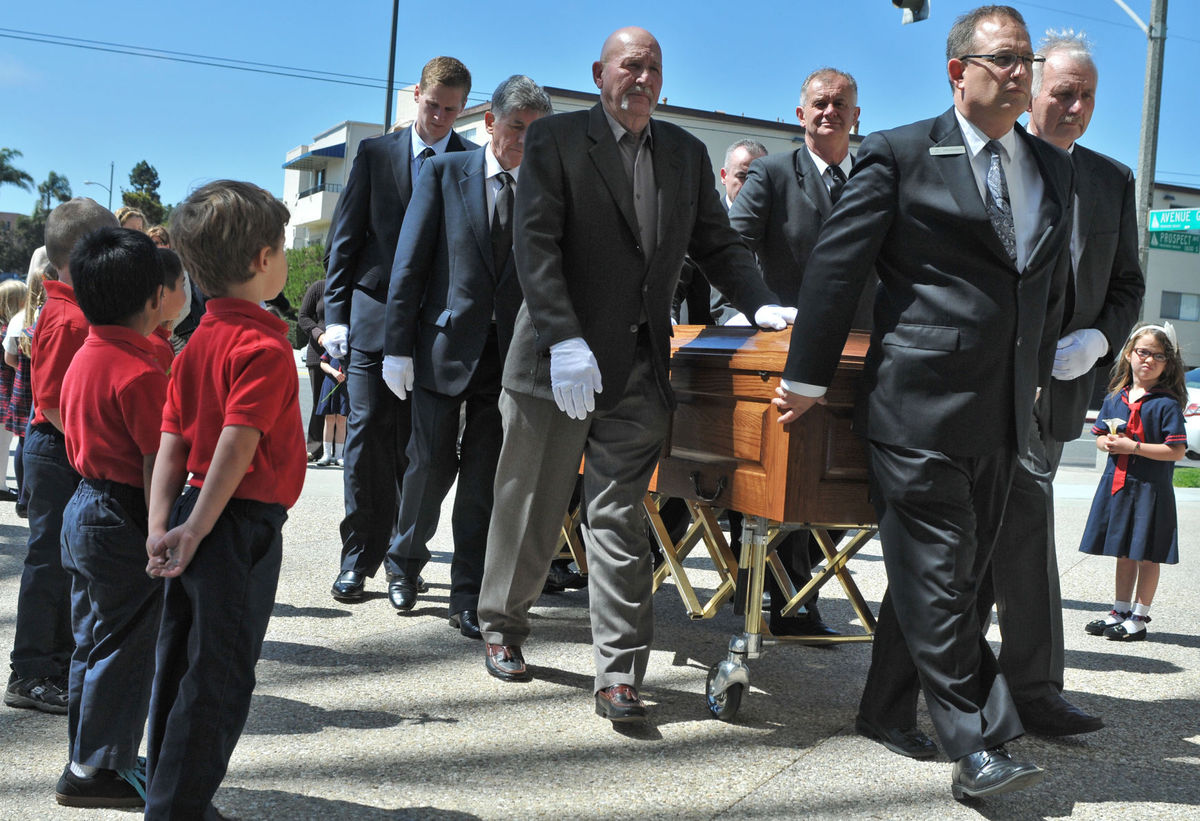 A procession lined by students returned the body of Msgr. Michael Lenihan to his home St. Lawrence Martyr Parish in Redondo Beach Monday morning March 28, 2011.



What did Lenihan know?

As details of the sex abuse case at St. Lawrence came to light, the question has emerged: What did Lenihan and other church leaders know and when did they know it?

In the more than two decades that Lenihan served at St. Lawrence Martyr, he presided over hundreds of weddings, funerals and First Communions in the South Bay. During his funeral in 2011, his casket was wheeled down Prospect Avenue in a procession with hundreds of mourners lining the street.

"People loved him," said Jim Eganatuk, a deacon at St. Lawrence who oversees the homeless outreach ministry.

Before arriving at St. Lawrence, Cunningham had reportedly been disciplined at two former parishes. A 1999 letter to Cunningham from Monsignor Richard Loomis, chief vicar to Cardinal Roger Mahony, indicates Lenihan knew about the prior allegations at St. Mary's Catholic Church in Palmdale a year earlier.

"In speaking with Monsignor Lenihan the other day, he volunteered to me that you had spoken with him about the situation I had to look into in Palmdale," Loomis wrote in a document that is part of the court file. "It was clear from what he said that you had spoken with him about the situation. He told me that you felt that some 'cloud' hung over you from that situation."

The incident that eventually preceded his transfer from St. Mary's to St. Lawrence Martyr in 1998 was never revealed. But, Cunningham reportedly admitted in a deposition taken by DeMarco that it involved alleged sex abuse. Loomis, in 1999, wrote to assure Cunningham that incident would be kept quiet.

"As I told you at the time, there is a need to keep a record of the report, my investigation, and your denial," Loomis wrote to Cunningham in 1999. "This is kept in a locked, confidential file separate from the regular file showing your service to the Archdiocese. There is very limited access to this file."

The exact contents of that report have never been made public, said DeMarco, who has sued the archdiocese dozens of times over child sex abuse cases representing more than 400 victims.

Loomis, meanwhile, has been accused of at least three sexual misconduct incidents stemming from the 1970s and 1980s, one of which was settled. Loomis continued to work in the ministry until earlier this year when he retired. Shortly after announcing his retirement, the archdiocese issued a statement in April 2017 that a third incident against Loomis alleging sexual misconduct from the mid-1980s had surfaced.

While at St. Mary's, Cunningham was observed taking young boys up to the rectory late at night and taking them on one-on-one outings for ice cream or to the movies, according to court records. After a complaint to the pastor at St. Mary's, Cunningham was reportedly told not to be alone with any of the children.

In an evaluation, one pastor wrote of Cunningham at St. Mary's that he was "immature," which has been code among the clergy for years to describe a priest who spends too much time with minors and could possibly be sexually abusing them, according to court records.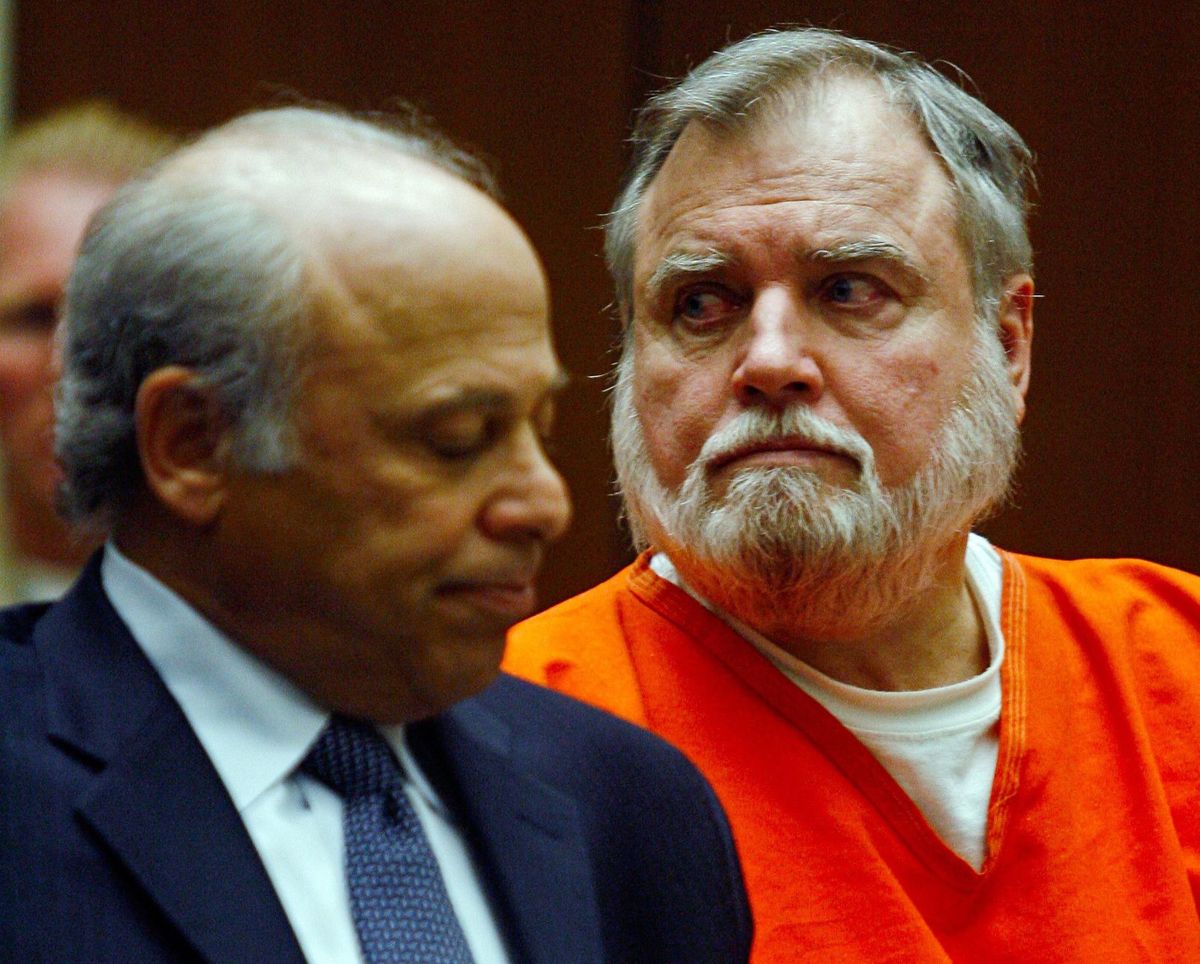 Michael Stephen Baker, right, a former Catholic priest accused of molesting a number of boys over the past 20 years pleads guilty to sexually abusing two boys listens to his victim's testimony Monday, Dec. 3, 2007, after been sentenced to 10 years in prison during a court appearance at Los Angeles Superior Court. At left, is his attorney, Leonard Levine. (AP Photo/Damian Dovarganes)



History of covering up

While he built his reputation as a South Bay spiritual leader from 1981 to 2003, Lenihan, the St. Lawrence monsignor, was advocating for another suspected abuser priest.

Lenihan maintained a personal friendship with Michael Baker, a former priest accused of molesting 23 boys who in 2007 pleaded guilty to molesting two young boys in a criminal case. In a 2005 deposition, Lenihan said he had known Baker since the 1980s and the two spoke together about once a year.

In 1986, Baker first admitted to Archbishop Roger Mahony of having a sexual relationship with two young men from 1978 to 1985. In February 1987, Lenihan wrote to Rev. Thomas Curry, vicar for clergy at the time, to ask that Baker not be transferred to New Mexico and instead brought to St. Lawrence, an appeal that was ultimately denied.

"About a month ago I had a letter from Mike Baker regarding his stay at Jemez Springs and all the reasons for this situation, etc … We have always been very good friends and I have been very interested in his career," Lenihan wrote to Curry based on a document revealed in a 2013 public records release. "I am very aware that the present location of Mike is top secret and I'm not for telling anybody around here or elsewhere."

Baker was subsequently allowed to continue working in the church until 2000.

In the 2005 deposition, long after revelations about Baker had been made public, Lenihan said he never asked his old friend during their discussions about any of the sexual abuse charges. He also said he never received any communications from the chancery office regarding any priests within the region accused of sexual abuse.

"Leading up to the deposition, I was hearing from a variety of people that you will get the truth out of Monsignor Lenihan," DeMarco said. "He is a really stand-up person. But it was one of my prime examples for when I would get them into a deposition and the priests would lie."

Attorneys investigating other cases of priest sexual abuse in 2005 also accused Lenihan of lying in a deposition. That year, according to an LA Times article, Lenihan was forced to answer questions about Baker as well as his nephew John Lenihan, also a Catholic priest who had his own sexual misconduct scandal.

John Lenihan reportedly had sexual relations with two teenage girls starting in 1978. One of those girls received a $1.2 million payment in 2003 from the church after accusing the priest of impregnating her and paying for an abortion. The other case was settled in 1990 with Lenihan agreeing to undergo therapy. John Lenihan was removed from the priesthood in 2003, according to the Times.

Dotson, the current Monsignor at St. Lawrence who lived with Lenihan on church grounds until his death in 2011, said accusations of dishonesty did not fit the man he knew. He remembered Lenihan as a hard worker who cared very much about people.

"His motto was to care for people," Dotson said. "I'm sure he wouldn't willingly have done anything that would put anybody in danger."

Pending cases

In addition to Redondo Beach, two other victims were recently added to the 2015 case against Cunningham and the archdiocese stemming from his service in Palmdale and West Covina before he worked at St. Lawrence. A related lawsuit in 2017 was also filed against Cunningham on behalf of an additional victim at St. Louise, who was too old at the time of the filing to be included in the original case, DeMarco said.

All told, five victims who were allegedly abused between the ages of 10 and 15 are prepared to testify against Cunningham and the Archdiocese of Los Angeles if the case goes to trial in December. The 2015 case would be the first in Los Angeles County to go to trial over alleged sex abuse by a priest after the archdiocese settled scores of cases over the past 10 years for nearly $1 billion.

Each of the victims has reported the incidents to police, according to DeMarco, but so far no criminal charges have been filed against Cunningham. According to online records, the former priest is working as a licensed clinical psychologist in Rhode Island specializing in youth counselling.