Priest Made Boys Walk from Agana to Mangilao for Refusing to Swim Naked
By Haidee V Eugenio
Pacific Daily News
November 10, 2017

http://www.guampdn.com/story/news/2017/11/10/lawsuit-priest-made-boys-walk-agana-mangilao-refusing-swim-naked/850822001/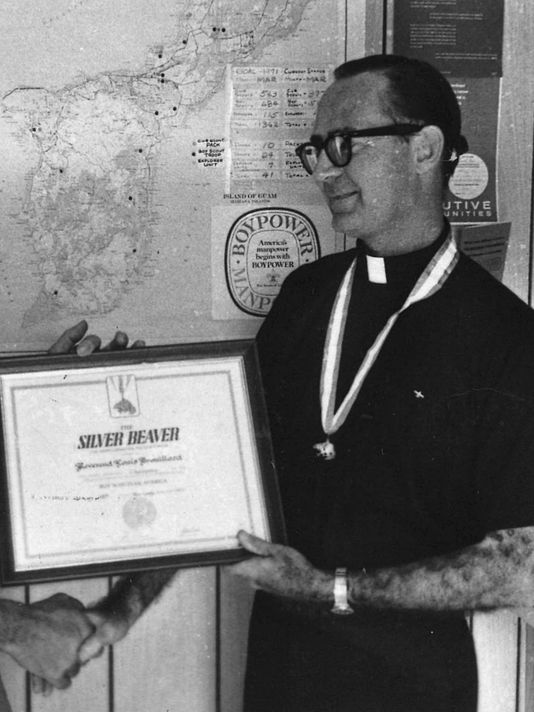 Father Louis Brouillard is shown in this undated Pacific Daily News file photo receiving a Silver Beaver award for his scouting hierarchy from a Navy captain.



Father Louis Brouillard, around 1964, allegedly made young boys walk from Agana Springs to Mangilao after they refused to swim naked, and subjected them to repeated sexual abuse at the Mangilao parish, according to a lawsuit filed Thursday in federal court.

A plaintiff, identified only as B.F. in court documents to protect his privacy, filed a $10 million clergy sex abuse lawsuit against the Archdiocese of Agana, the Boy Scouts of America, Brouillard and scout leader Edward Pereira, along with up to 50 others.

B.F., represented by attorney David Lujan, said he was about 10 to 11 years old when Brouillard, also a scout master, and Pereira, sexually abused and molested him.

Now 63, B.F. said in his lawsuit that while he never officially became an altar boy and a member of the Boy Scouts, Brouillard allowed him to be a "back-up" altar boy and participate in Boy Scouts outings.

"On many occasions, over a two-year period, B.F. was sexually molested and abused by Brouillard while hanging out inside the rectory," the lawsuit states.

These include Brouillard subjecting B.F. and his friends to his presence walking around naked, and routinely instructing them to remove their clothes and sit on his lap, the lawsuit states. When B.F. and others sat on his lap, Brouillard would further abuse and molest them, and force them to perform sexual acts on the priest, the lawsuit states.

During Boy Scouts outings, Brouillard would also grope B.F. and other boys, the complaint states.

"On two occasions at Agana Springs, B.F. and a few of his friends refused to remove their clothes, and Brouillard made them walk home to Mangilao," the lawsuit states.

From about 1964 to 1965, Pereira also routinely groped B.F., outside of his clothing, while hanging out at the Mangilao parish, the complaint states.

The lawsuit also states Archdiocese of Agana clergy, including the now-deceased Bishop Apollinaris Baumgartner and Archbishop Anthony S. Apuron knew about Brouillard's activities but remained quiet.

B.F. is the 143rd person to file a clergy sex abuse lawsuit against the archdiocese, priests and others associated with the Catholic Church.

Brouillard, now 96, is the only accused Guam clergy who has admitted to sexually abusing children while he was on island. He was recently deposed in Pine City, Minnesota, in connection with the nearly 90 lawsuits filed against him.

Plaintiffs, the church the Boy Scouts and other defendants are working on a proposed mediation to resolve the cases instead of going to trial.