Jury Process Begins in Ex-priest's Cold-case Murder Trial
By Erik De La Garza
Courthouse News Service
November 15, 2017

https://www.courthousenews.com/jury-process-begins-ex-priests-cold-case-murder-trial/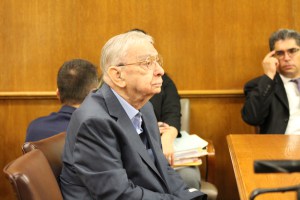 Former priest John Feit sits in court on Sept. 11 in Hidalgo County, Texas. (ERIK DE LA GARZA, Courthouse News Service)



Hundreds of potential jurors streamed through a South Texas courthouse auditorium Tuesday for the trial of a former Catholic priest charged with the 1960 murder of a local beauty queen, his former parishioner.

It's been a long, slow road to trial for 84-year-old John Feit, whose cold-case murder trial has been delayed at least twice this year.

Feit emerged as the prime suspect in the Easter weekend rape and murder of McAllen schoolteacher Irene Garza in 1960, but was not charged until 56 years later, when a new district attorney launched a fresh investigation.

Feit's attorneys on Monday asked Hidalgo County Judge Luis Singleterry to exclude Garza's autopsy from trial because the two medical examiners who conducted it are not among the two dozen witnesses state prosecutors will call to testify.

Feit's two court-appointed attorneys also want statements he made to police after his 2016 arrest thrown out as involuntary and coerced.

"On February 9, 2016, John Bernard Feit was under arrest or substantially deprived of freedom by the conduct of the law enforcement officers and the circumstances surrounding the arrest or deprivation of freedom," Feit's attorneys wrote in a motion to suppress. "Statements made by John Bernard Feit on February 9, 2016 were involuntary and were coerced and enticed from John Bernard Feit."

Feit was a 27-year-old visiting priest in McAllen when Garza's partially decomposed body was found in a canal, five days after she was last seen going to confession at Sacred Heart Church.

An autopsy determined the 25-year-old elementary schoolteacher and former Miss All South Texas Sweetheart had been beaten, suffocated and raped while unconscious on the day before Easter in 1960.

Feit, who left the priesthood under a cloud of suspicion in 1971, quickly became the primary suspect in Garza's murder but dodged prosecution for more than half a century. He pleaded no-contest in 1962 to a lesser charge of aggravated assault for an attack on a separate South Texas woman after a trial ended in a hung jury in 1961.

Feit paid a $500 fine but suffered no jail time in that case.

Now a grandfather, Feit, of Scottsdale, Arizona, has been in the Hidalgo County Jail infirmary receiving 24-hour medical attention since March 2016. His 616 days of incarceration have cost the county $32,000, not including medical expenses. The total cost of housing an inmate is $52 per day, a sheriff's spokeswoman said.

Feit acknowledged in the early days of the investigation that a Kodak slide viewer found at the bottom of the drained canal belonged to him. Police also found candlesticks in the canal that allegedly came from Sacred Heart Church.

More evidence came to light in 2002, when two former priests testified in a Texas Rangers examination that Feit had confessed to the killing. Only one of the men, Dale Tacheny, is still alive.

Tacheny, 88, testified against Feit at a closed deposition as a prosecution witness in March this year. Texas law allows state prosecutors to take a witness deposition if their age and exclusive knowledge constitutes good reason for it.

Prosecutors expect to call at least 24 witnesses, court records show. They include forensic scientists, crime lab technicians from the Texas Department of Public Safety, law enforcement agents, a Catholic Church official and two church experts from out of state.

Also on the state's witness list is a former Sacred Heart secretary who will testify about the events between March and April 1960 when she worked at the church alongside Feit. The McAllen schoolteacher who found Garza's purse in a field three days after she vanished also has been called to testify.

Feit's two attorneys – O. Rene Flores and Ricardo Flores – hope to block the testimony of Hidalgo County chief forensic pathologist Dr. Norma J. Farley, who they say should not be allowed to tell jurors about the findings of a decades-old report.

Feit's attorneys argue that autopsy reports are generally inadmissible if neither the author-medical examiner nor anyone personally involved in the procedure is available to testify at trial.

"Such is the case here, where there is scant evidence of Irene Garza's injuries or cause of death apart from the testimonial autopsy report. Thus, the report itself as well as any testimony relying or revealing the contents of the report must be excluded," Feit's attorneys wrote in their Nov. 13 motion to exclude.

Hidalgo County District Attorney Ricardo Rodriguez said after Feit's indictment that "new facts and evidence" were uncovered during his investigation, but has declined to go into detail until trial.

Prosecutors, however, alluded to new evidence at a hearing this past February. They told Judge Singleterry that the state was waiting on DNA results from evidence found inside the vehicle they believe was used to take Garza's body to the canal where she was found.

Some people familiar with the notorious cold case say putting Feit on trial is likely to be an uphill battle in front of a jury. The case has been described as circumstantial and weak on hard evidence, so far.

Feit's request to move the trial out of South Texas because of extensive media coverage was denied in May. His case was delayed again while one of his attorneys worked another high-profile trial that ended six weeks later in a guilty verdict.

The jury pool will be whittled down this week, and jury selection will begin Monday, Nov. 27 in Edinburg, the county seat of Hidalgo. Twelve jurors and alternates will be impaneled for trial.

The judge said at a hearing in July that opening arguments will come immediately after jury selection. Prosecutors told state witnesses to be on standby to testify the week of Dec. 4.

But Feit's latest motions throw one more kink into the mix: If a hearing is granted, the start of the trial could be pushed back again.

Feit turns 85 on Nov. 24.