North Carolina Man Files $10m Clergy Sex Abuse Suit
By Haidee V Eugenio
Pacific Daily News
November 30, 2017

http://www.guampdn.com/story/news/2017/11/30/north-carolina-man-files-10-m-clergy-sex-abuse-suit/908227001/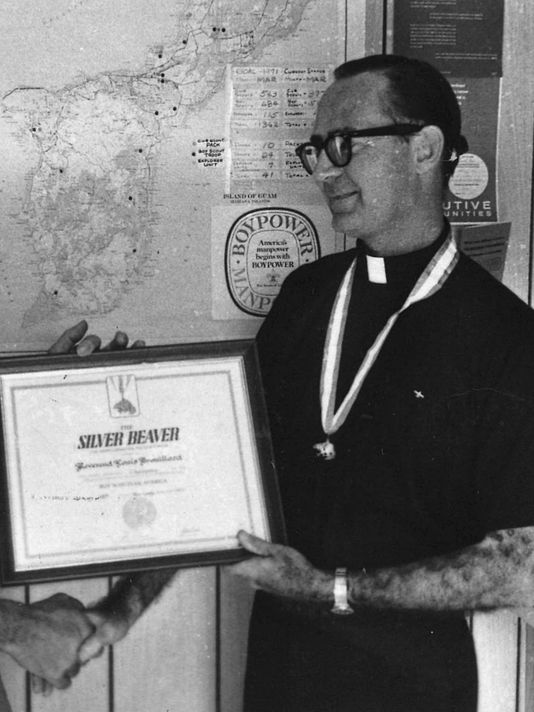 Father Louis Brouillard is shown in this undated Pacific Daily News file photo receiving a Silver Beaver award for his scouting hierarchy from a Navy captain.



A former Guam resident now living in North Carolina said he quit the Boy Scouts of America in the 1970s after he could no longer handle the pain, humiliation and embarrassment that Father Louis Brouillard inflicted on him, according to a lawsuit filed Thursday in federal court.

The plaintiff, identified in court documents only as B.G., to protect his privacy, said in his lawsuit that Brouillard sexually abused and molested him during the time he served as a Boy Scout, around 1973 or 1974. He was about 14 or 15 years old then.

Now 58, B.G. said he joined the Agana troop. Brouillard was a scout master for the Boy Scouts.

The lawsuit says Brouillard would take B.G. and other scouts swimming.

On numerous occasions, the priest would swim naked and routinely asked B.G. and other boys to remove their clothes. The priest would grope and touch their private parts while swimming, the lawsuit states.

B.G., represented by attorney David Lujan, is demanding a minimum of $10 million in damages. He is the 146th person to file a lawsuit against the Archdiocese of Agana, priests and others related to the Catholic Church over alleged sexual abuses of clergy.

Most of the lawsuits that also name the Boy Scouts of America as a defendant allege sexual abuse by Brouillard.