Feit allegedly confessed to murder in 1963, saying victim told him 'I cannot breathe'
By Aaron Nelsen
San Antonio Express-News
December 04, 2017

http://www.expressnews.com/news/local/article/Feit-s-conflicting-1960-statements-reviewed-12404560.php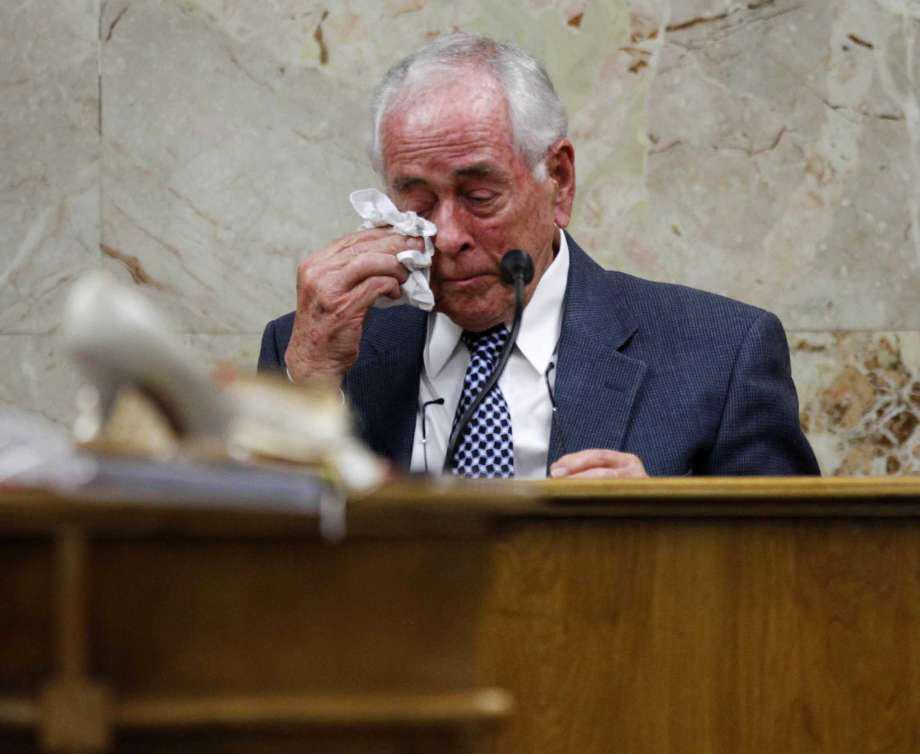 Dale Tacheny testifies during John Feit's trial Monday at the Hidalgo County Courthouse in Edinburg. Feit, a former Catholic priest, is on trial for the slaying of a South Texas teacher and ex-beauty queen 57 years ago.
Photo by Nathan Lambrecht
[Note: See also http://www.bishop-accountability.org/news3/2004_11_21_Egerton_StexasDA_John_Feit_8.htm]
EDINBURG — John Feit confided that he had gotten away with murder, Dale Tacheny said Monday on the stand in Feit's murder trial.
Feit showed little remorse, Tacheny testified Monday, yet the troubled priest confessed in 1963 that he was still haunted by the sound of the heels of Irene Garza, a former beauty queen he is accused of killing in 1960. Tacheny was a Trappist monk at Assumption Abbey, a monastery in Ava, Missouri, when Feit was sent there. Tacheny left the monastery in 1967.
"He put the young lady in a bathtub," the 88-year-old Tacheny testified. "As he was leaving, the young lady said 'I cannot breathe, I cannot breathe.' Then he left."
Feit attacked Garza in the church rectory, fondled her, then stored her in the basement while he went next door to Sacred Heart Catholic Church in McAllen to offer the sacrament of confession, Tacheny said.
Feit took a break to transport Garza to the pastoral house, a hotel in San Juan where he stayed, leaving her in a bathtub before returning to the church to again offer confession. When he returned the next day, Garza was dead, Feit allegedly confessed to Tacheny.
"I asked him, 'Do you feel bad about any of these things, do you feel remorse, do you feel guilt?'" Tacheny said. "He said, 'No, I get anxious when I hear … heels on a hard concrete, hard floor,'" Tacheny testified, rapping his knuckles on the witness stand for emphasis.