Brouillard Allegedly Raped Altar Boy in Tumon Church Decades Ago
By Steve Limtiaco
Pacific Daily News
December 6, 2017

http://www.guampdn.com/story/news/2017/12/06/brouillard-allegedly-raped-altar-boy-tumon-church-decades-ago/926107001/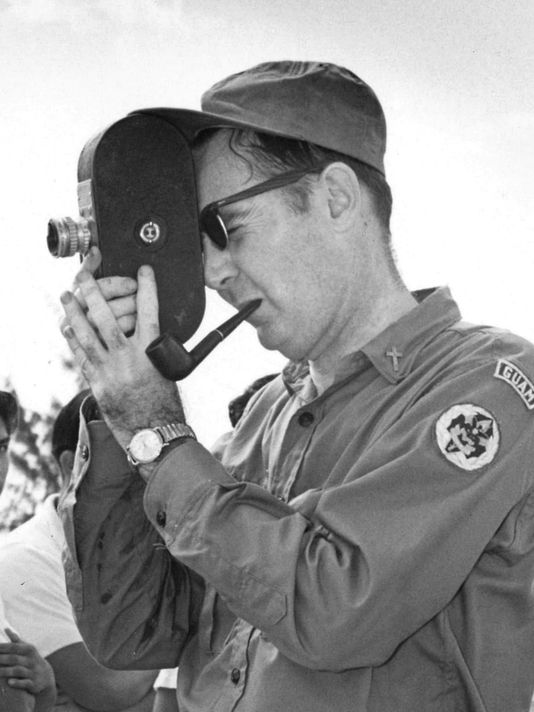 In this Pacific Daily News file photo dated Aug. 15, 1965, Louis Brouillard is shown filming footage in an outdoor setting. In the full frame of the picture, which is cropped, boys, some in Boy Scouts uniforms, stand around Brouillard.



Former Guam priest Louis Brouillard allegedly raped an altar boy who was sleeping over at the rectory of the Tumon church in the late 1970s, according to a lawsuit filed Wednesday afternoon in the U.S. District Court of Guam.

The lawsuit, filed by a 49-year-old man with the initials "J.M.Q." is the 146th lawsuit accusing someone affiliated with the Guam Catholic church of child sexual abuse. It's the 91st lawsuit naming Brouillard as the abuser.

According to the lawsuit filed by J.M.Q, Brouillard asked the boy's father for permission to have J.M.Q. and his brother spend the evening at the rectory so they would not be late to serve as altar boys at Mass the following morning.

"J.M.Q.'s father gave consent without the slightest of doubt, not realizing that he was sending J.M.Q. and his brother to be sexually abused by a predator disguised in the robes of the clergy," the lawsuit states.

The lawsuit accuses Brouillard of walking around naked and fondling J.M.Q, and of raping J.M.Q. at the Tumon rectory.

J.M.Q. who was 10 or 11 years old at the time, also was a Boy Scout with the Barrigada troop and helped Brouillard as an altar boy at the Barrigada parish, the lawsuit states.

While on Boy Scouts outings, Brouillard, who also was a scoutmaster, repeatedly sexually molested J.M.Q. and other boys while swimming, the lawsuit states. The abuse at the church and on Boy Scouts outings happened in 1978 and 1979, the lawsuit states, and Brouillard afterward would reward J.M.Q. and the other Boy Scouts by taking them to McDonalds or other restaurants.

The lawsuit asks for a minimum of $10 million in damages and names Brouillard, the Archdiocese of Agana and the Boy Scouts of America as defendants.

The church on Guam is named as a defendant in cases asking for at least $965 million in damages.

Court action on the lawsuits has been put on hold pending the outcome of an ongoing mediation process between the accusers and defendants.