Catholic prosecutor balanced faith, duty
By Lorenzo Zazueta-Castro
Brownsville Herald
December 16, 2017

http://www.brownsvilleherald.com/news/valley/catholic-prosecutor-balanced-faith-duty/article_19f3b8c8-e2cd-11e7-8d4c-cbae8e4955be.html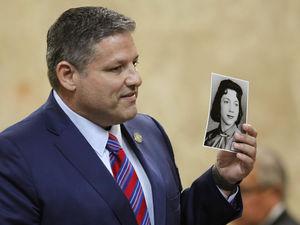 Hidalgo County Assistant District Attorney Michael Garza hold a photograph of Irene Garza as he presents his closing argument in John Feit's murder trial, Thursday, Dec. 7, 2017, at the Hidalgo County Courthouse in Edinburg, Texas. Feit, a former priest, is accused of suffocating Irene Garza in April 1960, after she went to confession at Sacred Heart Catholic Church in McAllen.
Photo by Nathan Lambrecht
EDINBURG — Nearly one week removed from getting a conviction in a historic trial, even exhaling proved challenging.
After all, securing a conviction in what was arguably the region's biggest trial proved much more complicated for the lead prosecutor on the case, a devout Catholic, considering that the person he was trying to convict was a former man of the cloth.
Michael J. Garza, an assistant district attorney for Hidalgo County and the man responsible for finally bringing ex-priest John Feit to justice, felt uneasy days after a jury found Feit guilty of murdering Irene Garza during the 1960 Holy Week.
The case was 57 years in the making and produced a trial that included evidence and testimony of a church-led coverup to avoid bad publicity. But even in the days after state District Judge Luis Singleterry hammered the gavel for the final time at trial, Michael Garza still struggled to pinpoint the uneasiness.
"I was proud and happy inside, but I felt this sort of presence — some kind of ... maybe I didn't want it to be over," Michael Garza said Wednesday of the case that consumed nearly three years of his time. "(The Irene Garza case) had been a big part of my life."
While seated in his office in the county annex building located near the courthouse, the 51-year-old prosecutor said he felt awkward about going to church — Our Lady of Sorrows in McAllen — where he's given the sacrament.
Appearing subdued, a reflective Michael Garza recounted the endless nights of pouring over evidence, speaking to witnesses and unfurling a conspiracy into Irene Garza's death that would eventually point right at the very institution Michael Garza and Irene Garza held so dear — the church.
Assigned to reopen and reinvestigate the decades-old cold case, Michael Garza was resolute during the investigation and didn't allow his faith to undermine the work he had labored over since February 2015, when District Attorney Ricardo Rodriguez tasked him with leading the investigation and eventually the prosecution of the former priest.
"(Rick) said take a look at it, see what you see there, don't leave a stone unturned," Garza said. "And with a Texas Ranger by my side, we set out and we did that. We talked to every living witness, took the file apart, we tested evidence — we did a complete investigation all over."
Staff writer Daniel Flores contributed to this report.