Priest convicted of abusing boys in 1970s could soon be released on parole
By Katrina Helmer
WDRB
December 19, 2017

http://www.wdrb.com/story/37095724/priest-convicted-of-abusing-boys-in-1970s-could-soon-be-released-on-parole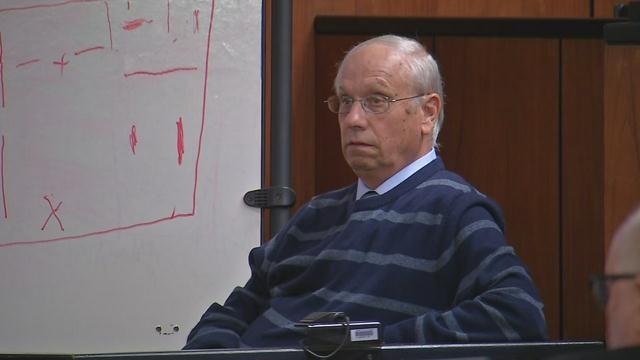 Fr. Joseph Hemmerle during his trial on Nov. 29, 2016.


[with video]



FRANKFORT, Ky. (WDRB) -- A parole board held a victim impact hearing Monday afternoon in the case of Fr. Joseph Hemmerle, who was convicted of abusing a 10-year-old boy in 1973.

Michael Norris testified in November 2016 that Hemmerle sexually abused him more than 40 years ago when he was a camper at Camp Tall Trees. Hemmerle worked at the Catholic-run youth camp in Meade County. Norris said he got poison ivy, and when Hemmerle offered to treat it, the priest sexually abused him.

"Mr. Hemmerle's act took about 15 minutes," Norris said to the board. "For his 15 minutes of pleasure, I've endured 44 years of heartache. And I will be coping with this for the rest of my life."

In February, a judge sentenced Hemmerle to seven years in prison for "indecent or immoral practices with a minor."

Then in June 2017, Hemmerle pleaded guilty to sexual abuse charges brought forward by another victim. A judge sentenced Hemmerle to another two years in prison on top of the existing seven.

After about 10 months in prison, Hemmerle is up for parole. A parole board must consider his sentence, the details of the case, his inmate history and a victim impact hearing.

Norris also expressed concern Hemmerle would continue to abuse children if the board decided to release Hemmerle on parole.

"He hasn't come to terms with what he is: a pedophile," Norris told the board members. "And as far as I'm concerned, he needs to stay where he's at, where he can't hurt other children."

Norris said the jury was under the impression Hemmerle would serve at least 18 months in prison before being considered eligible for parole.

"Part of prison, in my opinion, is two things: It's justice and reform. Justice hasn't been served, and he hasn't reformed," Norris said. "He still doesn't admit to what he did. So he's still a pedophile. And so he needs at least two more years to come to terms with that, in my opinion."

Before closing, the board members thanked Norris and his family for coming to speak with them.

"We need this type of information to help us make the best decision," said parole board member George Carson. "The information that you all have shared today is very impactful, and we appreciate you coming before strangers to share that information."

The board could make a decision by the end of the week. If the board grants parole, Hemmerle would be released in February 2018. The board also has the option to defer parole for 24 months.

Norris and his family believe it is unacceptable Hemmerle is still considered a priest.

"It's time for the Archdiocese to quit paying his bills," Norris said. "Quit paying him a paycheck. The man is still a priest. It's time for them to act. He's a pedophile. He's a twice-convicted pedophile. Let's get him out of service."

Norris has asked the Archdiocese of Louisville for an apology, but he said he has not received one.