$5M Bail Set for Priest Accused of Abusing North Dakota Boys
Associated Press
December 20, 2017

http://www.guampdn.com/story/news/2017/12/19/bail-set-priest-accused-abusing-north-dakota-boys/108761150/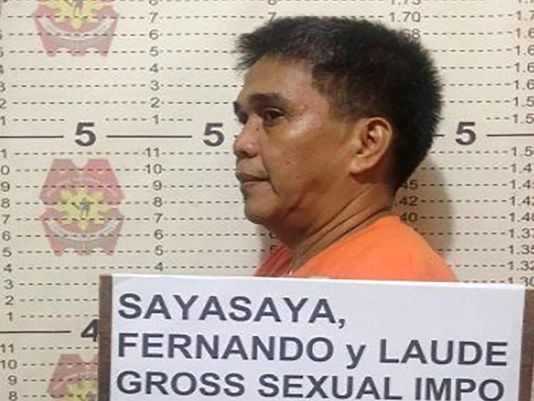 This undated handout photo released by the Philippine National Police (PNP) on November 22, 2017 shows the mugshot of Fernando Sayasaya, 53, in Calamba, Laguna, south of Manila. The ex-Filipino priest wanted in the United States for allegedly sexually abusing minors there faces extradition after his arrest in the Philippines where he has been hiding for 15 years, authorities said on November 22, 2017. Sayasaya is accused of molesting two brothers in the state of North Dakota when he was a Catholic priest there in the 1990s but he had fled to the Philippines before a US court issued an arrest warrant in 2002, local police said.



A judge has set bail at $5 million cash for a Catholic priest accused of molesting two boys in North Dakota in the 1990s.

KFGO radio reports that Fernando Laude Sayasaya appeared in court on Tuesday via video from the Cass County Jail. Heís facing two counts of gross sexual imposition.

Sayasaya was recently returned to the United States from the Philippines, where he had been since 1998. A Philippines court ordered his extradition in 2010. He appealed, lost and was ultimately arrested last month.

Prosecutors allege that Sayasaya abused two underage siblings from 1995 to 1998, while he was assigned to the Blessed Sacrament Catholic Church and St. Maryís Cathedral in the Fargo area.

They argued that Sayasaya was a flight risk. He didnít oppose the bail amount.