After Bernard Law's Death, Revisit One Clergy Abuse Survivor's Story
By Patrice Taddonio
WGBH Frontline
December 21, 2017

https://www.pbs.org/wgbh/frontline/article/after-bernard-laws-death-revisit-one-clergy-abuse-survivors-story/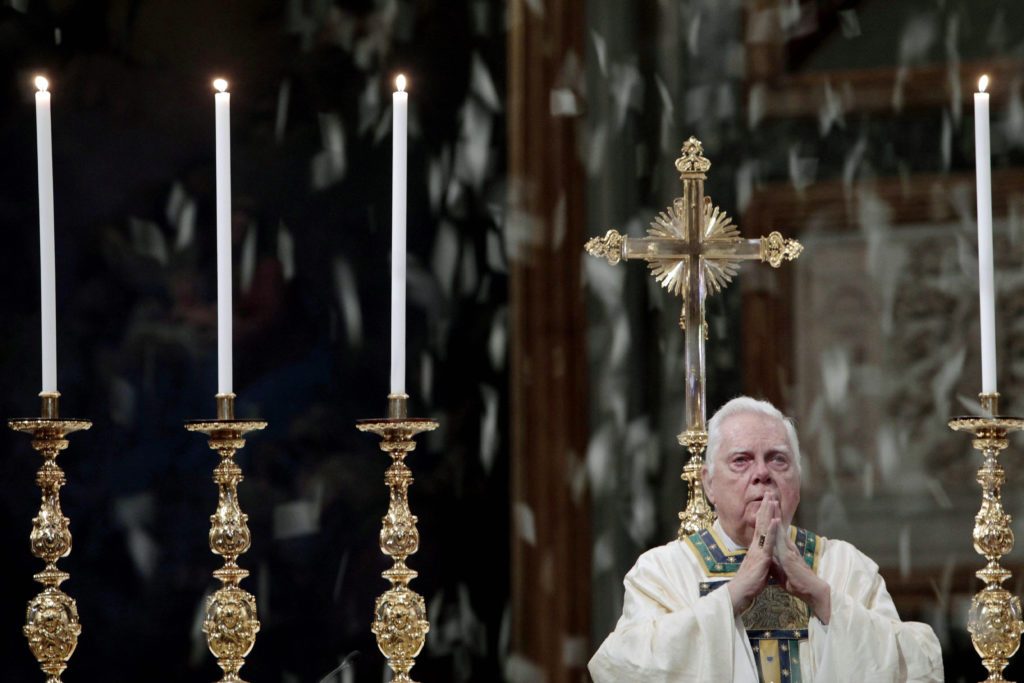 White rose petals, symbolizing snow, drop from the ceiling of St. Mary Major's Basilica during Cardinal Bernard Law's Mass at a ceremony for Our Lady of the Snows, in Rome, Friday, Aug. 5, 2011. (AP Photo/Gregorio Borgia)



Cardinal Bernard Law, a key figure in the clergy sex abuse scandal that continues to haunt the Roman Catholic Church, died this week at the age of 86.

Law was the archbishop of Boston when starting in 2002, a Boston Globe investigation found that for years, he had transferred priests who sexually abused children within his archdiocese. After the stories broke, Law's name became synonymous with the abuse scandal. He apologized and resigned from his post after the Globe's revelations, but he continued to hold his title as cardinal up until his death on Tuesday.

All told, approximately 1,000 people would come forward alleging clergy sex abuse within the Archdiocese of Boston, exposing the depth of a scandal that had been largely hidden from public view under Law's tenure.

Among the many people impacted by abusive priests within the archdiocese was Paul Cultrera, whose story was the focus of the 2007 FRONTLINE documentary Hand of God (watch below).

Cultrera grew up in a Catholic home in Salem, Massachusetts, where pictures of popes and cardinals hung in the hallway. He was molested in the 1960s by Father Joseph Birmingham, who allegedly abused nearly 100 other children, and who would eventually be one of the priests named in the Boston Globe's reporting.

"I remember him saying, 'Now, you don't tell anybody about this because this is between us and this is part of your penance and part of your counseling,'" Paul says in the deeply personal film, which was directed and narrated by his brother, Joe, and which depicts how Paul and the rest of the Cultrera family dealt with the abuse.

As the film explores, Paul would keep his secret for nearly three decades, until he decided to confront the church and launch his own investigation into whether the archdiocese covered up allegations against Birmingham by moving the priest from parish to parish.

He began to place advertisements in the newspapers of the various towns where Birmingham had been posted, asking the simple question, "Do You Remember Father Birmingham?" He received dozens of responses. Paul and the archdiocese would eventually settle for $60,000 in 1995 — part of an estimated $4 billion in costs to the Catholic church related to the clergy sex abuse crisis in the U.S., according to the National Catholic Reporter.

The film follows Birmingham's case and how his superiors responded to abuse allegations against him. It's a story in which Law looms large: He presided over the Archdiocese of Boston from 1984 through 2002, as claims of past abuse including Cultrera's came to light. And in one scene from the film, the Cultrera family reacts as, one year after Law left Boston, he's put in charge of a major basilica in Rome.

Paul's aunt asks him to perform what Joe calls "the sacramental right of removal" — taking Law's picture down from the hallway of the family home.

"I'd like to send this to the Pope," she says, ripping the picture of Cardinal Law in half. "I'd like to send it to the Pope and say, 'Get that guy out of Rome. He don't belong in Rome.'"

Law's funeral was held at the Vatican on Thursday. Responding to the news of his death, Joe Cultrera told FRONTLINE, "It's funny how little I felt when I read of Bernie's death." He said that in recent years, he has looked to the memory of his father and mother for guidance, noting that "as the story of clergy abuse unfolded both on an international and personal level, they never lost their faith, but they discarded the trust they had in the institution."

Added Paul: "It would be easy to rekindle the indignation I felt when I heard that after leaving Boston, the Vatican installed him as head of a major basilica in Rome, and that then it has kept him housed in the Vatican since his retirement. But that's just a waste of my well-earned anger that I'll save for better causes."

Hand of God is a powerful story of faith betrayed, and of one family's fight for answers — and healing. Watch the film below.