Bishop's Letter to Schools Warns of "Dangerous Paedophile Priest"
By Sarah MacDonald
Independent
January 6, 2018

https://www.independent.ie/irish-news/bishops-letter-to-schools-warns-of-dangerous-paedophile-priest-36462919.html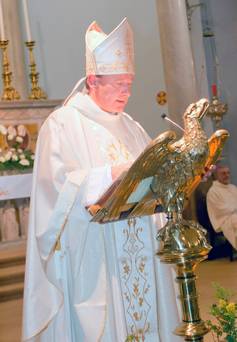 Bishop Phonsie Cullinan. Picture: John Power



Concerns have been expressed over the lack of supervision of a notorious paedophile former priest whom the Catholic Bishop of Waterford and Lismore has warned is "extremely dangerous" and is "actively seeking victims".

Clerical abuse survivor Marie Collins paid tribute to Bishop Phonsie Cullinan for a letter he sent to priests and schools in his diocese just before Christmas about convicted paedophile Oliver O'Grady, who is living in Waterford city.

In the letter, Dr Cullinan attached a photo of the former cleric who served in the US and said he had informed gardai of his recent activities in the locality.

He asked the letter's recipients to advise all parish groups, especially those working in any way with children, to be "aware that this man continues to be an evil menace to innocent children".

Speaking to the Irish Independent, Ms Collins, a survivor of clerical abuse and former member of the Vatican's Commission for the Protection of Minors, commended Bishop Cullinan.

"While it is good to see the bishop issuing this warning and passing on his concerns to gardai, I would ask who is monitoring this very dangerous paedophile? As Mr O'Grady is no longer a priest, it is not likely that responsibility would lie with the Church. Are the civil authorities taking any action to ensure the children of the area are being properly safeguarded?" she queried.

Ms Collins also expressed concern about the "many other men who have abused children, served their sentence and now live among us".

A spokesman for the Diocese of Waterford and Lismore told the Irish Independent that Dr Cullinan sent the letter to the catholic primary schools, as well as the clergy of the diocese, as patron of the Catholic schools in Waterford and Lismore, "for whom he has a duty of care, especially for the children".

According to Fr Liam Power, as a child safeguarding matter, it was immediately referred to gardai and Tusla when the Bishop became aware of it.

O'Grady (71) served seven years of a 14-year sentence in the US following his conviction for the sexual abuse of two brothers over a 10-year period when one was as young as three.

He was deported to Ireland in 2001 and in 2010 he was discovered volunteering under a pseudonym 'Brother Francis' at a Catholic parish in Rotterdam.

That same year his laptop was discovered with sexual abuse images of children as young as two. He was handed a three-year sentence by the courts in 2012.