Brouillard Abused Boys in Plain View of Other Victims
By Haidee V. Eugenio
Pacific Daily News
January 8, 2018

http://www.guampdn.com/story/news/2018/01/08/lawsuits-brouillard-abused-boys-plain-view-other-victims/1011709001/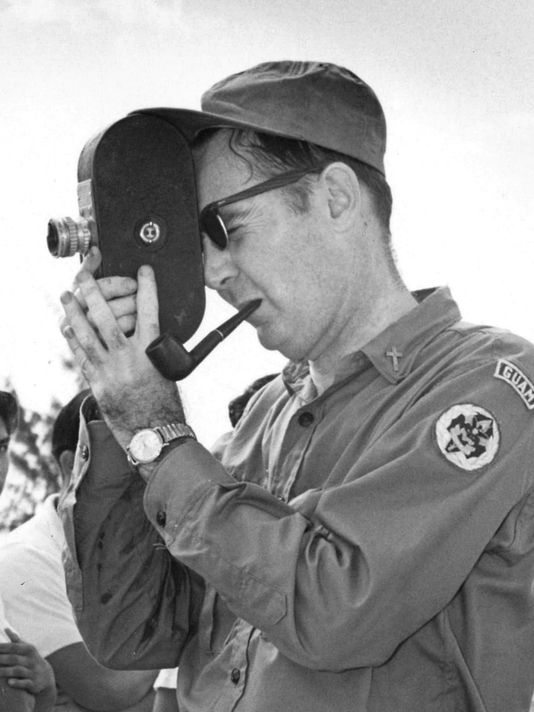 In this Pacific Daily News file photo dated Aug. 15, 1965, Louis Brouillard is shown filming footage in an outdoor setting. In the full frame of the picture, which is cropped, boys, some in Boy Scouts uniforms, stand around Brouillard.



Three more men have come forward to accuse former Guam priest Louis Brouillard of sexually abusing them when they were children, according to lawsuits filed Friday afternoon in the Superior Court of Guam. One man said he was abused weekly for a year.

A fourth accuser, who had sued Brouillard and the church in September, filed an amended lawsuit Friday in Superior Court, providing more details about the alleged sexual assault.

The three new lawsuits accuse Brouillard, who also was a scoutmaster with the Boy Scouts of America, of abusing the plaintiffs during Boy Scouts swimming trips. The plaintiffs also state they saw Brouillard abuse other boys during those trips and on church grounds.

Brouillard allegedly lured boys into performing sexual acts and swimming in the nude, the lawsuits state. He also groped them and subjected them to other forms of sexual abuse, in exchange for a reward of dining out at McDonald's or other restaurants, the lawsuits state.

Brouillard also offered Boy Scouts merit badges as rewards for being sexually abused, the lawsuits state, and took pictures of the boys swimming naked, without their consent.

The three new lawsuits were filed by plaintiffs identified in Superior Court documents only as M.W.M., G.C. and A.E.P. to protect their privacy. They are represented by attorney Michael J. Berman.

Plaintiff M.M. amended his Sept. 28, 2017 lawsuit on Friday to add details about Brouillard's sexual abuses. He is also represented by Berman.

M.M., in his amended complaint, stated that Brouillard would perform a sexual act in front of the boys in the priest's room at the Barrigada parish, and would ask M.M. and the other boys to join him, which they did.

The lawsuit states the boys did so because Brouillard was a priest and a respected person.

The priest also encouraged M.M. and the other boys to read adult magazines, the complaint says.

M.M., who is now 54, was 13 or 14 around 1977 to 1979 when the priest abused him as a Boy Scout, the lawsuit states.

"M.M. now understands the danger of those pictures distributed or shared as contributing to the serious crime of child pornography trafficking. Brouillard stated that they needed to do these things in order to obtain their merit badges and in order to dine out with him," the complaint states.

The four lawsuits demand a minimum of $5 million each in damages.

M.W.M., now 53, was around 13 or 14 when he was a Boy Scout in Barrigada in or around 1978 to 1979. During that period, Brouillard sexually abused him during scouting activities, the lawsuit states.

"M.W.M. noticed that Brouillard's hands were frequently underwater and it appeared he was fondling and sexually abusing the other young boys," the lawsuit states, adding that on several occasions, Brouillard touched M.W.M.'s private parts.

G.C., now 54, said in his complaint that he was 13 or 14 around 1977 to 1978 when Brouillard sexually abused him.

"He also watched as Brouillard fondled and abused the other naked boys in the river," the complaint says.

Now 61, A.E.P. said he was around 13 or 14 around 1969 or 1970 when he attended the Sinajana church.

"These Lonfit River activities included watching Brouillard indecently expose himself by walking on the river bank naked, and by Brouillard swimming naked, with all the other young boys, and by witnessing all the groping and sexual abuse of all the young boys, including A.E.P., which he endured weekly over a period of approximately one year," the lawsuit states.

Brouillard, now 96 and living in Minnesota, is accused in about 100 of the 154 clergy sex abuse lawsuits filed in local and federal court.

The lawsuits name as defendants the Archdiocese of Agana, priests, other clergy, and others associated with the Catholic Church.

The parties are pursuing mediation to settle the lawsuits out of court, but have yet to finalize their mediation protocols.

The combined lawsuits ask for nearly $1 billion in damages, plus damages to be determined at trial.