Indonesia's Alleged Paedophile Scandal
UCANews
January 10, 2018

https://www.ucanews.com/news/indonesias-alleged-paedophile-scandal/81220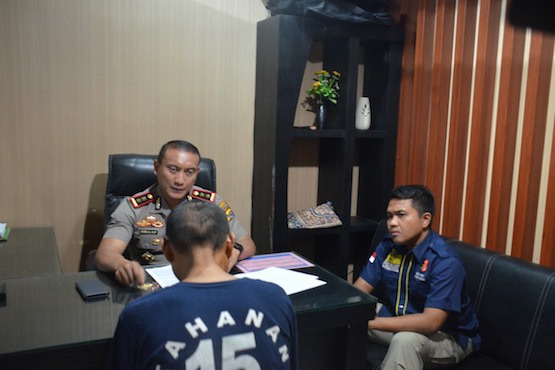 Police question Wawan Sutiono , 49, who is suspected of molesting up to 41 boys at police station in Tangerang, Indonesia. (Photo from TribataNews.com, a local police website)



A teacher in Indonesia has been arrested on suspicion of sexually abusing dozens of young boys, officials have said.

Wawan Sutiono, 49, was arrested on Jan. 6 in Tangerang, a town 35 kilometers west of the capital Jakarta.

The part-time Islam religion teacher is accused of molesting at least 41 boys aged between 6-15 years of age over a nine-month period, police said.

The alleged crimes were committed between April and December last year.

The arrest comes after police received a complaint by one of the alleged victims' parents on Dec 20, 2017.

It was not clear why the police too three weeks to arrest the suspect.

If found guilty, Sutiono could face up to 15 years in prison and chemical castration under a recently introduced law to deal with convicted sex offenders.

Ulfa, 41, the mother of one of the alleged victims said Sutiono would often see her son outside of school and that she had no idea what was going on until her son told her about the alleged abuse.

"My son doesn't want to go to school now because he feels afraid of other teachers and even his friends," she told ucanews.com.

Franciscan Father Vincentius Darmian Mbula, an educator, said the case illustrates the need for parents and schools to pay serious attention to the threat of child sexual abuse.

"Parents, families and teachers have a role to play in educating children so that the do not fall victims to pedophiles," the priest said.

In a similar case in 2014, a man was found to have sexually abused 116 children in Sukabumi, West Java.

According to government figures some 1,424 children were sexually abused last year.