Armidale Detectives Investigating New Report of Alleged Historical Abuse by Retired Armidale Priest David Joseph Perrett
By Breanna Chillingworth
Armidale Express
January 18, 2018

http://www.armidaleexpress.com.au/story/5175002/court-told-detectives-probing-new-complaint-against-former-priest/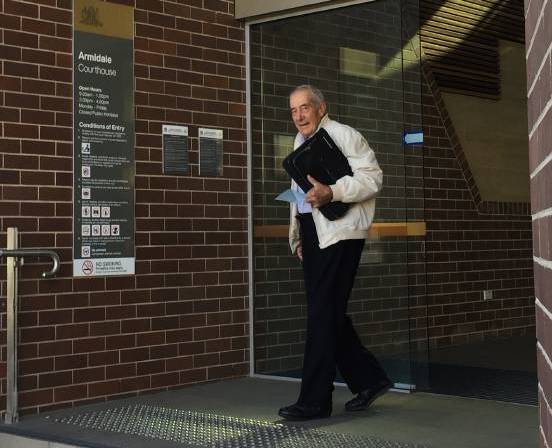 Bail continued: David Jospeh Perrett outside Armidale Local Court in 2017.



A COURT has been told detectives are investigating more alleged claims of historical sex abuse by a retired priest.

David Joseph Perrett returned to Armidale Local Court on Wednesday morning facing 62 charges, accused of molesting more than a dozen boys in the 1970s and 80s.

Magistrate Michael Holmes was told officers needed more time to investigate after another complainant contacted police, alleging abuse.

In December, the court was told of a similar report, before the case was adjourned.

Perrett, now aged 80, is yet to enter pleas to the charges which include indecent assault on a male, buggery and sexual assault category four – the charges in place at the time of the alleged offending.

Solicitor Greg Birtles consented to the adjournment on Wednesday, and last month flagged the defence could seek to call witnesses in the local court at a committal hearing.

Mr Holmes ordered Perrett to remain on bail while investigations by detectives continue.

According to court documents, Perrett, is accused of indecently assaulting more than 14 boys between 1970 and 1987 in Armidale, Lower Creek, Guyra, Walgett and Moree.

In June last year, Fairfax Media revealed more than 10 further complainants had come forward, claiming they were abused by Perrett while he was a Catholic priest in the New England.

Perrett served as a priest in the Diocese of Armidale from 1961 to 1995.

He was extradited from Queensland in early-May to face nine charges of indecently assaulting four boys, before further charges were laid last year. He has been on bail since his arrest.

As part of his bail conditions, Perrett has been ordered not to leave an Armidale address, where he is living with family, unaccompanied and must report to police several times a week.

He is also prohibited from going within 50m of any school, playground or place frequented by young people.