One After Another, Athletes Face Larry Nassar and Recount Sexual Abuse
By Scott Cacciola And Christine Hauser
New York Times
January 19, 2018

https://www.nytimes.com/2018/01/19/sports/larry-nassar-women.html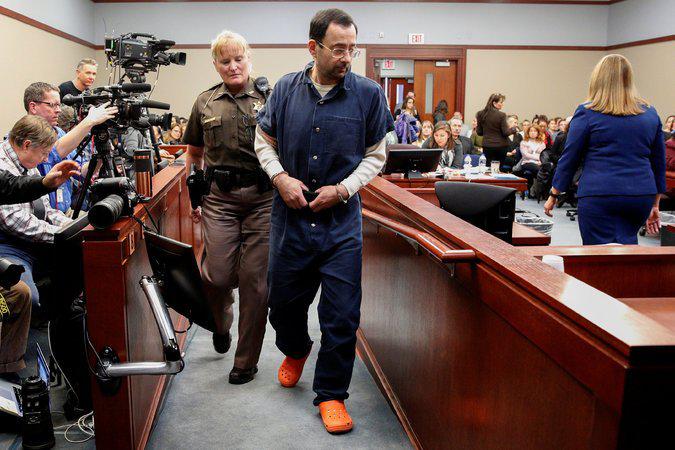 Dr. Nassar, the former doctor for the United States national women's gymnastics team, pleaded guilty to molestation charges in November.
Photo by Brendan McDermid


[with video]



LANSING, Mich. — Armed with pieces of paper etched with their memories of sexual abuse, they stepped forward, one by one — nearly 100 of them, with more to come.

For four full days this week, in a fluorescent-lighted courtroom here, women and girls — some of them the best gymnasts in the country, others with dreams prematurely crushed, they said, by a man who now sat in handcuffs 10 feet away — leaned into a microphone to address him, sometimes through sobs, sometimes with screams, but always with determination.

Aly Raisman, 23, who won gold medals at the past two Summer Olympics, told of late-night knocks on her hotel door while she was competing overseas, as the man, Dr. Lawrence G. Nassar, then the team doctor, arrived to abuse her.

A teammate at the 2012 London Games, Jordyn Wieber, who until Friday had not identified herself as a victim of Dr. Nassar's, recalled the torment of the Games, where she was a part of the American team that won a gold medal but, she said, had to submit to his care under the auspices of the sport's governing body, U.S.A. Gymnastics.

"Our bodies were all hanging by a thread in London," she said. "Who was the doctor that U.S.A.G. sent? The doctor who was our abuser."

For other young athletes just striking out, there seemed little they could do but give in, buckling under the pressure of knowing so many stars had seemingly benefited from him. And so a young gymnast named Chelsea Zerfas, now 15, spoke of anguished probing, under the guise of treatment, face down on an exam room table when she was 13, feeling helpless to challenge a doctor at that age.

The occasion of the hearing, to help a judge decide Dr. Nassar's prospective sentence on state charges of nearly a dozen sexual assaults, appeared almost beside the point. He had been sentenced to 60 years in federal prison on a child pornography conviction, and the judge in this state court hearing has said that Dr. Nassar, 54, who has pleaded guilty to several sexual-assault charges, can expect to spend the rest of his life in prison.

But before then, she allowed so-called victim impact statements from the 140 girls and women whom prosecutors accuse Dr. Nassar of abusing, leading to days of wrenching testimony here that has evolved into not only a nationally televised reckoning of his crimes but an indictment of a sport that his victims say did little to protect them.

At the same time, the hearing has dovetailed with the continued expansion of the #MeToo movement that seeks to hold predatory men to account — in this case, in excruciating detail.

"Come hell or high water, we will find a way to take every last one of you down that could have stopped this monster," said Amy Labadie, a former gymnast who testified Friday morning. She added, "It's hard to see into the future and not think this will affect me forever."

Some of the victims described how the team doctor's actions spawned suicidal thoughts and ruptured their families, how they hoped he would rot in prison, and how they desperately wanted the blame and repercussions to extend far beyond him — to the people and the organizations that turned a blind eye.

"Imagine feeling like you have no power and no voice," Ms. Raisman said Friday. "Well, you know what, Larry? I have both power and voice, and I am only just beginning to use them. All these brave women have power, and we will use our voices to make sure you get what you deserve: a life of suffering spent replaying the words delivered by this powerful army of survivors."

Dr. Nassar pleaded guilty in November to seven counts of sexual assault, and his sentencing hearing, which began Tuesday, is now expected to continue next week, as the number of women who have wanted to speak in court has grown, from 88 to 105 to 120, at last count — emboldened by what has happened here this week. Judge Rosemarie Aquilina said she had cleared her docket.

"You are all superheroes," the judge said Friday morning after one of the victims, choking back tears, read her statement.

Dr. Nassar entered the courtroom at 9:04 a.m. He wore a dark blue prison uniform. After he reached the witness box, where he has sat with a hangdog expression since the hearing began, he appeared to recognize that Ms. Raisman and Ms. Wieber were seated together in the front row. Dr. Nassar looked down and slowly shook his head.

Ms. Wieber, 22, was the first person to testify on Friday — but the 69th to have her statement heard since the proceedings began. Ms. Wieber said Dr. Nassar began treating her when she was 8. Like many of those who came before her, Ms. Wieber said that Dr. Nassar had manipulated her by bringing her food and coffee at pressure-cooker training camps where such luxuries were prohibited.

"Nobody was protecting us from being taken advantage of," Ms. Wieber said. "Nobody was ever concerned whether or not we were being sexually abused."

Ms. Raisman took clear aim at both U.S.A. Gymnastics and the United States Olympic Committee when she appeared in court on Friday.

"Neither U.S.A. Gymnastics nor the U.S.O.C. have reached out to express sympathy or even offer support," she said. "Not even to ask: 'How did this happen? What do you think we can do to help?' Why have I and others here, probably, not heard anything from the leadership at the U.S.O.C.? Why has the United States Olympic Committee been silent? Why isn't the U.S.O.C. here right now?"

Mark Jones, a spokesman for the Olympic committee, said in a statement that it first became aware of the possibility that a physician with the gymnastics federation had been abusing athletes in 2015.

"At that time, U.S.A. Gymnastics indicated that they were in the process of contacting the appropriate law enforcement agencies," Mr. Jones said. "We are heartbroken that this abuse occurred, proud of the brave victims that have come forward and grateful that our criminal justice system has ensured that Nassar will never be able to harm another young woman."

At the same time, Mr. Jones said, the Olympic committee will continue to press for "meaningful change" in the gymnastics federation.

The federation announced on Thursday that it would cut ties with Karolyi Ranch, a renowned training facility that was one of the places where Dr. Nassar molested the gymnasts.

"The development camp taking place through Sunday is the last U.S.A. Gymnastics activity at the Ranch," the federation said in a statement on Friday. "Next week's training camp for the U.S. women's national team is canceled and the Acro World Team Trials scheduled for the first week in February has been relocated."

Kara Johnson, now a high school student, spoke about how she was taken to Dr. Nassar for back and hip treatment when she was a 13-year-old runner. Dr. Nassar, she said, placed her on a table on her stomach and then molested her. She described how he left the room, returned with a lubricant and repeated the abuse. He then smacked her on her "bare butt," called her "sweetie" and told her that if she ever had her period when she came to see him, to be sure to let him know, she said.

"How was I supposed to know at the age of 13 what was medically acceptable and what the boundaries were?" she said.

Her sister Madeline was also abused. Now 15, she told the court that as a 12-year-old gymnast, she was sent to Dr. Nassar for back treatment and underwent the same abuse. "At only 12 years old, I had no idea that it was inappropriate, illegal and wrong," she said.

On Thursday, McKayla Maroney, 22, another Olympic gymnast, said she had "scars" that might never heal after being abused by Dr. Nassar, starting when she was 13 or 14.

"Dr. Nassar was not a doctor," she said in a statement read for her by a prosecutor. "He in fact is, was, and forever shall be, a child molester, and a monster of a human being. End of story."

The impact of the trial, and Dr. Nassar's history of assault, is spreading well beyond the courtroom. Michigan State University, which employed Dr. Nassar, was also facing increasing pressure after revelations that 14 people, including the president, Lou Anna K. Simon, had been warned about his conduct.

Ms. Raisman added that she had not been planning to speak in court — "I was scared and nervous," she said — but decided to add her name to the list once she began listening to the impact statements that were delivered earlier this week.

"My dream," she said, "is that one day everyone will know what the words 'me, too' signify, but they will be educated and able to protect themselves from predators like Larry so that they will never, ever, ever have to say the words, 'me, too.' "

The room filled with applause as Ms. Raisman thanked the judge and backed away from the microphone. More women were waiting their turn.