O'Malley: 'Great pain' from pope's abuse comments 'understandable'
Crux
January 20, 2018

https://cruxnow.com/vatican/2018/01/20/omalley-great-pain-popes-abuse-comments-understandable/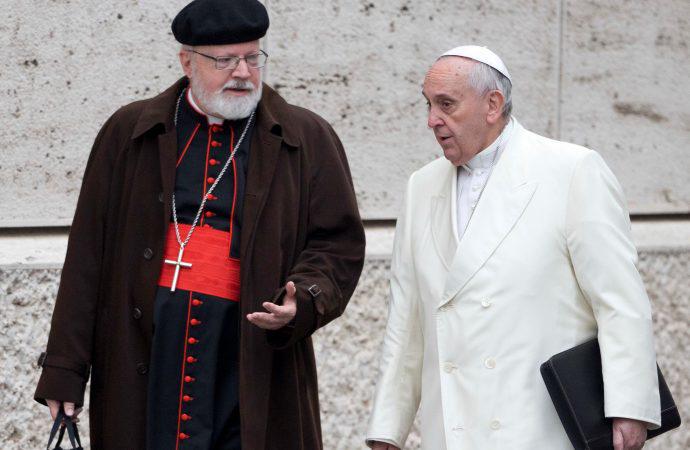 In this Feb. 13, 2015 file photo, Pope Francis, right, talks with the head of a sex abuse advisory commission, Cardinal Sean Patrick O'Malley, of Boston.
Photo by Andrew Medichini
ROME - In a remarkably candid statement from the man named in 2014 to head Pope Francis's own Vatican commission dedicated to fighting clerical sexual abuse, Cardinal Sean O'Malley of Boston on Saturday said it's "understandable" that the pontiff's language on the crisis the day before had caused "great pain."
Those comments, O'Malley said, may create the impression that the pope would "abandon those who have suffered reprehensible criminal violations of their human dignity, and relegate survivors to discredited exile."
In general, it's unusual for a cardinal to distance himself from a papal statement in such a fashion, especially someone perceived as being close to Francis such as O'Malley.
At the same time, O'Malley, President of the Pontifical Commission for the Protection of Minors and also a member of the pope's "C9" council of cardinal advisers from around the world, affirmed Francis's sincerity in coming to grips with the abuse scandals.
"Pope Francis fully recognizes the egregious failures of the Church and its clergy who abused children, and the devastating impact those crimes have had on survivors and their loved ones," he said.
Francis is currently in Peru, having arrived there after a three-day stop in Chile, where he apologized for sexual abuse committed by Catholic clergy and held a private meeting with victims.
Chile is perhaps the nation outside Europe and North America most scarred by the abuse scandals, centering on the country's most notorious pedophile priest, Father Fernando Karadima, who was found guilty of abuse in 2011 following a Church investigation.
Three of Karadima's victims have alleged that other Chilean clergy, three of whom are now bishops, knew of the abuse against them and covered it up, including one, Bishop Juan Barros of the small diocese of Osorno, who's a Francis appointee.
The pope faced questions from reporters in Chile about his handling of the appointment, and, in response, he said, "The day they bring me proof against Bishop Barros, I'll speak … There is not one shred of proof against him. It's all calumny. Is that clear?"
It was those remarks to which O'Malley appeared to be referring.
"Words that convey the message 'if you cannot prove your claims, then you will not be believed,' abandon those who have suffered reprehensible criminal violations of their human dignity and relegate survivors to discredited exile," the Boston prelate said.
O'Malley emphasized that he hasn't been personally involved in the Chilean cases, thus he can't comment on why Francis chose the words he did on Friday. On the other hand, O'Malley insisted that Francis sincerely wants justice for abuse victims.
"Accompanying the Holy Father at numerous meetings with survivors, I have witnessed his pain of knowing the depth and breadth of the wounds inflicted on those who were abused and that the process of recovery can take a lifetime," O'Malley said.
"The pope's statements that there is no place in the life of the Church for those who would abuse children, and that we must adhere to zero tolerance for these crimes, are genuine, and they are his commitment," he said.
The Boston cardinal said the Church's concern must always be with victims.
"My prayers and concern will always be with the survivors and their loved ones," O'Malley said.
"We can never undo the suffering they experienced or fully heal their pain. In some cases, we must accept that even our efforts to offer assistance can be a source of distress for survivors, and that we must quietly pray for them while providing support in fulfillment of our moral obligation," he said.
"I remain dedicated to work for the healing of all who have been so harmed and for vigilance in doing all that is possible to ensure the safety of children in the community of the Church so that these crimes never happen again," O'Malley said.
O'Malley is currently making his way to Peru for a previously scheduled trip unrelated to the Barros statement, and a spokesman told the Catholic News Service he expects O'Malley at some point will join the pope as he typically does on papal trips.