Pope Francis asks forgiveness from sexual abuse victims but reaffirms support for Bishop Barros
By Gerard O'connell
America Magazine
January 22, 2018

https://www.americamagazine.org/faith/2018/01/22/pope-francis-asks-forgiveness-sexual-abuse-victims-reaffirms-support-bishop-barros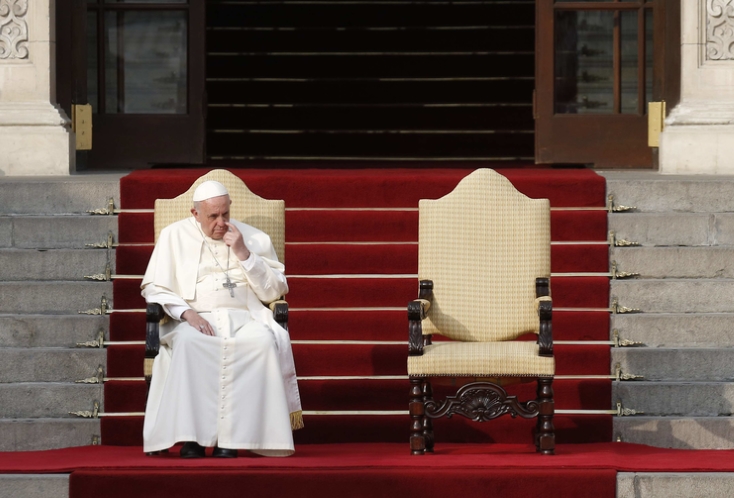 Pope Francis listens to the speech by Peru's President Pedro Pablo Kuczynski at the government palace in Lima, Peru, Friday, Jan. 19, 2018.
Photo by Karel Navarro
In an hour-long press conference on the plane from Lima to Rome, Jan. 21, Pope Francis asked pardon from the victims of sexual abuse by priests or religious for his use of words that offended them in his remarks about Bishop Juan Barros of Osorno, Chile. But he also reaffirmed his support for Bishop Barros, saying he has not received any evidence against him.
On Thursday Jan. 18, the pope told reporters on a plane flight in Chile, "The day they bring me proof against the bishop, then I will speak. There is not a single proof against him. This is calumny! Is that clear?" Francis stated.
Responding to a question from a Chilean journalist today, Pope Francis spoke of "what the abused feel" regarding his remark.
"I must ask pardon [from them] because the word 'proof' has hurt many of the abused, and [what] I meant to ask for was 'evidence.' I ask forgiveness. It's a hurt [caused] without wishing it," Pope Francis said.
"I know that there are many abused people who cannot bring proof; they do not have it. Or they cannot [produce it], or at times they have it, but they are ashamed and that stops them, and they suffer in silence. The drama of abused persons is tremendous."
Francis cited a case that he encountered two months ago when he met a 40-year-old woman who was abused. She was married and had three children, but though she was still Catholic, she had not received Communion since the time of her abuse "because in the hand of the priest she saw the hand of the abuser. She could not come close [to him]."
Francis said, "This causes me much pain because in Chile I received two [victims], as you know, and there were others more hidden." He said he did not meet any victims in Peru. But he said "there is always the possibility" for such meetings. In Philadelphia, for example, Pope Francis' meeting with three victims was made public but other meetings were not.
Pope Francis added: "I know how much they suffer. To hear that the pope tells them to their face 'Give me a letter with the proof' is a slap in the face. I acknowledge that my expression was not a happy one because I do not think [that way]. I understand what the apostle Paul said about the fire in a letter. That is what I tell you in sincerity."
He said that "the case of Barros was studied," and he "had it studied again, and there is no evidence. That is what I wanted to say. I do not have evidence to condemn him. If I condemn him without evidence or without moral certainty I would commit a crime of bad judgment."
Pope Francis was then asked how he felt about Cardinal Seán O'Malley's statement on Saturday—in which the cardinal said that the pope's words were a source of pain for the abuse survivors and made them feel abandoned and discredited.
Francis said, "I thank him for the statement because it was very fair. He talked about everything that I have done and that I do and that the church does, and then he talked about the pain of the victims.
"He also said that the pope always defended zero tolerance...[and] that I speak of the pain of the victims who are not able to bring a document or a witness."
Francis spent more than half of the time answering questions about the case of Bishop Barros and his own comments in Iquique, Chile, last week, in which he asked for proof of the accusations against the bishop and denounced as "calumny" charges without evidence.
He revealed that Bishop Barros had twice submitted his resignation to him in one year, including before his installment as bishop of Osorno, Chile, but that he had refused it on both occasions. Francis again said: "He remains there [in Osorno], I cannot condemn him if I do not get the evidence. And there are many ways to obtain evidence."
Pope Francis said, "Pope Benedict started with zero tolerance on these issues, and I continue in this way with zero tolerance." He revealed that in his five years as pope had received "20 to 25 requests for pardon" from priests who had been condemned in an ecclesiastical tribunal for the abuse of minors. But, he said, "I have not granted one of them."
The pope's claim of not having evidence against Bishop Barros raises some unanswered questions. Three known victims of the Rev. Fernando Karadima—Juan Carlos Cruz, Jose Andres Murillo (who now runs a nonprofit organization for victims in Chile) and James Hamilton—allege that Bishop Barros was present when Father Karadima abused them and witness the abuse but did nothing.
Did any of them present their evidence to the church in Chile or the Vatican? If not, why not? At least one of them gave testimony in a civil tribunal. Has any church investigator examined these allegations?
At the press conference, Pope Francis was also asked about the Papal Commission for the Protection of Minors. Its mandate ended in December and has not yet been renewed. He was told that some people wonder if this lapse is a sign that the protection of victims is not a priority.
But the pope confirmed that the commission will continue and revealed that on the Tuesday before he left for Chile and Peru he received and approved "the definitive list" of the membership of the new commission.
"Some but not all of the members of the old commissions have been reconfirmed," Francis said, "while a number of new members have been added."
He explained the question of the commission "was studied" and that "the commission itself, decided to renew a part [of the original members] and to nominate new ones."
As for the time lag between the expiration of the first commission and the announcement of the nominations to the second, Francis explained that "it follows the normal procedure of the curia" in terms of nominations. "There were some observations about some [nominations] that needed to be clarified because they study the curriculum vitae of the new persons.
"There were two observations that needed to be clarified. But Cardinal O'Malley works well, as he should. The time [it takes] are the normal times of the curia for nominations of this kind."