More Heads Should Roll over Gymnastics Scandal
Miami Herald
January 26, 2018

http://www.miamiherald.com/opinion/editorials/article196787324.html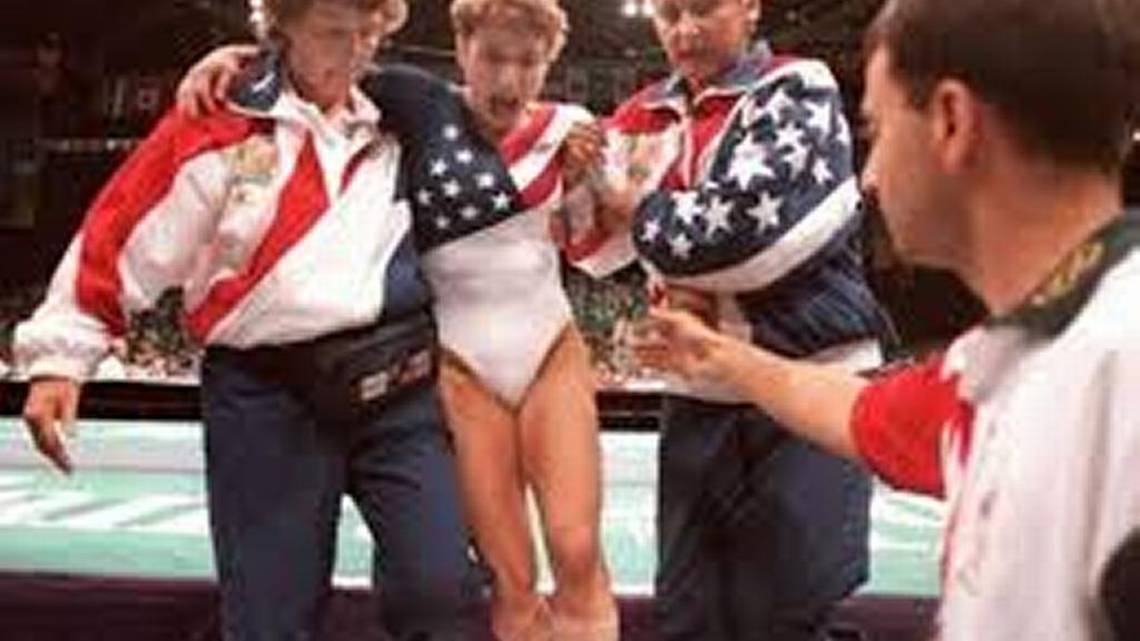 Gymnast Kerri Strug fights pain of sprained ankle at 1996 Olympics in Atlanta. Now convicted doctor, Larry Nassar, was on the sidelines. Getty Images



The most enduring image from the 1996 Olympics in Atlanta was gymnast Kerri Strug's courageous second vault and perfect landing on a badly sprained ankle that sealed the all-around gold medal for Team USA.

As she was carried off the floor, she was turned over to the tender mercies of team doctor Larry Nassar, helping cement his fame as a healer. On Wednesday, Nassar, 54, was sentenced to up to 175 years in prison on multiple counts of sexual assault involving young women he treated.

During seven days of victim-impact hearings in a Lansing, Mich., courtroom, 156 women testified that Nassar had abused them under the guise of providing medical care either as a team doctor for USA Gymnastics or at Michigan State University, where he was a faculty member. He also faces a 60-year federal sentence on child pornography charges.

As inspiring as it was to see so many young women bravely tell their stories, it is deeply troubling that, once again, institutions charged with protecting young people failed them instead.

As with the Catholic church's ongoing clerical abuse scandals and the 2011 Jerry Sandusky pedophilia scandal at Penn State University, institutions looked the other way when confronted with the awful truth. Too much money was at stake. Reputations had to be protected at all costs.

Four executives and board members of USA Gymnastics, the sport's Indianapolis-based governing body, already have resigned. On Wednesday, so did Michigan State's president, Lou Anna K. Simon. She denied any cover-up but said, as president, she bears ultimate responsibility.

Investigations are underway at both the university and USA Gymnastics. Yes. More heads should roll. Also linked to the scandal are famed coaches Bella and Martha Karolyis. Both have retired but their secluded ranch in the Sam Houston National Forest is where several former gymnasts allege that Nassar sexually abused them on the property.

How could such lapse in supervision happen?

Today, women's gymnastics is the most-watched event on Olympics telecasts.

The sport exploded in popularity with Mary Lou Retton's performance at the Los Angeles Olympics in 1984, reached new heights with the remarkable success of that 1996 team in Atlanta and peaked with team gold at the 2016 Games in Rio de Janeiro.

Other big-name coaches opened training centers and charged thousands of dollars to families with Olympic dreams for their little girls.

Often, as the journalist Joan Ryan described in her 1995 book "Little Girls in Pretty Boxes," the training included physical and emotional abuse. Sexual abuse became part of the mix as early as 1994, according to a lawsuit filed against Nassar.

He resigned in 2015 and the next year was outed by Louisville, Ky., attorney Rachael Denhollander, who had sought treatment at his Michigan State clinic in 2000 when she was 15. She told her story to the Indianapolis Star, which had exposed USA Gymnastics' failure to report sexual abuse allegations against 50 coaches.

USA Gymnastics is a $34.4 million-a-year enterprise that paid its top executive $625,000 a year.

At least five of its major sponsors have now canceled their deals. So much for protecting the brand instead of the kids.