Larry Nassar Is 'really Great Guy,' Some Accusers Lying: Lawyer
By Gabrielle Fonrouge
New York Post
February 1, 2018

https://nypost.com/2018/02/01/nassar-lawyer-says-some-of-his-victims-must-be-liars/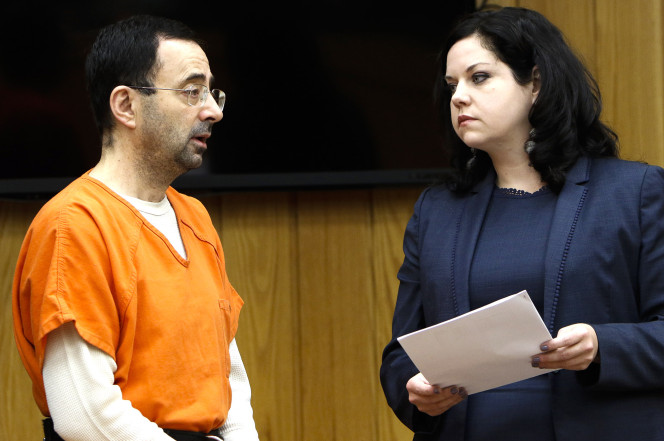 Larry Nassar with lawyer Shannon Smith



The defense attorney for disgraced USA Gymnastics doctor Larry Nassar said she doesn't believe that her client could have sexually assaulted all 256 of his accusers.

"There's a huge part of me that doesn't believe every one of those girls was victimized by him," Shannon Smith said in an interview with WWJ News during a morning broadcast.

She later clarified that she's not denying he's guilty of assaulting some women but believes the number that has come forward is "really extreme."

"There was no way there could have been so much," she said.

"Larry would have to have been doing this all day, every day with no one catching on. This is a guy who put child pornography in a trash can. He's not a savvy guy."

She went on to say she believes many of Nassar's former patients received legitimate medical treatments from the doctor, who used his hands to manipulate sensitive areas of their bodies.

"I think Larry Nassar comes off as a really great person. There is no doubt he did a lot of good for a lot of his patients," Smith said.

She believes the attention Nassar's case received is what's causing former patients to come forward with feelings they'd been assaulted too.

"I imagine the trauma of that is just as bad as if you were victimized," Smith told ESPN. "I think it's terrible for them to feel bad. It's terrible that there were parents who were in the room that feel bad."

Those women point to Nassar's lack of gloves, his refusal to allow other trained doctors in the room during his treatments and his failure to explain his actions as evidence he was touching them to gain sexual gratification and not to heal them. Smith called these decisions "poor judgement" but not indications of sexual motives.

"They may not have been as sinister as some people believe them to be," Smith said.

Nassar pleaded guilty to 10 counts of first-degree criminal sexual conduct in November and was required to listen to heart-wrenching impact statements from his victims during a week-long sentencing hearing at the end of January before a judge gave him up to 175 years in prison.

The attorney general's office in Michigan said 256 girls and young women have filed complaints with law enforcement alleging Nassar assaulted them.

Smith expects Nassar to appeal his sentences but does not plan to represent him during those appeals.