Pope Was Informed about Accused Paedophile Priest
AFP
February 7, 2018

http://www.enca.com/world/pope-was-informed-about-accused-paedophile-priest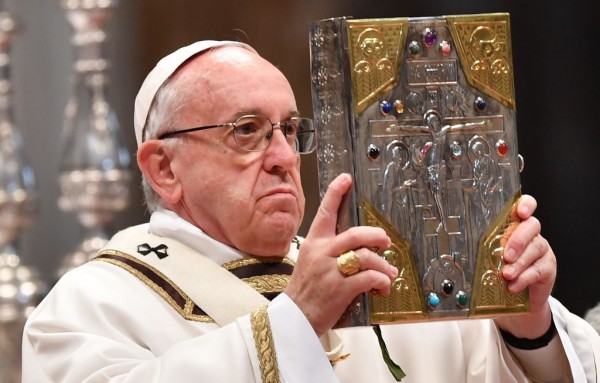 Pope Francis holds the book of the Gospels during the Chrism Mass for Holy Thursday, on April 13, 2017 in the Vatican. Photo: Alberto PIZZOLI / AFP



A former member of the Vatican's child protection panel said Tuesday that she sent Pope Francis a letter warning him about a Chilean bishop accused of covering up for a paedophile priest, contradicting the pontiff's previous remarks.

During a trip to Chile in January marred by controversy after Francis hugged Bishop Juan Barros, the pope indicated that he had not heard from victims in the case.

But Irish survivor of abuse Marie Collins, who quit the pope's commission on the protection of minors last year, said she travelled to Rome in 2015 with a letter written by Juan Carlos Cruz, a victim of disgraced paedophile priest Fernando Karadima.

In 2015, Francis appointed Barros the head of the diocese of Osorno in southern Chile despite accusations the prelate covered up for Karadima.

"The day they bring me proof against Bishop Barros, then I will speak. There is not a single piece of proof against him. Everything is slander," the pope had said in Chile.

"You tell me that there are victims, but I did not see them," he said.

Collins said she and three other commission members handed Cruz's letter to the panel's chair, US Cardinal Sean O'Malley, in April 2015.

"We were very concerned about the situation of him (Barros) being appointed, particularly if he had seen abuse and had not recognised it as abuse, then as a bishop he wouldn't be able to protect children," Collins told AFP.

O'Malley assured the panel members as well as Cruz that he had passed the letter on to the pope, she said.

Francis later apologised to sexual abuse victims for his comments about Barros, acknowledging the word "proof" had hurt many people, but added that the Vatican had investigated the case and he was "convinced" of the bishop's innocence.

Local Catholic groups in Barros's diocese have since demanded that Francis remove the bishop for his ties to Karadima, who in 2011 was convicted by the Vatican of abusing children in the 1980s and 1990s.

Collins said that at least three of Karadima's victims have accused Barros of witnessing some acts. Barros has denied any knowledge of Karadima's actions.

In late January Francis announced he would send the Vatican's top expert on sex abuse to Chile to hear from witnesses in the case, due to "some recently received information" about Barros.

Several victims told Chilean radio on Monday that they would testify, including Cruz.