Lawsuit alleges Las Cruces Diocese knew of alleged sexual assault involving priest
By Samantha Lewis & Jamel Valencia
KFOX14
February 07, 2018

http://kfoxtv.com/news/local/lawsuit-alleges-las-cruces-diocese-knew-of-alleged-sexual-assault-involving-priest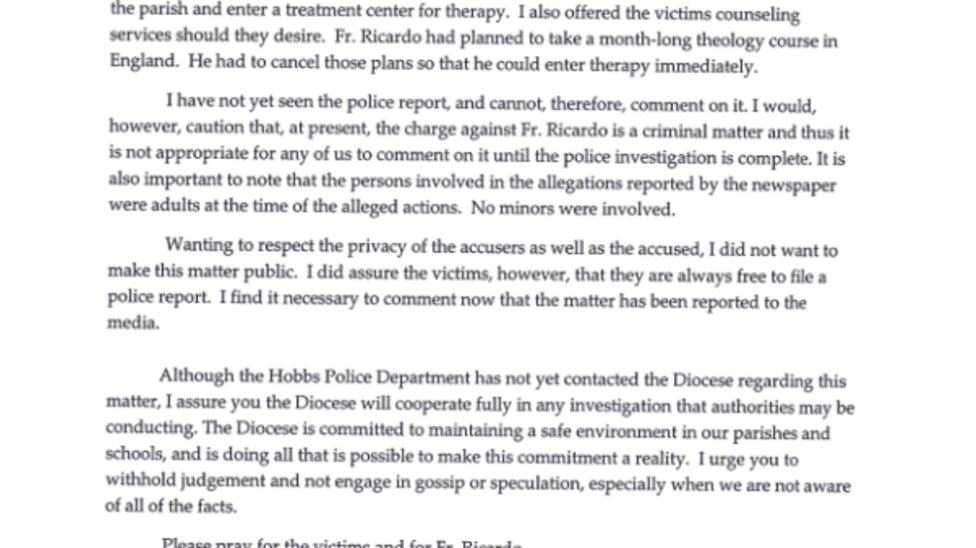 Statement by Roman Catholic Diocese of Las Cruces.


[with video]



LAS CRUCES, N.M. — A priest who served at a parish in Las Cruces for nine years and the Las Cruces Diocese are facing a lawsuit.

The lawsuit accuses the Rev. Ricardo Bauza of sexual battery, alleging he sexually abused a victim in the rectory at St. Helena Catholic Church in Hobbs, New Mexico, in 2016, according to court records.

Before becoming a priest in Hobbs, Bauza was a priest at St. Genevieve Catholic Church in Las Cruces from 2005 to 2014.

The lawsuit was filed in Las Cruces on Monday, according to court records.

It alleges Bauza abused his power as a priest to sexually harass and sexually abuse the alleged victim and that the Las Cruces Catholic Dioceses and St. Helena facilitated the priest's abuses and helped him flee New Mexico

Police in Hobbs said the accuser told two male members of the St. Helena church that Bauza would walk in on him showering in the church rectory on several occasions and would get undressed and wash the victim's genitals.

The two male members of the church told police that Bauza would show them naked pictures of himself from his cellphone.

The same male members told police they reported what Bauza did to the accuser and also about the naked photos of his genitalia, which they said he would often show them.

One of those male members of St. Helena's told police that Bauza invited him to his living quarters and he noticed that Bauza had a photograph hanging on the wall in his bedroom of a male wearing an Irish kilt that exposed the male's genitals.

The police report says the other male member of the church told police that Bauza confessed to him that he was bisexual and that he had men he met online perform oral sex on him inside the rectory.

According to the report, the Las Cruces Catholic Diocese and St. Helena's did nothing to stop Bauza or to warn parishioners of the alleged sexual abuse of which Bauza was accused.

The lawsuit alleges Bauza fled New Mexico to evade law enforcement officers.

A news release issued in November by Las Cruces Dioceses Bishop Oscar Cantu says that he asked Bauza to "absent himself from the parish" and enter a rehabilitation facility after learning of the allegations.

Cantu released this statement regarding the allegations against Bauza:

"I urge you to withhold judgement and not engage in gossip or speculation, especially when we are not aware of all the facts. Please pray for the victims and for Fr. Ricardo."

A woman who attends St. Genevieve Catholic Church said many people put their trust in their priests.

"Our parents raised us to have that faith, of course, in God, but the priest is the next level to God. He talks through God. He's supposed to talk through God and tell us. We even confess our sins to him so it is disgusting and horrible," Martha Marquez said.

The lawsuit states that the plaintiff is seeking an unspecified amount of compensation from a jury trial.

According to documents filed in Lee County, Bauza has hired a defense attorney.

The documents say Bauza's attorney was granted a stipulated motion to have Bauza booked in jail and then released immediately under his own recognizance but it's still unclear when that may happen.

Officials with St. Genevieve's and the Las Cruces Catholic Diocese declined to comment Wednesday.