Presentation High: 20 Students, Alums Now Allege Sex Abuse Involving 8 Teachers, Staff
By John Woolfolk
Mercury News
February 7, 2018

https://www.mercurynews.com/2018/02/07/petitioners-catholic-girls-school-ignoring-pleas-to-investigate-handling-of-sex-abuse/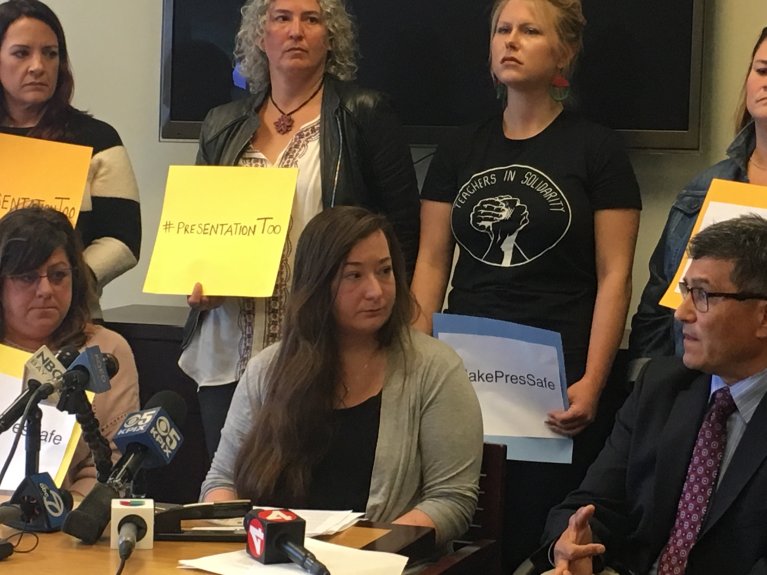 Dina Leonis, seated left, and Katherine Magana, seated center, discuss allegations of sexual abuse at Presentation High School in San Jose. Alumnae, standing, also attended a news conference held Dec. 19, 2017, by attorney Robert Allard to reveal allegations against Presentation. (Sharon Noguchi/Bay Area News Group)



The number of women claiming they were sexually abused as students at a prestigious San Jose Catholic girls high school has swelled to 20 while the number of accused staff has grown to eight. The mounting accusations surfaced as nearly 5,000 former students and their supporters have signed a petition demanding an independent investigation of how the administration handled reported abuse.

But even amid a global "#MeToo" reckoning of sexual abuse, the accusers say, Presentation High School officials are ignoring their demands, and the former students are urging alumnae to withhold financial support until school officials call for an independent investigation.

"It sounds like they're hoping we'll go away," said Kathryn Leehane, who wrote Oct. 20 in the Washington Post about how she and a classmate complained decades ago about abuse by a former Presentation teacher to no avail. The teacher remained on the job and has since died.

Since her article, 18 other students and graduates have come forward with similar stories involving eight Presentation teachers or other staff, according to "#PresentationToo," a group of alumnae, students, parents and others.

"It's definitely gotten much bigger," Leehane said. "I had no idea the can of worms I was opening. But once I heard from so many young women, I couldn't turn my back. That's not what Presentation taught me. They taught me to fight for the unrepresented."

In a response Wednesday, Presentation's board of directors continued to defend school officials. "In all instances, PHS administration acted responsibly and followed the laws of California in handling the cases that were reported." A school official also questioned the reported number of alleged victims and abusers.

The board also was unfazed by the petition. "We do not create school policy based upon petitions and social media accounts," its statement said.

Presentation Principal Mary Miller did not answer requests for comment Wednesday. In a Dec. 21 statement, she defended her handling of abuse claims and thanked supporters for "the collective community outrage at the false, unfounded, misleading, and half-truths that have been slung at our school and me this fall."

The board of directors in a Dec. 20 letter to alumnae declared "unwavering" support for Miller, also the school's first president.

Those school official statements came after several former students gathered with attorney Robert Allard in December to publicly accuse Presentation of failing to respond appropriately to abuse claims over 30 years. The accusers have not filed a lawsuit — Allard said they wanted an audience with the board to discuss their concerns. There were 17 alleged victims at the time and several reported abusers.

Allard said many of the students had come forward at the time to report the alleged abuse, but he said in many of those cases school officials failed to contact authorities outside the school.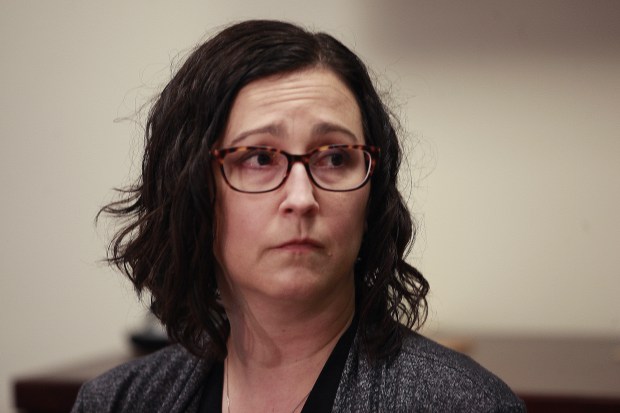 Former Presentation High School student Kathryn Leehane appears at a press conference Wednesday, November 22, 2017, in San Jose, California, regarding allegations of pervasive sexual abuse of students at the prestigious all-girls Catholic high school. Leehane wrote a recent article in the Washington Post alleging she was sexually abused at the school. (Karl Mondon/Bay Area News Group)



California law requires "mandated reporters" — including teachers and other school employees, doctors, therapists, coaches, clergy and others — to report suspicions of child abuse to police or Child Protective Services. The mandated reporters are not supposed to conduct their own investigations.

In 2012, then-Principal Lyn Vijayendran of O.B. Whaley Elementary in San Jose was convicted of not relaying to law enforcement a student's explicit report of her teacher performing a possible sexual act when they were alone in a classroom. Teacher Craig Chandler later was convicted of molesting five children.

In its statement Wednesday, Presentation's board echoed its December assertion regarding Leehane's complaint in the 1990s that "the allegations being made today are not the same claims that were reported to us in the past."

However, Leehane noted that her Feb. 9, 1994, letter to Miller reporting her abuse claims mirrors her October account in the Washington Post. She added that Miller in her Feb. 16, 1994, response expressed "shock and dismay" over allegations she called "a most serious matter."

The board's Wednesday statement added that "we take the other allegations seriously as well, but we must note that a large number of the incidents described on the alumnus webpage were either not reported at the time or they do not reflect the information provided to us in the past."

The board stated: "We have reported when we had a reasonable suspicion of childhood abuse."

Allard, however, said school officials should have alerted authorities, not handled reports of abuse themselves.

"Once a report is made, schools are required to step aside and let the professionals do their job," Allard said Wednesday. "The police, unlike school administrators, have the requisite knowledge, training and tools to conduct proper sex crime investigations."

Leehane said she and other former students who have detailed abuse claims on a website launched last month don't want to hurt their former school, but want its leadership held accountable.

"We are not trying to say Presentation is a den for abuse — that happens everywhere," Leehane said. "What we've uncovered is there is a pattern of violating mandatory reporting laws and not protecting all students in their care."

The #PresentationToo group hopes financial pressure from alumnae will get the school's board to meet with the former students and launch an investigation.

Start your day with the news you need from the Bay Area and beyond.

Sign up for our new Morning Report weekday newsletter.

"Unfortunately they haven't listened to us for the past three months," Leehane said. "As the saying goes, money talks. So that's what we're trying."