Mormon Bishops Told Ex-wives of Former Hatch, White House Staffer to Consider His 'career Ambitions' When They Reported His Physical Abuse, They Say
By Thomas Burr
Salt Lake Tribune
February 8, 2018

https://www.sltrib.com/news/politics/2018/02/08/white-house-officials-ex-wives-say-their-mormon-bishops-were-no-help-when-they-were-abused/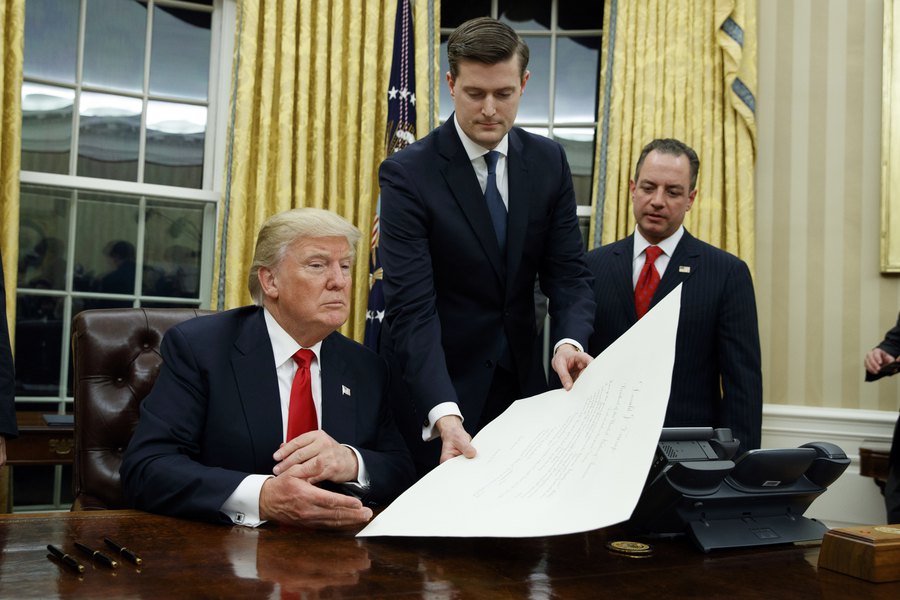 FILE - In this Jan. 20, 2017 file photo, White House Staff Secretary Rob Porter, center, hands President Donald Trump a confirmation order for James Mattis as defense secretary, in the Oval Office of the White House in Washington, as White House Chief of Staff Reince Priebus, right, watches. Porter is stepping down following allegations of domestic abuse by his two ex-wives. (AP Photo/Evan Vucci)



The LDS Church declared Thursday that it has "zero tolerance" for abuse of any kind but couldn't speak directly to allegations by the ex-wives of a former White House official who reported they received no help from their Mormon clergy when they were being abused.

Jennifer Willoughby and Colbie Holderness — former wives of Rob Porter, who resigned as White House staff secretary this week — said their LDS bishops either didn't believe them or didn't step in to help when they alleged Porter had physically abused them.

Porter has denied the charges.

"When I tried to get help, I was counseled to consider carefully how what I said might affect his career," Willoughby wrote in a blog post last year, adding later, "Friends and clergy didn't believe me. And so I stayed."

She also told The Intercept that when she went to her bishop about Porter's anger issues, he cautioned that it could hurt Porter's image. "Keep in mind, Rob has career ambitions," she recalled the local LDS leader saying, according to the online news outlet.

Holderness, who gave the Daily Mail a picture of her with a black eye she said Porter gave her, told the British newspaper that the Mormon clergy was of no help when she needed it.

"It wasn't until I went to a secular counselor at my workplace one summer and told him what was going on that he was the first person, and not a male religious leader, who told me that what was happening was not OK," she told the Daily Mail.

Eric Hawkins, a spokesman for The Church of Jesus Christ of Latter-day Saints, said Thursday he couldn't speak to the individual circumstances of the allegations. But he issued a statement that abuse is not tolerated.

"It is difficult to speak to specific circumstances without complete information from all involved, but the position of the church is clear: There is zero tolerance for abuse of any kind," Hawkins said. "Church leaders are given instruction on how to prevent and report abuse and how to care for those who have been abused."

But these men are lay leaders, Julie de Azevedo Hanks, a Salt Lake City therapist, pointed out Thursday, and may have little idea "what to do when domestic abuse is disclosed, especially when the perpetrator denies it."

And it does not surprise her that LDS bishops might side with men, especially those who seem so competent and caring at church and in public places.