Olympic Swimmer Ariana Kukors Accuses Former Coach of Sexual Abuse
By Jacey Fortin
New York Times
February 08, 2018

https://www.nytimes.com/2018/02/08/sports/olympic-swimmer-ariana-kukors-coach-abuse.html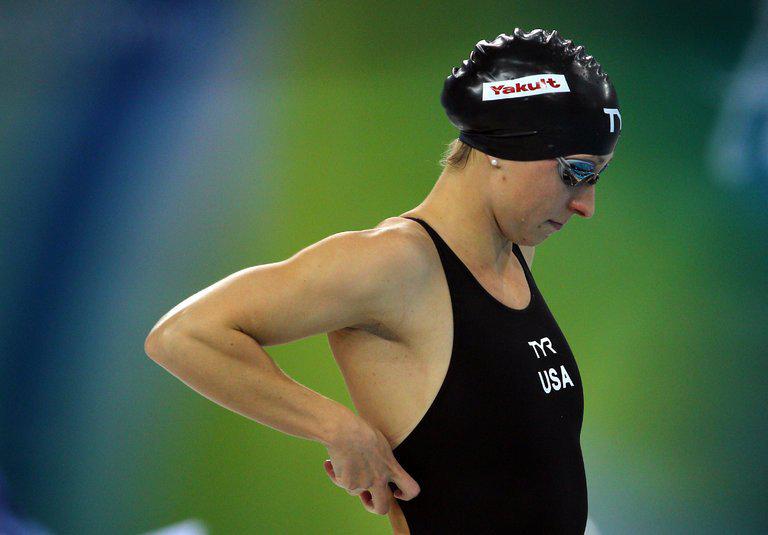 Ariana Kukors in 2010.
An American swimmer who competed in the 2012 Olympics has accused her former coach of sexually abusing her when she was a teenager.
The swimmer, Ariana Kukors, 28, said in a statement on Wednesday that the coach, Sean Hutchison, began sexually abusing her when she was 16 and had been "grooming" her for three years before that.
"I never thought I would share my story because, in so many ways, just surviving was enough," Ms. Kukors said in the statement. "I was able to leave a horrible monster and build a life I could have never imagined for myself. But in time, I've realized that stories like my own are too important to go unwritten."
In a statement emailed by his lawyer, Mr. Hutchison, 46, said Thursday that the accusations were not true. He said that the two had had a "committed relationship" that began after she was of age and that they had lived together for more than a year after the 2012 Olympic Games.
"At no time did I ever abuse Ariana Kukors or do anything with her that was not consensual," the statement said. "I absolutely deny having any sexual or romantic relationship with her before she was old enough to legally make those decisions for herself. Prior to that time, I did nothing to 'groom' her."
"Her younger sister also lived with us for several months and her mother was a regular visitor to our home," the statement added. "I deeply regret that she would make these wild allegations all these years later."
The lawyer, Brad Meryhew, said Mr. Hutchison would not comment further.
In response to Mr. Hutchison's statement, B. Robert Allard, one of Ms. Kukors's lawyers, said: "Ariana was groomed and manipulated as a minor by her trusted swim coach. He sexually assaulted her starting when she was 16. This abusive relationship continued until the age of 24. I would hardly characterize this a 'committed relationship' in the sense of two consenting adults who freely and willingly engage in healthy relations. There is nothing healthy about childhood sexual abuse."
The United States Homeland Security Department is "still in the very preliminary stages" of an investigation into this case, Lori Haley, a spokeswoman for the agency, said in an email on Thursday. "But our top priority in all cases involving alleged online child exploitation is identifying any possible minor victims."
Ms. Kukors once held the world record for the 200-meter individual medley and has won medals at several international competitions. She competed in the 2012 Summer Olympics in London.
Mr. Hutchison has worked with several Olympic swimmers, including the medalists Margaret Hoelzer, Caroline Burckle and Kara Lynn Joyce. He was an assistant coach for the women's swimming team during the 2008 Beijing Olympics.
He met Ms. Kukors when he was a coach at King Aquatic Club in Seattle, according to Ms. Kukors's statement.
In a statement on Thursday, Michael Brooks, the head coach at the club, said that news of the allegations "broke our collective hearts."
"Ariana Kukors is part of the King Aquatic family and we only want the best for her," Mr. Brooks said. "Our staff is meeting to review this devastating news. Sean Hutchison has stepped down as an executive with King and has had no direct interaction with our swimmers for a very long time."
Mr. Allard said that U.S.A. Swimming had been given notice in 2010 about the inappropriate coach-athlete relationship but had done nothing.
U.S.A. Swimming, the organization that governs the sport in the United States, said in an emailed statement on Thursday that it "became aware of a rumored relationship between Hutchison and then 21-year-old Ariana via a third-party" in 2010. (The organization said Mr. Hutchison does not work for the organization, but he once had a coach membership and remains a nonathlete member.)
U.S.A. Swimming said that it conducted an investigation into the rumor in 2010, but that Ms. Kukors and Mr. Hutchison both "unequivocally denied the existence of a romantic or sexual relationship," and the case was closed.
In light of Ms. Kukors's allegations this week, the organization expressed support for her and other victims "in their quest to break their silence and confront their horrific experiences."
According to Ms. Kukors's statement, she realized that she had been abused only "through recent therapy and after years of suppressing memories of the pain and suffering," and that she was coming forward with her story on the recommendation of victims' advocates.
Ms. Kukors's statement follows on the heels of a dramatic sentencing hearing for Lawrence G. Nassar, a medical professional who was convicted of sexually abusing the young gymnasts, including Olympians, who were his patients. At least 265 girls and women have accused him of abuse, including while an F.B.I. inquiry into the allegations was underway.
Uproar over the slow response to the allegations led the board of directors of U.S.A. Gymnastics, the governing body for gymnastics in the United States, to resign.