Olympic Swimmer Says Former USA Swimming Coach Sexually Abused Her for Years
By Alanna Vagianos
Huffington Post
February 8, 2018

https://www.huffingtonpost.com/entry/olympic-swimmer-ariana-kukors-former-usa-swimming-coach-sexually-abused-her_us_5a7c4c6de4b044b38219f016

Olympic swimmer Ariana Kukors says former U.S. Olympic swimming coach Sean Hutchison began sexually abusing her when she was 16.

Kukors, now 28, said in a statement late Wednesday night that Hutchison began "grooming" her when she was 13 years old after he became her coach at King Aquatic swimming club in Seattle. Her attorneys told HuffPost the abuse stopped when Kukors turned 24.

"I never thought I would share my story because, in so many ways, just surviving was enough," Kukors said in a statement. "I was able to leave a horrible monster and build a life I could have never imagined for myself. But in time, I've realized that stories like my own are too important to go unwritten."

Kukors is the 2009 world champion in the 200-meter individual medley and placed fifth in the 200-meter individual medley in the 2012 Summer Olympics. Hutchison was an assistant USA Swimming Olympic coach in 2008, but resigned from the position in 2010 amid rumors that he was having a sexual relationship with one of his swimmers. He still coaches swimmers in Seattle and is still listed as the owner of King Aquatic.

The former swimmer said she only recently realized Hutchison abused her. Delayed reporting is somewhat common for victims of child sexual abuse.


Ariana Kukors poses with her gold medal after winning the Women's 100-meter Individual Medley final of the 10th FINA World Swimming Championships in 2010 in Dubai, United Arab Emirates.



She said she's coming forward now for "the little girls and boys whose lives and future hangs in the grasp of a horribly powerful and manipulative person."

"That they may not have to go through the same pain, trauma, horror, and abuse," she continued. "That their parents, mentors, and guardians are better able to spot the signs of grooming and realize its tragic consequences before it's too late."

Seattle's Homeland Security Investigations division searched Hutchison's Seattle apartment on Tuesday and recovered electronics that could contain evidence, SeattlePI reports. Hutchison, 46, allegedly took naked photos of Kukors without her consent when she was 17.

"He took hundreds or thousands of sexually explicit photographs of her," a Homeland Security investigator told the SeattlePI, recalling Kukors statement to the organization.

HuffPost reached out to Hutchison and King Aquatic swim club for comment but did not immediately hear back.

Hutchison had not been arrested or charged as of Thursday morning.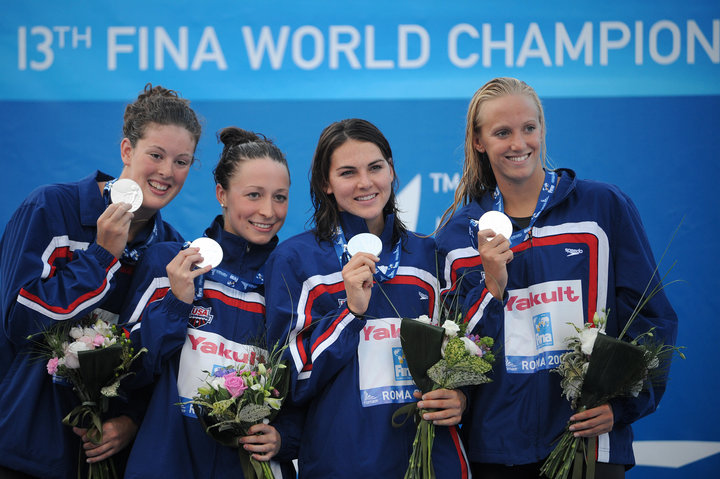 Kukors celebrating with teammates Dana Vollmer, Lacey Nymeyer and Allison Schmitt after winning their silver medal on the women's 4x200-meter freestyle final on July 30, 2009, at the FINA World Swimming Championships in Rome.



In an email to HuffPost, USA Swimming said Kukors' statement "marked the first time" the organization had learned of the allegations against Hutchison, adding that their "hearts go out to Ariana."

The organization did learn of a "rumored relationship" between then-21-year-old Kukors and Hutchison in 2010.

In 2010, USA Swimming became aware of a rumored relationship between Hutchison and then 21-year-old Ariana via a third-party. Based on the information, USA Swimming retained an independent private investigator and conducted a full investigation into the rumor and the possible Code of Conduct violation.

During the USA Swimming investigation, both Ariana and Hutchison, as well as Ariana's sister, Emily, unequivocally denied the existence of a romantic or sexual relationship. With the denials from both parties, the investigation provided no basis to conclude that a Code of Conduct violation occurred, and the case was closed. Hutchison left coaching shortly thereafter but remains a member of USA Swimming as the owner of a member club based in Seattle.

In January 2018, USA Swimming was notified of a Center for Safe Sport case regarding Hutchison and we have proactively sent over the 2010 case file to aid their investigation and support in any possible way.

Over the last several years, Ariana has worked with USA Swimming as on-camera talent in its digital productions and has truly become a member of the family. We stand by her, and all other victims, in their quest to break their silence and confront their horrific experiences.

Kukors' allegations come on the heels of hundreds of accusations of child sexual abuse against former USA Gymnastics team doctor Larry Nassar. Nassar has been accused of serial sexual abuse by over 265 women and girls and was sentenced to two concurrent sentences of 40-175 and 40-125 years in prison.

Dozens of elite swimming coaches have been accused of sexually abusing their athletes over the years. A recent bill passed in Congress hopes to protect young athletes from predators like Nassar in amateur sports including swimming and gymnastics.

Kukors' attorney Robert Allard said USA Swimming found out about Hutchison's abuse in 2010 and did nothing to stop it.

"If this organization had immediately reported what it knew to authorities, Hutchison likely would have been stopped, Ariana would have been spared years of abuse, and countless other young girls would have been protected from this sexual predator," Allard said.

Kukors' other attorney, Ray Mendoza, added that it's "imperative" that institutions like USA Swimming prioritize protecting their athletes not their reputation.

"For that reason, any suspicion of an inappropriate sexual relationship, including one between an athlete and coach, should immediately be reported to law enforcement," he said. "When institutions conduct their own internal investigations, they usually come up with the results that they desire, resulting in the end of the investigation but a continued and ongoing sexual abuse of the child."

This post has been updated with a statement from USA Swimming.