Vatican to Interview Chile Victim in Person
By Nicole Winfield and Eva Vergara
Associated Press via Salt Lake Tribune
February 10, 2018

https://www.sltrib.com/religion/global/2018/02/08/ap-exclusive-vatican-to-interview-chile-victim-in-person/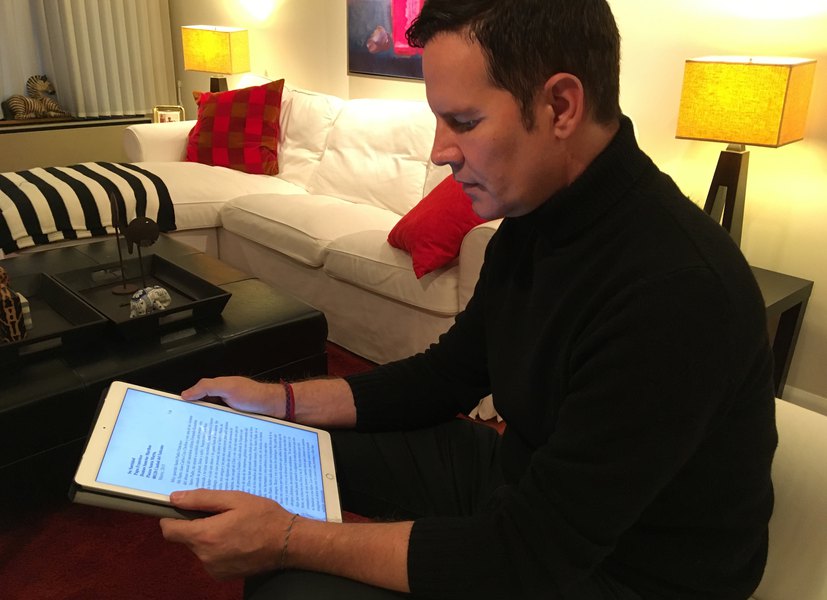 (AP Photo/Yvonne Lee) Juan Carlos Cruz reads from his tablet during an interview with The Associated Press in Philadelphia, Sunday Feb. 4, 2017. Cruz says Pope Francis received a letter he wrote in 2015 detailing the sexual abuse he suffered at the hands of a priest and efforts by the Chilean church to cover it up, contradicting the pope's recent insistence that no victims had come forward.



The Vatican's sex-crimes expert is changing plans and will fly to New York to take in-person testimony from a Chilean sex abuse victim after his pleas to be heard by Pope Francis were previously ignored, the victim told The Associated Press on Wednesday.

The switch from a planned Skype interview came after the AP reported that Francis received a letter in 2015 from Juan Carlos Cruz, a survivor of Chile's most notorious pedophile priest. Cruz wrote the pope that one of the priest's proteges, Bishop Juan Barros, was present for his abuse and did nothing, and questioned Francis' decision to make him a diocesan bishop.

Barros has denied seeing or knowing of any abuse committed by the Rev. Fernando Karadima, a charismatic priest sanctioned by the Vatican in 2011 for sexually abusing minors.

Francis sparked an outcry during his recent visit to Chile by strongly defending Barros, describing the accusations against him as slander, and saying he never heard from any victims about Barros' behavior.

The AP report , published Monday, belied the pope's assertion that the victims had never come forward.

Even before the report, the Vatican last week tapped Archbishop Charles Scicluna to go to Santiago to take testimony from victims and others with information about the Barros affair.

Originally, Scicluna was to interview Cruz via Skype since he lives in Philadelphia.

But Scicluna called Cruz on Tuesday, "on behalf of the pope," and asked if they could meet in person, Cruz told the AP. Their meeting is scheduled for Feb. 17 in New York, where Cruz has to be for work that day anyway, Cruz said.

From there, Scicluna will travel onto Santiago as originally planned.

"The Vatican's change of attitude is due to the tremors caused by The Associated Press article," Cruz said. He said he appreciated Scicluna's gesture as a sign that the Vatican was taking his testimony seriously.

"I see a good disposition, that they're not only taking my testimony seriously but also that of all those who are desperate living with the anguish of sexual abuse and a church that does nothing for them," he told the AP.