Weinstein's 'wing Women' Kept 'bible' of His Likes and Dislikes
Irish Times
February 11, 2018

https://www.irishtimes.com/culture/film/weinstein-s-wing-women-kept-bible-of-his-likes-and-dislikes-1.3388801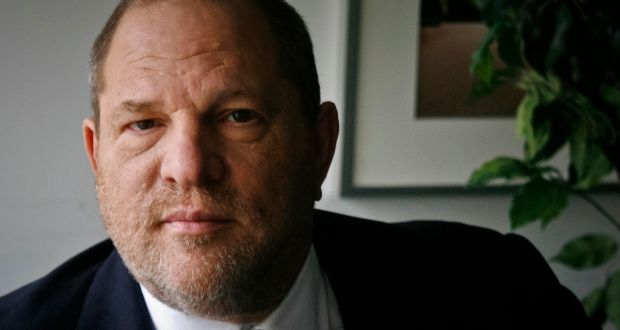 Prosecutors allege the Weinstein Company employed female employees whose primary job was to accompany Harvey Weinstein to events and to facilitate sexual conquests



New York attorney general Eric Schneiderman has filed a lawsuit against disgraced movie producer Harvey Weinstein, his brother Bob Weinstein and their film production company alleging serious violations of civil rights, human rights and state business laws.

The lawsuit, which was filed on Sunday with the New York County supreme court, alleges that the Weinsteins created "a years-long gender-based hostile work environment, a pattern of quid pro quo sexual harassment and routine misuse of corporate resources for unlawful ends that extended from in or about 2005 through at least in or about October 2017."

The complaint comes after four months of investigation and as the company seemed to be nearing a $500m sale to a group led by Maria Contreras-Sweet, who led the Small Business Administration for Barack Obama.

Harvey Weinstein faces sexual misconduct investigations in four separate jurisdictions in the wake of the avalanche of sexual misconduct accusations against him in the last few months, which he denies.

The 39-page suit alleges that unlawful conduct took two primary forms.

First, that as co-chief executive of the Weinstein Company, Harvey Weinstein "repeatedly and persistently sexually harassed female employees at TWC by personally creating a hostile work environment that pervaded the workplace and by demanding that women engage in sexual or demeaning conduct as a quid pro quo for continued employment or career advancement".

Second, Harvey Weinstein repeatedly and persistently used his position, female employees and the resources at his disposal as a co-chief executive, to serve his interests in seeking sexual contact with women seeking employment at the company.

"The Weinstein Company repeatedly broke New York law by failing to protect its employees from pervasive sexual harassment, intimidation, and discrimination," said Schneiderman in a statement.

He added that any sale of the company "must ensure that victims will be compensated, employees will be protected going forward and that neither perpetrators nor enablers will be unjustly enriched".

Among the specific allegations against Harvey Weinstein, who is currently undergoing rehabilitation in Arizona, is the allegation he threatened employees with violence, touted his connections to powerful political figures and asserted that he had contacts within the US secret service "that could take care of problems".

Weinstein's 'wing women'

New York prosecutors also allege that, at Weinstein's direction, the company employed one group of female employees whose primary job it was to accompany Weinstein to events and to facilitate sexual conquests. The entourage was known to witnesses as Weinstein's "wing women". Some members were flown in from London to New York to teach assistants how to dress and smell more attractive to the executive.

A second group of assistants, the complaint alleges, "were compelled to take various steps to further Harvey Weinstein's regular sexual activity, including by contacting 'Friends of Harvey' and other prospective sexual partners via text message or phone at his direction and maintaining space on his calendar for sexual activity".

A third group were were forced to facilitate Weinstein's sexual conquests, and to follow through on his promise of employment opportunities to women who met with Weinstein's favour. This compelled service "demeaned and humiliated them, contributing to the hostile work environment," the complaint says.

One employee told the company HR department that "only female executives are put in these positions with actresses with whom Weinstein has a 'personal friendship,' which to my understanding means he has either had or wants to have sexual relations with them".

'Massage'

In one instance in 2015, Weinstein allegedly requested that a female employee to go to his hotel room at the end of the day to set up his phone and devices for the next day, or another alleged work reason.

But when she arrived Weinstein allegedly appeared naked under a bathrobe and asked the employee for a massage. When the employee said no, he cajoled, badgered and insisted until she relented and, against her wishes, submitted to massaging him out of fear of employment-based retaliation.

On another occasion, Weinstein allegedly exposed himself to a female employee and made her take dictation from him while he leered at her, naked on his bed.

Among other behaviour, assistants were allegedly required to possess copies of a document known as the "Bible," an assistant-created guide to Weinstein's likes and dislikes, and a list of his "friends" with directions for assistants on how to arrange his extensive and frequent "personals", a code for sexual encounters.