Two Diocese of Erie Priests Removed from Ministry, Prohibited from Contact with Minors
Erie News Now
February 13, 2018

http://www.erienewsnow.com/story/37497453/two-diocese-of-erie-priests-removed-from-ministry-prohibited-from-contact-with-minors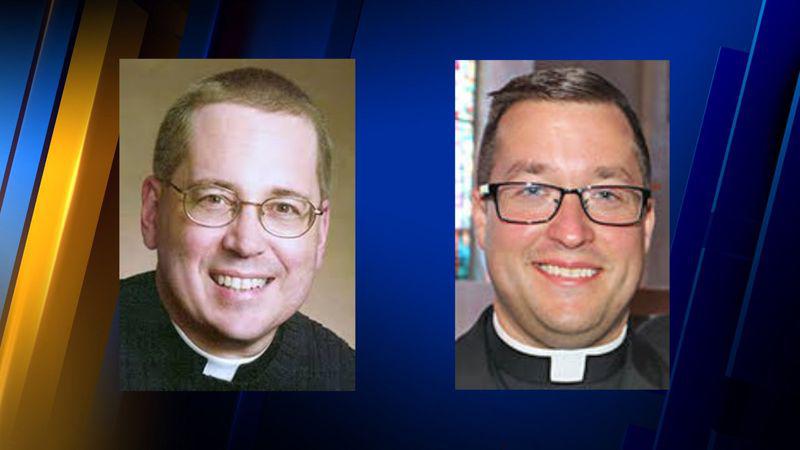 Father David Poulson and Father Sean Kerins


[with video]



Two Diocese of Erie priests have been removed from ministry - one for alleged sexual abuse and the other for inappropriate contact with minors.

Father David Poulson, 64, pastor of St. Anthony of Padua Parish, Cambridge Springs, and Father Sean Kerins, 27, chaplain at Kennedy Catholic High School, Hermitage, have been prohibited from any public ministry, as well as from any contact with minors.

The diocese said it received what it believes are credible allegations against Father Poulson regarding the sexual abuse of minors. The matter has been turned over to law enforcement. A preliminary, independent investigation is ongoing.

Kennedy Catholic High School in Hermitage informed the Diocese's Catholic Schools Office late last month about possible inappropriate communication from Father Kerins, who is a faculty member, to a student at Kennedy. ChildLine and law enforcement were informed, per school and diocesan policy. He was placed on temporary leave, but the diocese determined the text messages in question were inappropriate. He has been removed from his assignments at the school as well as Good Shepherd Parish.

The Diocese of Erie encourages anyone who has knowledge of either situation or has been affected by similar incident to report it:
To report abuse to the independent investigators retained by the Diocese of Erie, email ErieRCD@KLGates.com. In addition, victims or concerned individuals can report abuse to ChildLine, an outreach of the Pennsylvania Department of Human Services, by calling 800-932-0313. The line is open 24/7, and callers may choose to remain anonymous. Counseling assistance is available for victims and/or their families through the diocesan victim assistance coordinator, Dr. Robert Nelsen, who can be reached at 814.451.1521.
Cambridge Springs Police told Erie News Now it, along with the Crawford County District Attorney's office, have been investigating this case for more than a week. They believe Poulson had inappropriate contact with an underage male. Police said it's unclear if there are more victims, but they believe that alleged crimes happened at the church but "some time has passed" since they occurred.
The department released the following statement about the investigation:
The Cambridge Springs Police Department is currently investigating an alleged incident of sexual abuse of a minor, which is reported to have occurred at the St. Anthony of Padua Catholic Church in Cambridge Springs, Pennsylvania.

As part of the information received, Rev. David L. Poulson was specifically named and has been the main focus of the investigation to this point. We were also informed that, due to the allegations, the Erie Diocese has removed Rev. Poulson from his position at the church, and he has been instructed to have no contact with minors and is no longer permitted to practice ministry publicly.

At this time, we believe the allegations to be credible and are working with all those involved to complete the investigation as soon as possible.

The investigation into these allegations is active and on-going and anyone with any knowledge of this or similar incidents is strongly encouraged to contact the Cambridge Springs Police Department at 814-398-4112 or the Crawford County District Attorney's Office at 814-333-7455.

Further information will be released as it becomes available.
Bishop Lawrence Persico has accepted Poulson's resignation and removed him from all other assignments.