Ex-las Cruces Priest Surrenders to Hobbs Police
By Carlos Andres Lopez
Las Cruces Sun-News
February 14, 2018

http://www.lcsun-news.com/story/news/crime/2018/02/14/ex-priest-surrenders-hobbs-police-las-cruces/335505002/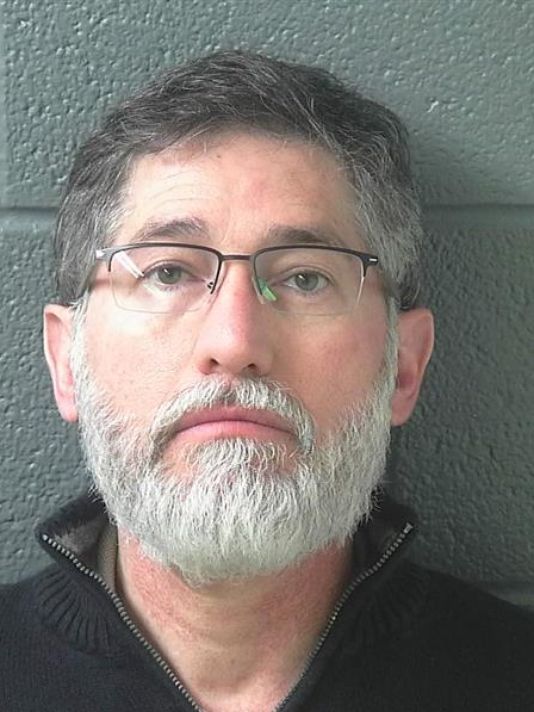 Ricardo Bauza



A former Las Cruces priest accused of sexually assaulting a Hobbs man surrendered to authorities earlier this week, more than three months after a warrant for his arrest had been issued, court records show.

Father Ricardo Bauza, 51, voluntarily surrendered to Hobbs police on Monday morning, according to his attorney, Jason Bowles of Albuquerque. A booking sheet indicates that Bauza was placed under arrest at 6:05 a.m.

Bauza had been wanted by authorities in Hobbs since last October, when police obtained an arrest warrant for the former Las Cruces priest, who served as the pastor of St. Genevieve Catholic Church for almost a decade.

Bauza had been charged with one misdemeanor count of criminal sexual contact, a charge stemming from allegations that Bauza had sexually assaulted an adult male in 2016 in Hobbs while he was the pastor at St. Helena Catholic Church.

His arrest came less than a week after the alleged victim in the criminal case filed a civil lawsuit against Bauza and the Catholic Diocese of Las Cruces, alleging that church officials aided Bauza when the criminal allegations surfaced.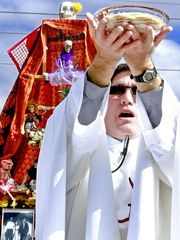 Father Ricardo Bauza holds up the host in November 2011 in celebration of the Eucharist as he and more than 200 members of the St. Genevieve's Catholic Church congregation honor their loved ones in a Dia de los Muertos Mass in the St. Joseph's Cemetery. Bauza is accused of sexually abusing a parishioner in Hobbs, where he was reassigned in 2014. (Photo: Sun-News file photo)



According to 15-page criminal complaint, Bauza allowed the alleged victim to use the shower in the church rectory at St. Helena. As the man was showering, Bauza allegedly entered the shower without clothing and began washing the man's body, including his genital area, according to the complaint.

A second, similar incident occurred about a week later, the complaint alleges.

During the police investigation, two church employees, who had known about the alleged shower incidents, told investigators that Bauza had shown them pictures of his penis, engaged in sexual activities with males and kept pornography in the rectory, according to the complaint.

An attorney representing the two church employees said they were fired shortly after notifying Bishop Oscar Cantu about the alleged misconduct by Bauza.

Bauza was arraigned in Lea County Magistrate Court in Hobbs shortly after his arrest, court records show. During the arraignment, a judge found probable cause to support the charge against Bazua, who later entered a not guilty plea.

More: How to talk to your children about sex abuse 'early and often'

Bauza was released from custody on a $2,000 unsecured bond. As part of his conditions of release, he cannot contact the alleged victim or return to St. Helena, where the alleged sexual assault occurred.

He also cannot have any visitors to his home, except his attorney, and he must maintain or seek employment. His status with the Las Cruces Catholic Diocese remains unclear. Cantu declined to comment on Bauza last week when contacted by the Sun-News.

A preliminary hearing in Bauza's case has been scheduled for June 14 in Lea County Magistrate Court.

Before Bauza was assigned to St. Helena in 2014, he served at St. Genevieve in Las Cruces for nine years, according to the Hobbs News-Sun. He was ordained in 2005 and previously served as a deacon at a Roswell parish.

The recently filed civil lawsuit is still pending in 3rd Judicial District Court in Las Cruces.

Carlos Andres Lopez can be reached 575-541-5453, carlopez@lcsun-news.com