Lynn Beyak 'inflamed attitudes against Indigenous citizens': Manitoba senator
CBC News
February 16, 2018

http://www.cbc.ca/news/canada/manitoba/lynn-beyak-mary-mccallum-residential-schools-1.4538708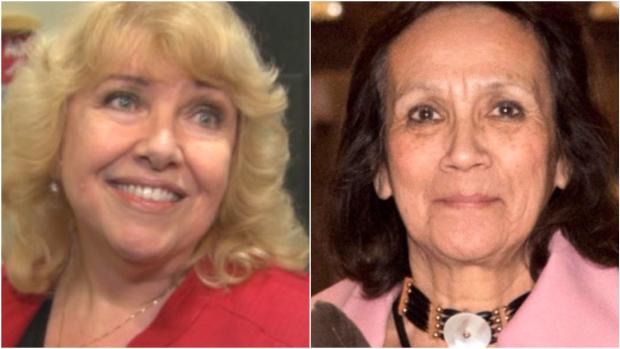 Sen. Mary Jane McCallum (right) has criticised Sen. Lynn Beyak for her views on residential schools.


[with pdf]



Residential school survivor Mary Jane McCallum pens open letter to controversial Ontario colleague

[Includes a PDF of McCallum's letter.]

The senator from Barren Lands First Nation, Man., is taking Ontario colleague Lynn Beyak to task over her controversial defence of Canada's residential school system, and her refusal to strip letters supporting that stance from her Senate website.

"No amount of good times can ever override the bad times in the institution, especially if it involves sexual abuse," Sen. Mary Jane McCallum wrote in an open letter to Beyak shared online on Thursday.

"No amount of good memories can override the negative experiences I have gone through in the past sixty years due to the 'teachings' of residential school."

In the letter McCallum equates her 11-year experience in residential schools with "spiritual genocide" and being imprisoned, and suggests the Ontario senator's apologetic stance on the system has "inflamed attitudes against Indigenous citizens."

She also writes of the importance of letting Indigenous survivors lead the discussion on residential schools.

"There are those that give themselves the liberty and privilege to act as our voice, opening our wounds at will. Possibly they see us as less than; unable to be our own representatives. These very people then deny or discount our own deep personal stories," the letter reads.

"I am disappointed that the catalyst of this recent incident is an ambassador of the Red Chamber, an institution that has its foundation in the ideal of sober second thought. It is my plea that, as Canadians, we stimulate meaningful and fruitful conversation about the consequences of residential school in our journey towards reconciliation and unity."

'Well-intentioned men and women'

Many harshly criticized Beyak last spring when she said the horrible mistakes of the residential school system often overshadow the "remarkable" efforts and "good deeds" of many "kindly and well-intentioned men and women."

She later invited First Nation people to exchange their status cards "for a Canadian citizenship."

Last month, federal Conservative Leader Andrew Sheer kicked Beyak out of caucus after Beyak refused to take down a series of racist letters from her website that supported her defence of residential schools.

A Senate committee decided earlier this month to hold off on forcing Beyak to remove the posts. Beyak, now sitting as a non-affiliated Senator, is currently the subject of a Senate ethics probe, and the committee said the officer in charge should be allowed to finish the review without interference. The 103 letters remain on Beyak's website.McCallum joins other Manitobans, including Winnipeg Mayor Brian Bowman and Manitoba Keewatinowi Okimakanak Grand Chief Sheila North, in calling Beyak out for her views.

McCallum has a degree in dentistry and spent more than 10 years managing community health services in her home community.

'Success story'

She said is often considered a "success story" of residential schools, but she says the foundation of her strength comes from connections to the land and Cree culture instilled in her by family before she was forced to leave them.

"I was a happy, carefree, curious, and imaginative child whose playground was the outdoors. I was safe, well fed, warm, and nurtured. My parents were not abusive, nor did they drink," McCallum writes.

"These freedoms that I took everywhere with me and that I took for granted ended when I walked through the doors of that immense, cold and sterile residential school building, where I was met by strangers in black dresses who spoke a foreign language. My story changed on that day."

McCallum writes that her basic rights were taken away when she was thrust into an "institution that practised human rights abuses, where child abusers and sexual predators were free to do as they [please]."

"My mentor described it to me as such: Imagine if a stranger told you, 'I'm going to take your child for the next 11 years and decide what language she's going to speak, what religion she's going to practise, what she's going to eat, what she's going to say and think, when and if you can see her again, and then you may or may not get her back after these 11 years.'" she writes.

"It has been a lifetime commitment to undo the years of violence and trauma that stemmed from the spiritual genocide that I endured in my youth … Young children often believe they are responsible for the abuses they suffer. At times I myself still wonder what I did to be treated and judged so harshly at such a young age. I had not asked to be placed there."

'Good times,' lifelong friends

McCallum had "good times in the school" and made lifelong friendships, but says that doesn't negate the years of abuse she and others suffered.

She says she even visited about 50 retired nuns in 2013 to thank them for their years of service in the schools she attended.

"Stories like this do not make headline because they rightly belong in survivors' private lives. Yet I feel compelled to make this statement in response to some of the letters on Senator Beyak's website, which claim there must have been some good teachers. The claim was never made that everyone related to the institution was bad, but the question sparks important dialogue."

McCallum says the letter isn't about shaming or blaming Beyak. She says it's important to allow First Nations to frame the dialogue on the legacy of residential schools, and to do so in a way that evokes sympathy for survivors rather than judgment.

"It is important that we facilitate this type of constructive dialogue so that we can achieve a greater understanding of the different perspectives, experiences, and histories that come together and intertwine to form Canada's past, which in turn shapes its future," she writes.

"Telling our stories is one way of taking back our power and spirit. Through voicing our stories we are telling Canada our hearts had been broken. We are telling Canada that this act of sharing is the starting point of our healing journey."

CBC News reached out to McCallum and Beyak's offices for additional comments but hasn't heard back.