Paper Cuts by Stephen Bernard Review – a Powerful Memoir of Sexual Abuse
By Jenny Turner
The Guardian
February 16, 2018

https://www.theguardian.com/books/2018/feb/16/paper-cuts-stpehen-bernard-review

Starting in 1987, when he was 11 years old, Stephen Bernard was sexually abused by Canon Thomas "Dermod" Fogarty, the priest who was, supposedly, helping him with his French and Latin. This was in Midhurst, Sussex, in the diocese of Arundel and Brighton, then headed by Cormac Murphy-O'Connor, the future leader in England of the Roman Catholic church. A few years ago, reading about Murphy-O'Connor's reaction to other cases of abuse in the 80s, Bernard "wanted to die" – he'd already been in hospital more than once after previous suicide attempts – but decided, this time, to go to the police.

The deaths of Fogarty in 2012 and Murphy-O'Connor in 2017 presumably have a lot to do with the timing of this book.

Bernard, who is now in his early 40s, is a scholar of 18th-century English literature, a former research fellow at University College, Oxford, and the editor of authoritative works about the Tonsons, the foremost publishers of the late 17th and early 18th century, and the plays of Nicholas Rowe. He continues to live and work in Oxford, and his memoir unfolds over a single day in January 2016 at the Bodleian library, where he's trying to finish an article for the Times Literary Supplement.

"I worry," Bernard writes, "that I have made rape seem like an aesthetic experience. That is not my intention. But the tools of aestheticism – the Kantian sublime – are all I have." There was, he remembers, an oil painting of St Peter's basilica on the wall of the room where it often happened: "That has something to match the scale of what happened to me." He also calls it "the exquisiteness of the horror and order of what happened". "The penis incarnating a theology of abuse."

Bernard's account of himself, his days, his sufferings, is odd and idiosyncratic. Every day now for five years, he writes, he has read the newspapers from a parallel day in the early 18th century: "Today Thomas Betterton the actor is ill." Bernard has been acutely bipolar since adolescence, and has a horrible, insidious paranoia that suddenly takes shape and steals out of mental corners: "That thought again, that thought of my destruction, being plotted in a room again, by someone unalone."

In recent years, he has been managing these ravages with the help of medications so strong that he has to leave himself notes in his pocket to remind the self of tomorrow the things he doesn't want to forget from today: "Each day I construct the self … Not knowing quite who I am, what I am doing … in the world."

He responds particularly well to an experimental treatment for extreme depression, trialled by his local NHS trust: infusions of ketamine, the chemical cosh prized by recreational users for the tricks it plays with time and space. "Sometimes, I would feel the electric enervation of the Grand Unified Theory. Occasionally, I would scream out as Fogarty came into the room, but more often it was Margaret Thatcher … Once, I was even visited by God."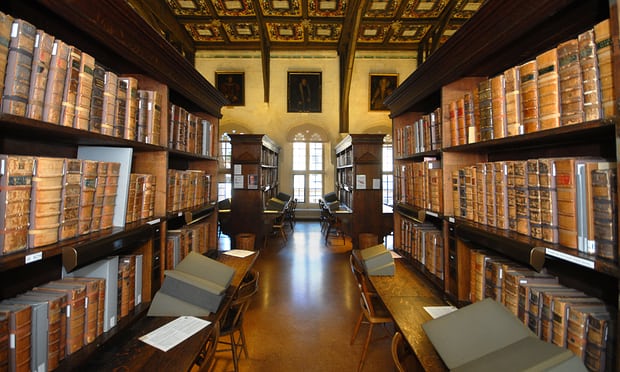 Oxford University's Bodleian Library. Photograph: Greg Smolonski/Bodleian Libraries, University of Oxford/Photovibe



Clerics who abuse don't commit just physical and emotional violations. The invasion is also spiritual – you're being forced down and brutalised by the representative of your God on this earth. "Fogarty was 'in' me in a physical sense, but he was also 'in' me in a psychological sense. There was something full and all-invasive to his violation of me which it is almost impossible not to admire."

Clearly, Bernard's way of recovering, as best he can, from what was done to him is unusual and, clearly, he's a singular, self-invented man. A photo on his agent's website shows him, bequiffed and tweedy, in a punt: but actually, he says, he spoke with "a broad Scouse accent" until he won a scholarship to Sherborne at 15. He's a huge fan of PG Wodehouse: "His idiolect casts up the promise of an eternal sunshine." He collects photographic prints of all the colleges of which he's been a member, his favourites with himself in them, dressed up in his master's gown, scurrying across the quad. Oxford, for him, has been a "giving place", a place of care and succour. It's where he's met the friends and mentors, doctors and therapists who have helped him gather around himself a decent daily life.

The form in which Bernard presents his thoughts, his memories, his perceptions, is liturgical. Moments emerge, dissolve, shape themselves round each other, in rippling patterns of the appalling and the ordinary: "For some years, paper and stickiness and boniness were the only physical sensations I could feel." The prose is clear and plain, vulnerable in its earnestness, confident in its craft. "I am glad that I wrote it, that it is written," he writes at the end, and I'm glad too. It's both a testament of great documentary usefulness and a really beautiful piece of art.

• Paper Cuts is published by Jonathan Cape . To order a copy for ?12.74 (RRP ?14.99) go to guardianbookshop.com or call 0330 333 6846. Free UK p&p over ?10, online orders only. Phone orders min p&p of ?1.99.

Since you're here …

… we have a small favour to ask. More people are reading the Guardian than ever but advertising revenues across the media are falling fast. And unlike many news organisations, we haven't put up a paywall – we want to keep our journalism as open as we can. So you can see why we need to ask for your help. The Guardian's independent, investigative journalism takes a lot of time, money and hard work to produce. But we do it because we believe our perspective matters – because it might well be your perspective, too.

I appreciate there not being a paywall: it is more democratic for the media to be available for all and not a commodity to be purchased by a few. I'm happy to make a contribution so others with less means still have access to information.

Thomasine F-R.

If everyone who reads our reporting, who likes it, helps fund it, our future would be much more secure.