Lawsuit: Priest told boy abuse was 'natural and normal'
By Mindy Aguon
Guam Daily Post
February 18, 2018

https://www.postguam.com/news/local/lawsuit-priest-told-boy-abuse-was-natural-and-normal/article_6321cf14-1539-11e8-ac88-b315f239d324.html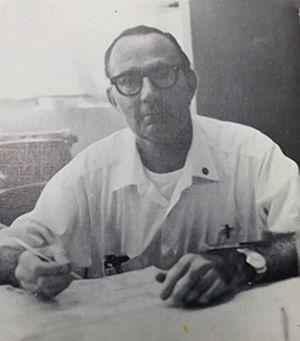 BROUILLARD: Louis Brouillard, 96, has been named in dozens of clergy sex abuse cases filed in the local and federal courts of Guam.
A former altar boy alleges he was raped multiple times by a priest who told him that it was "natural and normal," according to the latest clergy sex abuse case filed in the Superior Court of Guam.
A.B.L., who used initials to protect his identity, filed a civil lawsuit against the Archdiocese of Agana, the Boy Scouts of America and retired priest Louis Brouillard.
A.B.L. became an altar boy at the Barrigada parish in 1971, when he was 14. Brouillard was the parish priest at the time.
During the one year A.B.L. served as an altar boy, Brouillard exposed himself to the altar boys before Mass, the complaint states.
Assaults during sleepovers
On eight or nine occasions, Brouillard allegedly obtained permission for A.B.L. to spend the night with him at the Barrigada church.
When he arrived, Brouillard allegedly hugged and kissed him all over his body. Each sleepover ended in Brouillard penetrating the boy, who wanted it to stop. Brouillard, however, told him it was "normal" and urged him to believe his word because he was a priest, the complaint states.
As A.B.L. grew older, he realized Brouillard's conduct was wrong and criminal.
The lawsuit also states A.B.L. attended a swimming outing with members of the Boy Scouts and was forced to swim naked while Brouillard allegedly groped and touched their private parts.
A.B.L.'s attorney, Michael Berman, alleges that Brouillard used various strategies to gain access to his client and other young boys to induce their compliance, often rewarding them with McDonald's or taking them to other restaurants.
The lawsuit seeks $10 million in damages.