Child Sex Abuse Allegation V. Retired Boise Priest Raises Question: Is It Too Late to Prosecute?
By Katy Moeller
Idaho Statesman
February 20, 2018

http://www.idahostatesman.com/news/local/article200990614.html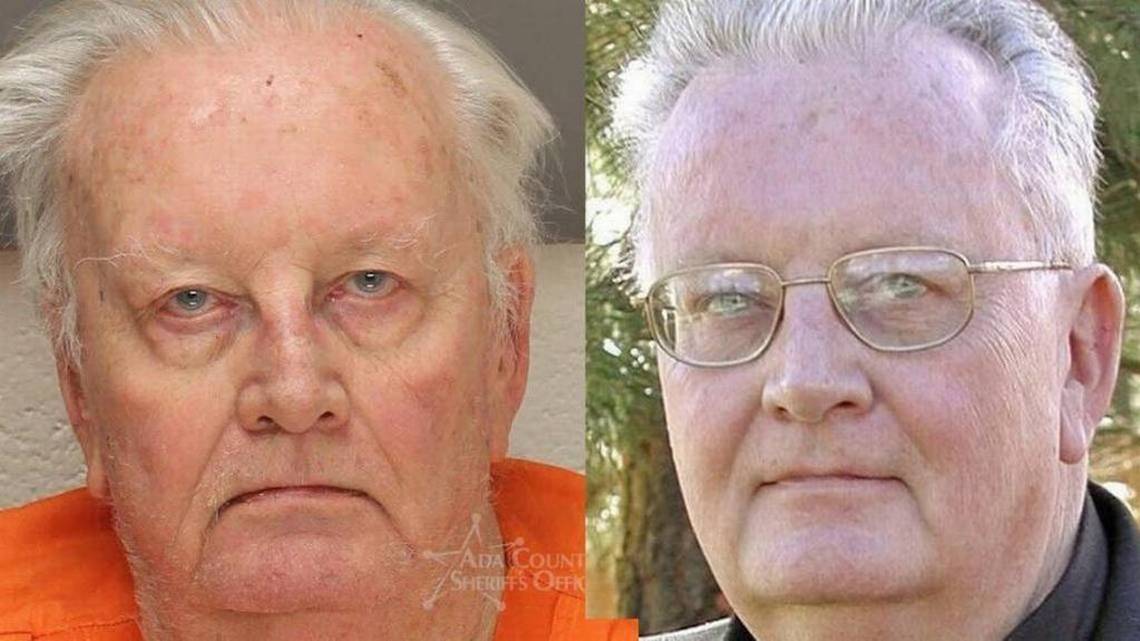 W. Thomas Faucher's Ada County arrest photo, left, and official church photo.



Idaho lawmakers removed the statute of limitations on most child sex crimes in 2006 — so does that mean cases of alleged abuse from decades ago can be prosecuted?

That question is now swirling in the wake of the last week's revelation that someone has come forward to accuse the Rev. W. Thomas Faucher of child sexual abuse. The alleged misconduct occurred 40 years ago, the diocese said.

The short answer: It's too soon to tell, but it appears unlikely.

Faucher was arrested and charged with possession of child pornography and illicit drugs on Feb. 2. The diocese has since put out a call to anyone who might have suffered abuse at the hands of clergy, staff or others.

The Idaho Attorney General's Office does not comment on investigations, and an attorney general's spokesman referred the Statesman to the Ada County Prosecutor's Office on the question of whether this case can be prosecuted four decades later.

"Statutes of limitations vary depending on the criminal statute describing the conduct," Chief Criminal Deputy Prosecutor Scott Bandy said. "Without any knowledge of what conduct has occurred, it is premature to indicate whether a statute of limitations would apply."

He said that if and when an investigation into the alleged abuse is done, Ada County will review the case for charges if they occurred within this county.

Law change not retroactive

The 2006 law change removed a requirement that children who are sexually abused report the crime before they turn 23 — or lose the chance to seek prosecution.

It is not retroactive, meaning it does not apply to crimes that occurred before 2006. All past crimes are subject to the original statute of limitations.

State lawmakers expressed interest in making the repeal on statute of limitations for child sex crimes retroactive, but that's a violation of the U.S. Constitution.

"There's a rule against ex post facto laws — laws made after the fact (a crime) is committed," said Twin Falls County Prosecutor Grant Loebs. "You can't change the law and make something a crime after it's committed. Once the statute runs, they are beyond the jurisdiction of the state to prosecute."

Several different charges possible

Loebs said the facts of the case and the ages of the perpetrator/victim are necessary to determine sex crime charges.

"If someone says, 'I was molested,' what does that mean?" he asked. The details matter.

He said the most common charges filed in child sexual abuse cases are rape, lewd conduct with a child under 16, and sexual abuse of a child under 16.

State lawmakers eliminated the five-year statute of limitations on rape in 2001. Now there's no time limit for prosecution of those cases.

The lewd conduct and child sexual abuse charges were impacted by the 2006 law change, which eliminated the requirement of victims to report by their 23rd birthday.

How do these charges differ? Here's what Idaho code says:

? Rape is defined as oral, anal or vaginal penetration with a penis if the victim is: under 16, and the perpetrator is 18 or older; the victim is 16 or 17, and the perpetrator is three years older; the victim resists, is incapacitated, not conscious or in fear for life.

? Lewd conduct with a minor child under 16 includes but is not limited to various types of physical contact, bestiality or sadomasochism done for the purpose of sexual arousal.

? Sexual abuse of a child under 16 is defined as solicitation of a child to participate in sex acts, causing a child to have sexual contact, photographing or recording sex acts, or causing a child to witness sexual conduct.

In general, Loebs said, it's important for crime victims to report incidents to the police as soon as possible. Telling your friends and family is not enough.

"If you want to start the ball rolling on a possible prosecution, then you need to call the police," Loebs said.