Diocese Compensation Program to Help Clergy Victims
By Alex Petroski and Sara-Megan Walsh
Times Beacon Record
February 21, 2018

http://tbrnewsmedia.com/diocese-compensation-program-help-clergy-victims/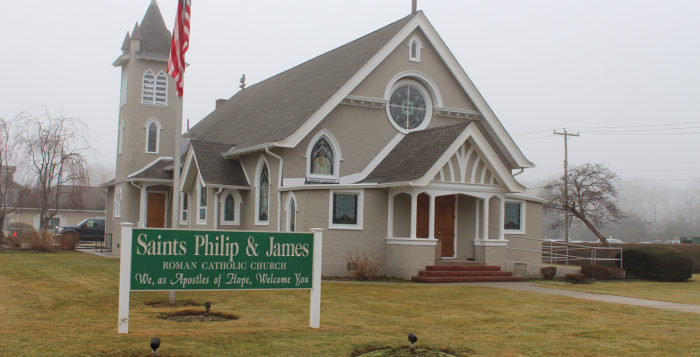 A victim of a priest at Saints Philip & James Roman Catholic Church in St. James came forward to share his story publicly last week. Photo by Sara-Megan Walsh



A group of lawyers is working to deliver a clear message to survivors of sexual abuse at the hands of clergy members: You are not alone.

Lawyers Helping Survivors of Child Sex Abuse, a national team of attorneys, released a report Feb. 5 detailing allegations of childhood sexual abuse made against 51 individuals associated with the Diocese of Rockville Centre. The report, titled Hidden Disgrace II, is comprised of clergy referenced but not named in a 2003 Suffolk County grand jury investigation of the diocese, those accused in previous media reports and individuals accused by survivors.

The goal of the report was to create a central location where Long Islanders can easily find information about accused clergy members, to empower survivors and to enlighten communities to the abusers' diocese appointments, according to Jerry Kristal, an attorney at the law firm Weitz & Luxenberg, who joined up with the law group behind the report.

At least one North Shore survivor has felt empowered and publicly shared his story in the aftermath of the report's release.

The group is also working to make the public aware of the April 30 deadline to file a claim with the diocese compensation program for victims of abuse.

A 40-year-old secret

A man alleging childhood sexual abuse at the hands of a St. James priest stepped forward Feb. 15 to share his story publicly for the first time.

Steve Werner, 59, of North Carolina, alleged that as a teenager growing up on Long Island, he was repeatedly inappropriately touched by Father Peter Charland, a priest at Sts. Philip & James R. C. Church in St. James — a Diocese of Rockville Centre church — in the early 1970s.

"This opportunity is part of my own healing processing of being able to uncover the secret I've carried with me for 40-something years," he said.

Werner said he joined Sts. Philip & James' Christian singing group, the PJ Folk Singers, led by Charland when he was 11 years old. The musical group, at its height, had more than 100 members consisting of parishioners and children from the surrounding communities, according to Werner's attorney J. Michael Reck of Jeff Anderson & Associates.

Werner said it didn't take long for him to notice that Charland was giving him preferential treatment. The priest offered him special parts in plays, a leadership role in the musical group, even gifted him a trumpet, according to Werner.

"Those behaviors, as they built, the amount of touching that occurred increased and increased," he said.

Werner alleged he spent time alone with Charland in the church's rectory, in the priest's car, and even took private flights alone with the priest, whom he claims had a pilot's license. The musical group also traveled overseas to tour Romania under Charland's supervision.

"I certainly thought it was wrong but I didn't feel it was appropriate for me to stand up," Werner said. "It's something I regret."

Father Charland left the St. James parish in 1975. His name disappeared from all church records made available by the diocese after 1976, according to Reck. New York State records show Charland was a certified social worker from 1978 until his death in 2004.

"It appears the church made no offer to warn the community of his dangerous proclivities," Reck said.

It wasn't until 2013 that Werner found the courage to tell someone about his alleged abuse. He shared his story with his mother and a few close friends in an email.

Werner said in recent years he has reconnected with other members of the PJ Folk Singers and heard tales that echo his own. He is in treatment for post-traumatic stress disorder related to his alleged abuse, Werner said, and struggles to cope with his own feelings of shame and guilt.

Requests for comment from members of the PJ Folk Singers were not returned. The St. James church said it had no comment on Werner's allegations and deferred questions to the diocese.

Not alone

Werner filed a claim, through his attorney Reck, with the Diocese of Rockville Centre's Independent Reconciliation and Compensation Plan for survivors of sexual abuse by clergy members. He is one of eight former members of The P.J. Folk Singers filing claims that they were sexually abused by Charland as teenagers.

"By the filing of these claims, we pose the question of what did the church officials know and what could have been done to save these children from being exposed," Reck said. "By submitting these claims, we hope these allegations will be investigated and the knowledge made public, so these events can never happen again."

Reck said his law firm has reason to believe the church knew of Charland's alleged actions, as parishioners, family members and survivors allege they made reports to the diocese in the '70s. The lawyer shared the priest's letter.

Charland, in citing the reasons he left the St. James church wrote, "I found myself becoming more and more self-centered and self-absorbed. As I look back on it now, I realize I had fallen prey to such miserable characteristics because of my own personal loneliness. I do not say this by way of excuse. … The truly scary part is knowing I was beginning to hurt people despite my best intentions to never do that to anyone. For this, I remain truly sorry."

Accused North Shore priests

Several clergy members named in Hidden Disgrace II served at churches and other facilities on Long Island.

The report says the allegations should not be considered substantiated claims, but rather public accusations, unless otherwise indicated in the report.

Among those named in the report is Father James C. Miller, who was assigned to St. Anthony of Padua R.C. Church in East Northport and St. Gerard Majella Church in Port Jefferson Station in the '90s. Miller was sued along with the diocese in 1994 for allegedly sexually abusing two teenage boys at St. John the Baptist High School in West Islip, though he denied allegations, according to a 2002 Newsday report. He was moved to a position that did not involve working with children following the suit, including serving as chaplain at St. Charles Hospital and John T. Mather Memorial Hospital in Port Jefferson, according to the website www.bishop-accountability.org, which was also the source material for much of Hidden Disgrace II.

Father Joseph Mundy was also assigned to St. Gerard Majella, along with stops at St. James R.C. Church in Setauket and St. John the Baptist Church in Wading River during the '80s and '90s. The report alleges Mundy was Priest A in the 2003 Suffolk grand jury investigation. The grand jury's findings cite Priest A, "took a 14-year-old boy to a gay club in New York City where he and other patrons engaged in sexual activity with the boy."

Mundy left the priesthood in 1999 according to www.bishop-accountability.org.

Two of the 51 priests were assigned to St. Margaret of Scotland Church in Selden. Public accusations against Father Angelo Ditta, the report alleges, match the descriptions of Priest H in the grand jury report, who allegedly began abusing a boy when he was 10 years old. Ditta was assigned to positions away from children beginning in 1998 and was removed from duty in 2002.

Father Gabriel Massaro was publicly accused of abusing a 12-year-old boy from St. Margaret of Scotland in Selden during retreats in 1979, according to a 2002 Newsday report. He continued receiving assignments outside of the Rockville Centre diocese through 2005, according to www.bishop-accountability.org.

When asked for comment on the report, representatives from the various churches and facilities named in this section either did not respond to requests for comment or declined, directing inquiries to the diocese.

"We as a church recognize that no amount of monetary compensation could ever erase or undo the grave harm suffered by survivors of child abuse," Sean Dolan, diocese director of communications, said in a statement when asked about the report. "Still, we embrace Christ's healing power and the Mission of Mercy of the Catholic Church as we continue our Independent Reconciliation and Compensation program. We stand in solidarity with our survivors and their families, and we continue our commitment and vigilance to the protection of children in our Church and in society."

Compensation program

During a phone interview, Kristal said details of other accusations against clergy members have not been made available by Rockville Centre, and added if it is in fact serious about standing by survivors, perhaps it should make the information publicly accessible.

"Making amends, whatever that means to survivors, they have the information," Kristal said. "That's the one entity that has all of this information, so we would urge them to come out with something similar put out by them. That would be wonderful."

A survivor who wishes to file a claim under the IRCP prior to the April 30 deadline must begin by registering online with the Washington, D.C., law firm overseeing the program as a neutral party. If he or she meets the two criteria set by the diocese — that the abuse was done by a priest or deacon and that the abuser was part of the Diocese of Rockville Centre — a claim form can then be filled out. Lawyers Helping Survivors of Child Sex Abuse, or any other personal lawyer, could step in to assist in filing the claim should a survivor seek assistance.

Once a claim is filed, administrators from the law firm overseeing the program evaluate the claim. If an offer to settle is presented to a survivor, they can either accept or reject the offer. Those who reject the offer and whose abuse took place outside of New York's statute of limitations — which are considered among the strictest in the U.S., according to Kristal — would have no further recourse unless laws are changed.

Those who accept settlement money give up the right to bring a lawsuit in the event of future law changes. Survivors are the only participants in the program permitted to speak publicly about their abuse — the diocese and administrators from the law firm are bound to confidentiality.

To learn more about the IRCP or to file a claim, visit the website www.drvc.org or www.childsexabuse.org/.