Counseling for Clergy Sex Abuse Accusers Continues
By Haidee V Eugenio
Pacific Daily News
February 24, 2018

http://www.guampdn.com/story/news/2018/02/24/counseling-clergy-sex-abuse-accusers-continues/309636002/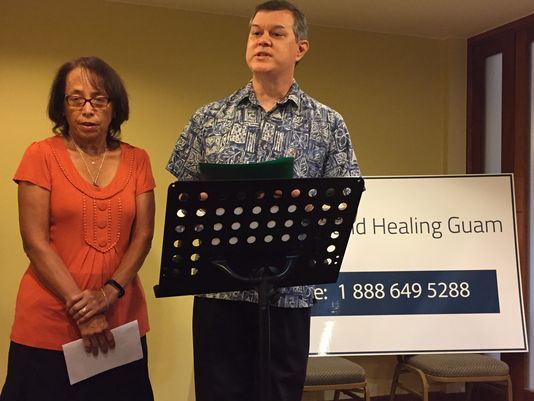 In this file photo, Hope and Healing Guam President Andrew Camacho addresses the media, while vice president and secretary Julie Perez-Bollinger looks on, during a press conference in 2016.



Professional counseling services continue for victims of clergy sex abuse, nearly a year since the Archdiocese of Agana created Hope and Healing Guam in April 2017 amid efforts to try to settle clergy abuse lawsuits.

Hope and Healing's mission to provide counseling, treatment and spiritual healing doesn't overlap or duplicate the work of the attorneys representing the archdiocese in the clergy sex abuse cases, said Andrew Camacho,the organization's president.."

"We remain ready to assist the victims with counseling and to that ensure those who are not represented by attorneys but desire to resolve their claims are supported through the process."

Because of the confidential nature of counseling and other services and to avoid discouraging current or future clients, Hope and Healing isn't giving an estimate on the number of people who have called in and received or are receiving counseling. Camacho said low numbers would be discouraging, while high numbers aren't at all indicative of the extent of the abuse.

"The goal of Hope and Healing is to help as many victims of clergy sex abuse as possible," he said. "That is why we are encouraging victims to call the hotline and begin the healing process."

Counseling is open to those whose lives are impacted by clergy abuse, the program said. Caseworkers refer callers who have been abused in the Catholic Church to licensed professionals for therapeutic counseling at no cost to the clients.

"Clients may have individual and/or group counseling and are not required to provide their identities or the details of their abuse to our caseworkers. The choice to continue counseling or select a different counselor remains with the clients," he said.

Clients may also return to counseling at a later date should they stop for any reason.

"We understand from the counselors that even one session is helpful," Camacho said. "We are not privy to the details of the sessions or outcomes, and depend on the counselors to work with the clients so long as they are willing."

Camacho said the archdiocese has made a commitment to help clergy abuse victims and he is confident this help will be provided after Hope and Healing finishes its work.

"If in the future Hope and Healing no longer exists, it will be because we accomplished what we set out to do and a very sad chapter in our church's history has closed," Camacho said. "We look forward to that day."