Abusive Priest Gave Teens Booze While Leading Ski Trip, Sources Say
By Lou Michel and Jay Tokasz
Buffalo News
March 1, 2018

http://buffalonews.com/2018/03/01/abusive-priests-time-in-southern-tier-booze-fueled-ski-trips-with-teens-and-a-dwi-sources-say/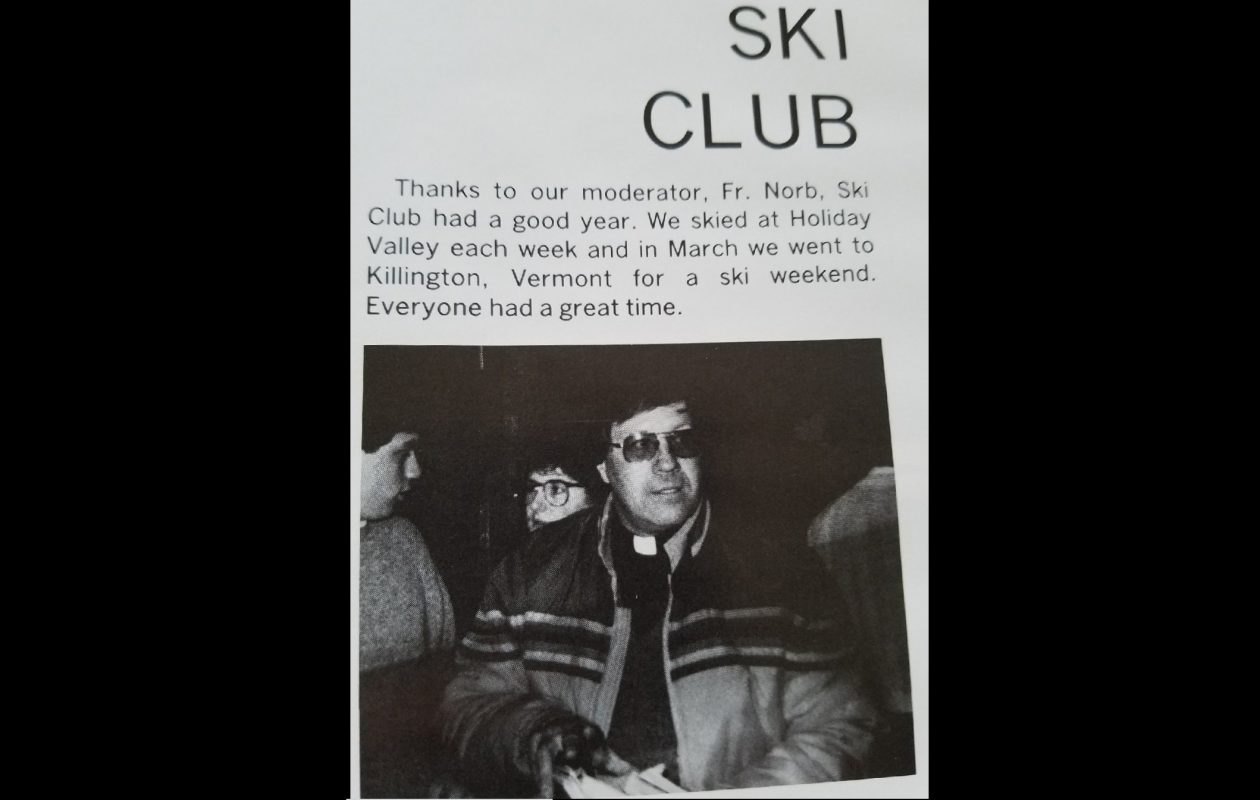 Norbert Orsolits, pictured in the Archbishop Walsh High School yearbook.



The Catholic Diocese of Buffalo made Rev. Norbert F. Orsolits get psychological treatment after receiving a complaint that he had sexually abused a child.

It was after that, Orsolits said, that the diocese assigned him to work for years in the mid-1980s in a rural parish in tiny Portville.

There, he led the church youth group and gave booze to underage boys while chaperoning the nearby Catholic high school's ski club on a trip to Vermont, according to a former student and some parishioners. During his time in Portville, parishioners say, Orsolits was even charged with driving while intoxicated.

Worshipers at Sacred Heart Catholic Church in Portville, where about 1,000 people live, are angry that the bishop in Buffalo never warned them in the mid-1980s that Orsolits had been treated at Southdown Institute, a mental health facility near Toronto, for abusing a child.

That didn't come to light until this week, when Orsolits admitted to The Buffalo News that he had sexual contact with "probably dozens" of teenage boys.

"Obviously there's something not connected in his head. There's a separation from normal thinking," said Bernard "Buz" Wenke, who worshiped at Sacred Heart while Orsolits preached there. "Somebody that does something like that should not be around children."

At a news conference Thursday, diocesan officials said Orsolits was sent to Southdown after the diocese had received a complaint of child sex abuse, but they did not specify the dates they received the complaint or when he was treated.

"He was sent away and went to a facility for counseling and some form of rehabilitation to find out whether or not he was suitable for ministry. When he came back with a clean bill of health, advised that he was able to come back and serve, he did serve," said Terrence M. Connors, a lawyer who represents the diocese.

Orsolits told The News that following his treatment, the diocese assigned him to the Portville church and to teach at Archbishop Walsh High School.

No one has publicly accused Orsolits of molesting children from Portville and Olean while he led churches there and taught Spanish at Archbishop Walsh. But he was remembered this week as a priest who told kids to call him "Father Norb," introduced teens to their first taste of alcohol and got drunk himself when he was supposed to be keeping them safe on trips out of town.

"He was a mess, stumbling drunk and we were basically drinking with him," recalled Avery Hong, an Archbishop Walsh alumnus who says he was a 14-year-old freshman when he went barhopping with Orsolits and two other 14-year-olds during a ski club trip to Vermont in 1985.

"I vividly remember walking into these bars. I think he had his collar on and was wearing his snow jacket. He's a bear of a man and he was hanging all over us. He head locked us, gave us nuggies and roughhoused.

"He was saying 'Do a shot, do a shot.' He had a bottle of peppermint schnapps with him," Hong said.

"I remember thinking 'Our parents are going to kill us when we get home.' But he was the priest. He was the fun priest. He wasn't the serious priest. He was your buddy," Hong said.

Looking back, Hong said it was astounding that Orsolits was permitted to take 30 to 40 students on annual ski trips to Vermont without any other adults. Another former student also described a ski trip led by Orsolits in which alcohol was given to minors.

In retrospect, Hong said he thinks Orsolits might have been "grooming" the youngsters for a sexual encounter.

Multiple parishioners in Portville told The News they suspected Orsolits was a heavy drinker because he appeared hung over on occasion when he said morning Mass.

But they never suspected he was a child molester.

Anger in Portville

In Portville and Olean, where Orsolits was also assigned as a priest, this week's revelations angered and disappointed some worshipers. They said they wonder why the diocese sent a sex offender to their community.

"Are our kids in a small town not as valuable?" said a woman parishioner at the Basilica of St. Mary of the Angels in Olean.

Orsolits arrived in Olean in 1982 as an assistant pastor. In 1984, he was promoted to pastor at Sacred Heart, six miles away in Portville.

Wenke said Orsolits impressed everyone when he arrived in Portville. He re-energized the parish council, started an annual spaghetti dinner fundraiser and showed an interest in the parish's young people, taking them on ski outings to Holiday Valley in Ellicottville, Wenke said.

On the altar at Sacred Heart, Frank Aloi said he served as a Eucharistic minister assisting Orsolits at Mass.

"There was never any indication whatsoever that anything strange was going on," Aloi said. "We were a small church and somebody would have said something."

It is of little comfort to parishioners there that Orsolits told The News he stopped molesting teenage boys before he was given a fresh start in the Southern Tier.

"A lot of decisions that we look back on with disgust were done through a different lens," said Olean resident Larry Sorokes, whose 1983 wedding was officiated by Orsolits. "I hope that something like this does not ever happen again, and it shouldn't have happened back then."

In light of Orsolits' admissions, Wenke says the diocese had no business placing him in a position of trust in their community.

Wenke recalls Orsolits appearing hung over at morning Mass.

"He looked a little rough," Wenke said.

And it was no secret that Orsolits was a drinker.

Orsolits' assignment in Portville ended in 1988, shortly after he was charged with driving while intoxicated following an accident, several parishioners recalled.

Wenke and others says Orsolits crashed his car south of Bradford, Pa., about 45 minutes from Portville in the late 1980s. A local newspaper story, they said, reported Pennsylvania police had charged him with driving while intoxicated.

"He rolled his car and his dog was tossed from it and it wandered off. They went looking for the dog but couldn't find it. About a week later, he got a call from people who had taken in the dog, which had a tag on it, and the priest and dog were reunited," Wenke said.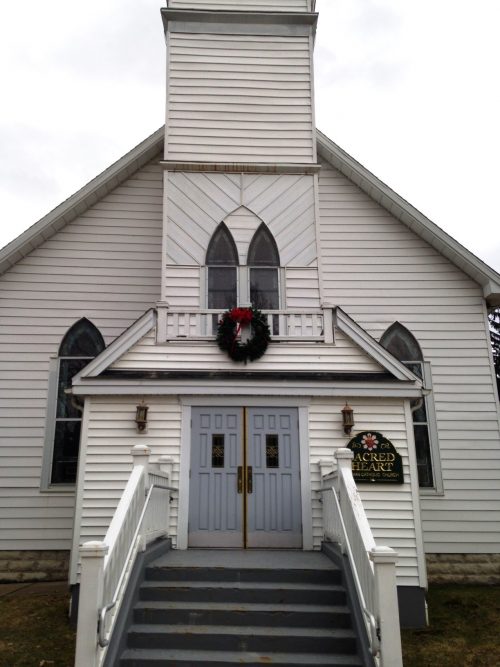 Sacred Heart Catholic Church in Portville. (Lou Michel/Buffalo News)



"When I read about his DWI accident and rolling his car in Pennsylvania, I just laughed. Priests are no different than we are," said Lee Tuttle, who lives next door to white clapboard Sacred Heart church, which now serves as an oratory.

Not long after that in late 1988 or early 1989, according to church records, Orsolits was transferred back to Buffalo and assigned to diocesan headquarters.

In the years following his departure, the Rev. Gregory Dobson, pastor of St. Mary, said there were no reports of abuse by Orsolits while he was there.

"I never heard mention of him from when he was an assistant pastor here or anything negative from when he was out in Portville," Dobson said.

A 2002 denial

In 2002, as the Catholic church's clergy sex abuse scandal spread from Boston to communities across America, Buffalo diocese officials told The Buffalo News that the diocese had not in 20 years transferred any priests who had a credible allegation of sexually abusing a child to serve in another parish.

Former Monsignor Robert J. Cunningham, then chancellor of the Buffalo diocese, told The News that "to our knowledge, we have no pedophile priests" actively serving in any capacity.

Cunningham, who now serves as the bishop of the Catholic Diocese of Syracuse, told The News in 2002, that as many as 15 Buffalo diocese priests had been accused of sexual abuse in past 20 years. In about a dozen of the cases, Cunningham said, there was "credible evidence" of some type of "inappropriate behavior."

Two or three priests, Cunningham estimated, were "cleared for service" after receiving treatment. And those that were cleared had not been accused of abusing children, he said.

Yet Orsolits served in parishes and in other public ministries for years after the diocese sent him to Southdown Institute, according to Orsolits' account.

Orsolits was removed from any public ministry in 2003, as the Buffalo diocese and other U.S. dioceses adjusted to a new national church policy of "zero tolerance" regarding sex abuse allegations.

The diocese's lawyer said diocesan officials relied on the advice of experts at Southdown in allowing Orsolits back into ministry in the 1980s.

"When those reports were received by the diocese, they were investigated and at the time, the gold standards was to send someone away for evaluation at an accredited facility and, as he (Orsolits) has said publicly, he went away," said Connors.

Connors also said that Orsolits served in a "guarded fashion" after his treatment at Southdown, including work as a hospital chaplain and in another non-parish situation. When a reporter pointed out that Orsolits said he had served in a parish right after his treatment, Connors replied that he was "not aware of that, but we'll take a look and see if that's an accurate statement or not."

Current Buffalo Bishop Richard J. Malone said he was as stunned as anyone else to learn of Orsolits' admissions Tuesday.

Malone said he examined the priest's diocesan personnel file after Orsolits told The News about his abuse history with boys.

"His admission that there were dozens caught us off guard. There were cases for sure, allegations. But it did not look to me like dozens and dozens. Maybe it is and maybe we're waiting for others to come forth," said Malone.

Admits to abusing dozens

Orsolits admitted to the sexual misconduct this week after South Buffalo resident Michael F. Whalen publicly accused the priest of abusing him more than 35 years ago on a ski trip.

Orsolits said he did not recall the incident with Whalen. But he said he had many sexual encounters with teens. He described them as alcohol-fueled and suggested they were consensual. In some cases, he said he had been "led on" by the teenagers.

Whalen, now 52, attended St. John Vianney Catholic Church in Orchard Park. The sexual abuse, he said, occurred after the priest gave him and two other teenagers alcohol and marijuana during a weekend ski trip in the Southern Tier.

Hong, 48, said he went on a high school ski club trip with the priest and decided to share his experience after reading about Whalen coming forward.

And while he was not molested by Orsolits, Hong said what Orsolits did to him and the other young teens he drank with could be considered what's known as "grooming" of youngsters for a sexual encounter.

"Ply with alcohol, make them vulnerable, and then you're in, like what happened to Michael Whalen," said Hong, who praised Whalen for having the courage to come forward. "I spoke with Michael, and he told me his life went into a spiral."