Retired Buffalo-area Priest Admits Sexually Abusing "Dozens" of Boys
By Jay Tokasz and Aaron Besecker
Buffalo News
March 2, 2018

http://buffalonews.com/2018/02/27/retired-buffalo-area-priest-admits-sexually-abusing-dozens-of-boys/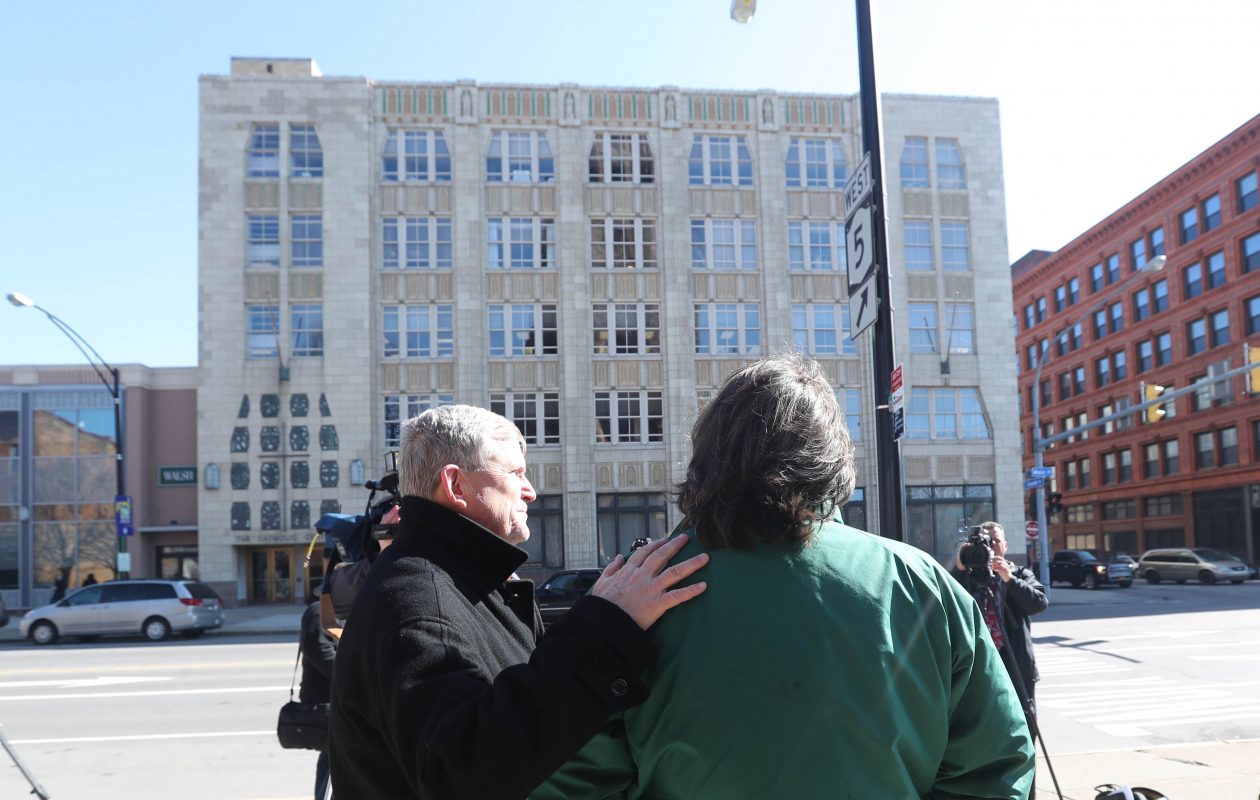 Michael Whalen, 52, an alleged childhood sexual abuse victim of Rev. Norbert Orsolits, stands across the street from the headquarters of the Catholic Diocese of Buffalo with his advocate Robert Hoatson on Tuesday, Feb. 27, 2018. (Sharon Cantillon/Buffalo News)



A retired priest from the Catholic Diocese of Buffalo admitted Tuesday he had sexually abused "probably dozens" of teenage boys in the late 1970s and early 1980s.

The Rev. Norbert F. Orsolits made the admission after a South Buffalo man publicly accused Orsolits of abusing him when he was a teenager during a ski outing more than 35 years ago.

Michael F. Whalen, 52, said Orsolits was his parish priest at St. John Vianney in Orchard Park when the abuse occurred.

Orsolits, 78, said he did not recall Whalen. But he described other incidents of sexual contact with teenage boys to a Buffalo News reporter who visited the priest Tuesday afternoon at his cottage home in the Town of Ashford.

He told The News that he was later sent for treatment at a psychological facility in Canada, before the diocese assigned him to work at a small rural church and school. He was removed by the diocese from ministry in 2003.

During a 10-minute interview, Orsolits talked casually of having had sexual contact with teenage boys, saying it had been fueled by alcohol. He admitted to having touched teenage boys sexually and having had them touch him.

He suggested that the contact was consensual and that he was "led on" by some. He also said that he never persisted with any sexual touching if a teenage boy resisted.

The priest did not deny that the alleged abuse of Whalen occurred.

The Catholic Diocese of Buffalo on Tuesday would not answer specific questions about Whalen's allegations, but a spokesman confirmed Orsolits was removed from ministry in 2003.

Orsolits told The News that then-Bishop Edward D. Head sent him to Southdown Institute in Canada, 40 miles north of Toronto, for six months of treatment. Southdown provides comprehensive psychological services and is one of a handful of institutions where U.S. priests accused of sexual abuse were sent by church officials for help.

Orsolits did not say what year he was sent to Southdown, but church directories indicate it would have been between 1980 and 1985.

Orsolits said he did not engage in any further sexual contact with teenage boys after his time at Southdown.

Following his treatment, the diocese assigned him to work as a priest in a small rural parish in Portville and he taught at a high school, Orsolits said. After working in parishes, Orsolits served as a chaplain in Buffalo General Hospital and for Hospice Buffalo.

In 2003, Bishop Henry J. Mansell informed Orsolits he had to retire from ministry and could no longer perform priestly functions in public, Orsolits said. A priest relieved of his duties can no longer celebrate Mass publicly, administer the sacraments or wear clerical garb.

The diocese portrayed Orsolits' removal at the time as a retirement, even though he was among a handful of priests in the Buffalo diocese who were removed from ministry so that the diocese would be in compliance with a newly implemented "zero tolerance" national church policy regarding sexual abuse allegations.

The diocese on Tuesday issued a short written statement in response to Whalen's allegations.

"Since 1990, the Diocese of Buffalo has had policies to address sexual abuse," George Richert, a spokesman for the diocese, said in the statement. "Every complaint that we receive is addressed pursuant to a protocol that is designed both to protect children and to respond to victims. We will have more to say about these important issues later this week."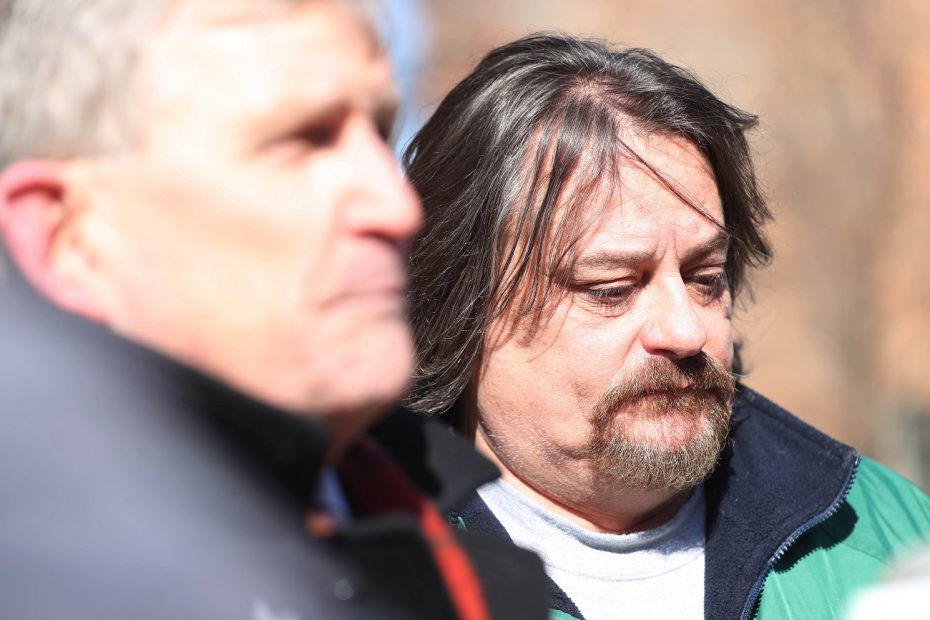 Michael F. Whalen Jr., 52, has publicly accused a now-retired priest of sexually abusing him nearly 40 years ago. Robert M. Hoatson, who runs a nonprofit that supports abuse victims, is pictured at left. (Sharon Cantillon/Buffalo News)



Orsolits talked openly about his past during the 10-minute interview outside his home until the reporter tried to take handwritten notes. At that point, the priest asked if what he had discussed would be put in the newspaper. He then said he would need to call the diocese before saying anything further.

New accusation

Orsolits served at St. John Vianney parish in the late 1970s and early 1980s. Whalen attended the parish school.

Whalen made the allegations at a news conference Tuesday morning in front of St. Louis Church on Main Street in downtown Buffalo, across the street from the Buffalo diocese's main offices.

There was one incident of abuse, but it destroyed his life, Whalen said. It led to his own abuse of drugs and alcohol and affected his first marriage. He said his drinking led him to quit the Army after about a year.

Whalen said he and two other teenage boys went on a weekend ski trip with Orsolits in 1979 or 1980. The priest served them alcohol in the ski lodge and smoked marijuana with them in his cabin prior to the abuse, Whalen said.

In the interview, Orsolits acknowledged taking many kids on ski trips. He lives a short distance from Bluemont Ski Area in Yorkshire, and he said he often skied there and in Ellicottville with kids.

Whalen declined to describe what Orsolits did to him. He also said he doesn't know if either of the other teenage boys on the trip was abused or if they ever made allegations. One of them is now deceased, he said.

Whalen, who is originally from West Seneca, said he first told someone else about the alleged abuse during a group counseling session in Rochester about 10 years ago. At the time, he was going to outpatient rehabilitation in order to get his driver's license back.

"In that group setting, that was the first time I was able to say anything," he said. "It was like a ton of bricks off me. And from that point on, I was able to tell my mother, my family, my kids and it just snowballed from there."

Last year, Whalen went back to St. John Vianney, a trip spurred by guilt. When he was a kid, he and other students stole money from the collection at the church, he said.

He brought $131 to pay back his share of the stolen money. He talked to a priest at the church, and opened up about the alleged abuse from decades ago.

That priest reported the allegation to the diocese, Whalen said, and he received a phone call from Bishop Richard J. Malone. Malone offered Whalen counseling paid for the by diocese, Whalen said. Whalen said he was already receiving counseling at Catholic Charities of Buffalo in South Buffalo.

Whalen said he was speaking out about the alleged abuse now to encourage other victims of clergy abuse to come forward.

"I'm not scared to hide my face or what happened to me anymore," he said. "I did it for too long."

Contact reporters Jay Tokasz and Aaron Besecker at jtokasz@buffnews.com or abesecker@buffnews.com Or call 716-849-4602.