Priest who admitted to child sex abuse worked at St. Mary of the Angels, Archbishop Walsh during '80s
By Tom Dinki
Olean Times Herald
March 02, 2018

http://bit.ly/2H0kORR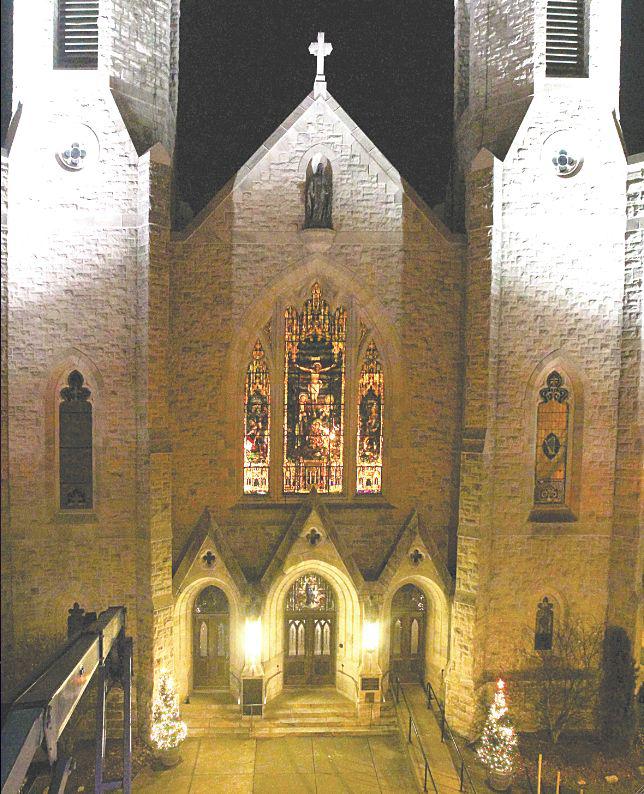 A retired priest, who admitted this week to sexually abusing dozens of teenage boys decades ago, served at St. Mary of the Angels Church (pictured), now a basilica, in Olean from 1982-83.
A retired priest, who admitted this week to sexually abusing dozens of teenage boys decades ago, served in Olean and Portville during the 1980s.
The Rev. Norbert Orsolits admitted to The Buffalo News Tuesday he sexually abused "probably dozens" of teenage boys during the late 1970s and early 1980s. Orsolits, now 78 and living in Ashford, was assigned to St. Mary of the Angels Church in Olean from 1982 to 1983 and Sacred Heart Church in Portville from 1984 to 1988, during which time he also taught at Archbishop Walsh High School in Olean.
According to Orsolits, he was assigned to Sacred Heart after the Catholic Diocese of Buffalo received a complaint he sexually abused a child and ordered him to receive psychological treatment at a Canadian facility.
"I am learning about this as the general public is," the Very Rev. Gregory Dobson, the Basilica of St. Mary of the Angels pastor, wrote in an email to the Olean Times Herald Thursday morning. Sacred Heart merged with St. Mary's as an oratory in 2007.
Dobson, who joined the parish in 1997, added he may be able to make a statement after a meeting for diocese priests Thursday in Buffalo. However, Dobson did not offer an additional comment by press time Thursday evening.
The diocese held a press conference in downtown Buffalo Thursday announcing a fund to settle claims of child sexual abuse against its clergy. Individuals who have previously made claims will be contacted and invited to participate in the Independent Reconciliation and Compensation Program, which will offer monetary settlements.
The diocese reported it has paid out approximately $1.2 million in settlements for sexual abuse allegations over the last 20 years, and it has received as many as 20 sexual abuse complaints against priests since 2005.
"I know this is the right thing to do," said diocese Bishop Richard J. Malone in a statement. "The victims and our Church in Western New York cannot move forward until the pain of the past is properly addressed."
According to Buffalo media reports of the press conference, the diocese confirmed Orsolits was assigned to Southdown Institute, located near Toronto, for six months of treatment following allegations he abused someone under the age of 17. However, diocese officials reportedly did not specify what parish the allegations stemmed from, when they received the allegations or when Orsolits was treated.
The attorney for the diocese, Terrence M. Connors, said Orsolits was sent away to the facility to find out whether he was suitable for ministry, as was the "gold standard" for handling clergy sexual abuse allegations at the time.
"When he came back with a clean bill of health, advised that he was able to come back and serve, he did serve," said Connors, according to Buffalo media.
Connors also said Orsolits served in a "guarded fashion" after Southdown. According to The Buffalo News, a reporter then pointed out Orsolits claimed he served at Sacred Heart and Walsh right after treatment. Connors replied he was "not aware of that, but we'll take a look and see if that's an accurate statement or not."
Orsolits said Tuesday he stopped having sexual contact with teenage boys after his time at Southdown.
The diocese removed Orsolits from ministry in 2003, the same year it and other dioceses overhauled their policies on child sexual abuse allegations in wake of the 2002 Catholic Church sexual abuse scandal uncovered by The Boston Globe. Malone said the diocese has been conducting mandatory training and a system of background checks for all who regularly interact with young people since 2003.