Teen accuses Saginaw priest of 'grooming' him
By Mark Hicks
Detroit News
March 12, 2018

https://www.detroitnews.com/story/news/local/michigan/2018/03/12/teen-sues-saginaw-priest-robert-deland/32877955/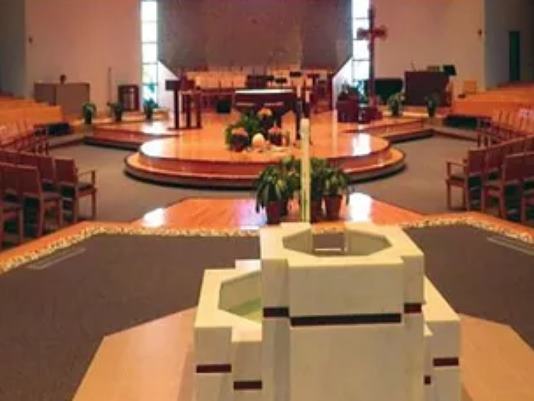 St. Agnes Catholic Church.
A teen is suing a Saginaw-area priest, accusing him of "grooming" the high school student with gifts and invitations to his condo, leading to inappropriate contact including back rubs, groping and suggestions to view gay porn.
The Rev. Robert DeLand was charged last month with criminal sexual conduct following accusations from two males, ages 17 and 21. Police say they have received other complaints since his arrest.
The 71-year-old priest is on administrative leave from St. Agnes in Freeland, where he has had been pastor since July 2011, the Catholic Diocese of Saginaw reported. The suit also names the diocese and its leader, Bishop Joseph Cistone, claiming steps weren't taken to stop the cleric or look into allegations about DeLand's conduct.
DeLand allowed the 17-year-old he met last year to perform community service at the church that the youth was ordered to complete over six months, according to the lawsuit filed Monday in U.S. District Court.
When the youth returned to school that fall, the pastor was a volunteer "greeter" there, participated in school events and "engaged in a systematic pattern of 'grooming' behavior …, targeting the minor child, gaining his trust and/or providing him with gifts and favors," attorney Todd J. Weglarz wrote.
Over time, DeLand took the student out of class to talk; bought him an expensive "vape" machine; invited the teen to his home to smoke; and "made inappropriate physical contact … during the school day, including back rubs, hugs and groping of the buttocks," the court filing read. The priest also allegedly paid for his therapy to help deal with a friend's suicide, texted or called him up to 17-20 times a day, then encouraged the student "to view large quantities of gay pornography," according to the document.
DeLand invited the teen to his Saginaw Township condo last month to "party," but that day, the cleric touched him "inappropriately, groping and fondling his crotch and buttocks, feet and toes," the suit asserts.
The priest was charged Feb. 26 with one count each of second-degree criminal sexual conduct and gross indecency between male persons. He also was charged with one count of attempted second-degree criminal sexual conduct/personal injury for an incident involving a 21-year-old, 70th District Court records show.
DeLand, who has been ordered by the court during the Feb. 26 hearing to wear an electronic tether and have no contact with anyone under age 21, could not be reached Monday.
His attorney and diocese representatives did not immediately respond to a request for comment.
The lawsuit, which seeks at least $75,000 in damages, contends DeLand abused his position while Catholic Diocese of Saginaw leaders failed to properly investigate allegations he abused the teen as well as others, "which created a climate whereby boundary violations and inappropriate sexual misconduct directed towards children and were permitted, condoned and encouraged," Weglarz said.
When DeLand was charged Feb. 26, Cistone said the diocese did not previously know about the probe or allegations. The bishop later said the diocese had no evidence of a previous accusation, and a 2005 review sparked by someone suspecting DeLand in a relative's possible molestation proved to be "unfounded."
Cistone has encouraged anyone who believed they were victimized to contact authorities. Besides placing DeLand on administrative leave, the bishop ordered the 71-year-old to stop wearing clerical garb or presenting himself publicly as a priest.
A diocesan internal investigation was expected to begin after the criminal probe ends, the diocese said.
Meanwhile, Saginaw County Prosecutor John McColgan Jr. announced that a new law enforcement task force would investigate abuse allegations in the diocese.
DeLand's lawyer has said the priest has dedicated his life to service, according to the Associated Press.
Ordained on June 17, 1973, DeLand served parishes in Bay County, earned a license in canon law, led international mission trips and was appointed a judicial vicar in 2001, according to the diocese.
The Associated Press contributed to this report.