More charges for priest: 'No doubt this defendant has very sadistic and deviant sexual interests'
By Katy Moeller And Nicole Blanchard
Idaho Statesman
March 13, 2018

http://www.idahostatesman.com/news/local/community/boise/article204859679.html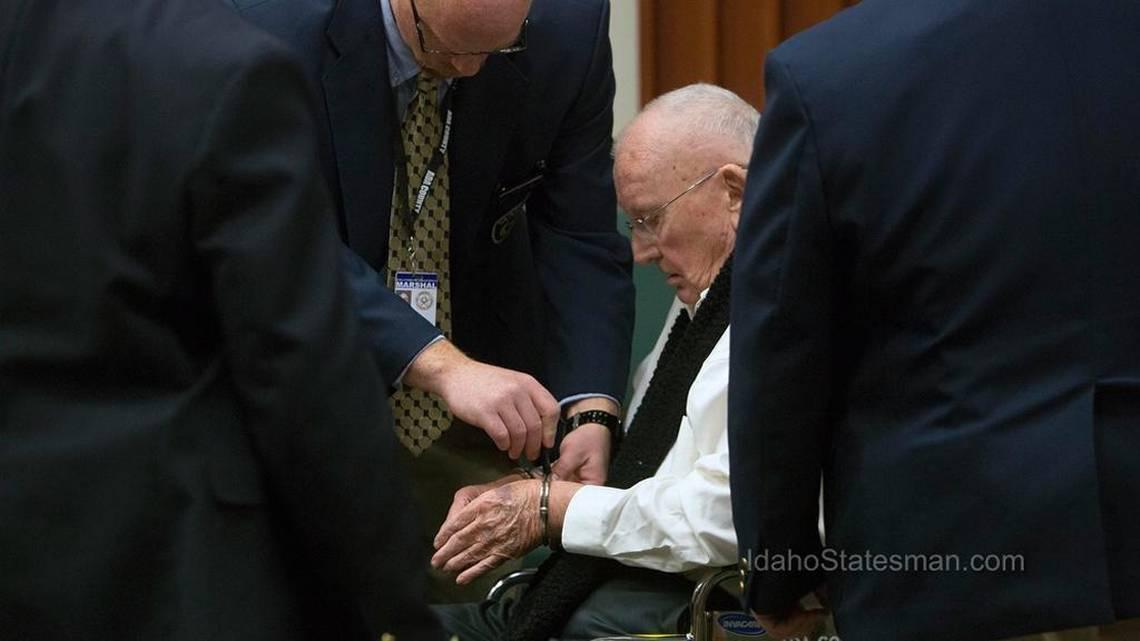 The Rev. W. Thomas Faucher, 72, chose to wave his preliminary hearing Tuesday, March 13, 2018 at the Ada County Courthouse in Boise. A judge increased bail to the amount of $1 million after prosecutors brought forth new evidence and additional charges. After being handcuffed, Father Faucher was taken from the courtroom in his wheelchair to be placed back in prison.
Photo by Darin Oswald
Editor's note: Magistrate Judge James Cawthon presided at Tuesday's hearing. An earlier version of this story listed the judge who originally was scheduled for the hearing.
A retired Boise priest was handcuffed and taken to the Ada County Jail on Tuesday morning — after a magistrate judge raised his bond to $1 million following the filing of numerous new charges of child porn possession and distribution.
That wasn't the only surprise at the hearing: Prosecutors said a second person had come forward to accuse the Rev. W. Thomas Faucher of child sexual abuse.
Faucher, 72, was arrested Feb. 2 on 14 charges involving possessing and sharing child pornography, and drug possession. He was out of jail on $250,000 bond and scheduled for a preliminary hearing this morning.
Faucher waived his right to a preliminary hearing.
Then Ada County prosecutors told the judge they had filed a motion to charge Faucher with seven additional counts of child porn possession, one count of child porn distribution and another count of drug possession for LSD.
Deputy Prosecutor Kassandra Slaven asked the judge to increase Faucher's bond amount to $1 million. She said investigators found more than 2,000 images and videos of child pornography in Faucher's possession, some of which depicted "the extremely brutal rape and torture of children."
She said the content was some of the worst material ever seen by the Internet Crimes Against Children Task Force and noted that it included "many, many infant children." Some of the images and videos included torture of adults, as well as torture and killing of animals.
"There's no doubt this defendant has very sadistic and deviant sexual interests," Slaven said. She said there were "countless" chat conversations in which he talked about his desires to sexually abuse and kill children.
Defense attorney Mark Manweiler said there are no new "types of charges" against Faucher, just more of the same charges. He said increasing the bond was "unjustified and "prejudicial."
In arguing against it, Manweiler said Faucher has no prior criminal history, has been compliant with drug/alcohol tests and court appearances while out on bond and is wearing a GPS monitor. Faucher has also complied with the order for no contact with minor children, and all of his devices with access to the Internet have been taken by investigators, Manweiler said. Faucher also surrendered his passport.
Slaven said the GPS monitor is not an active monitor and would only tell authorities "after the fact" if Faucher left Ada County. She said Faucher is not being subject to alcohol monitoring — an exception that was made so he can take Communion, she said.
Slaven said that concerns her because Faucher has indicated he has an alcohol problem.
"Much of the time that he spends in front of his computer involves him being under the influence of illegal drugs or alcohol," Slaven said. There's no good way to monitor or control his access to the Internet, she said.
Judge James Cawthon said the new evidence showed "monumental, ongoing, escalating" depictions of violent crimes.
"It is the court's opinion that there are not any conditions that the court can set in place which would ensure the safety of the community, the safety of the victims related to this offense," he said in granting the state's request for increased bond.
Slaven on Tuesday also said two people have come forward alleging Faucher sexually abused them as children. The prosecutor's office is unsure whether it will be able to proceed with charges in those cases, she said. Idaho removed the statute of limitations on most child sex crimes in 2006, but these cases may be too old to prosecute.
It's unclear when a second person came forward to authorities to report child sexual abuse by Faucher. The first allegation was made public in mid-February.
On Feb. 14, the Roman Catholic Diocese of Boise announced someone had come forward to accuse Faucher of sexually abusing a minor 40 years ago.
Prior to that allegation, the diocese said it had no record of sexual abuse complaints against Faucher. The diocese said it referred the abuse allegation to the Idaho Attorney General's Office; the AG's office does not comment on investigations.
Gene Fadness, a spokesman for the diocese, said they could not comment on whether they were aware of a second person coming forward since mid-February.
"Because this is an ongoing criminal investigation, the Diocese of Boise is unable to offer further comments at this time," he said.
Faucher is being evicted from the church-owned house that he's been renting since retiring three years ago. For more information on the priest's history in Boise and the charges against him, click here.
Faucher's next court appearance is scheduled for 9 a.m. March 23 before Judge Jason Scott.
With the new charges Tuesday, Faucher faces 18 counts of possession of sexually exploitative material, two counts of distribution of sexually exploitative material and three counts of possession of a controlled substance.
For the first two sets of charges, each count corresponds to one image or video, Slaven said. For judicial efficiency in cases that have a large volume of evidence (thousands of photos/videos), prosecutors must decide how many counts to include.
Manweiler said in court that if the 72-year-old is convicted of even a small number of the crimes he's been charged with, it will likely result in a "functional life sentence."
Contact: kmoeller@idahostatesman.com