Priest Denies Sexually Abusing Children; Diocese Says Allegations Prompted Removal
By Dan Herbeck and Jay Tokasz
Buffalo News
March 16, 2018

http://buffalonews.com/2018/03/16/buffalo-diocese-priest-barred-from-duties-because-of-sex-abuse-complaints/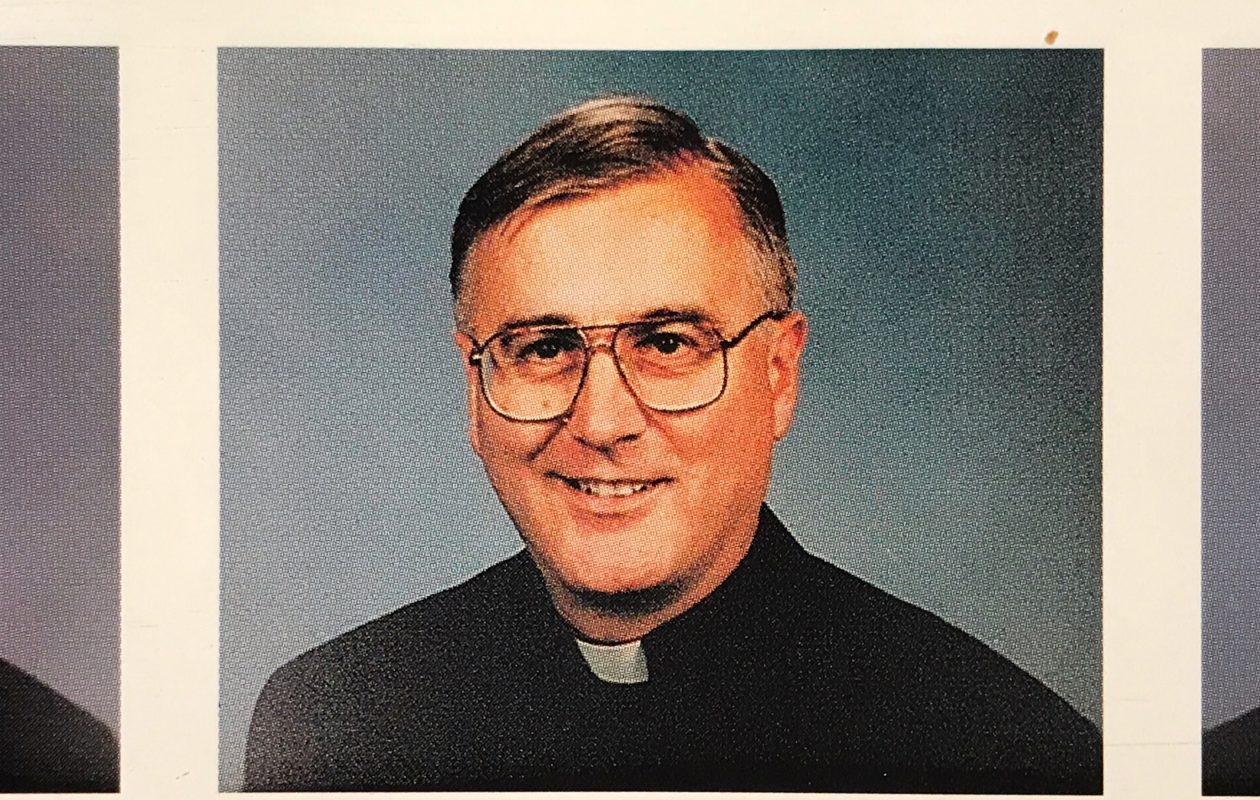 Rev. Donald Becker was removed from active ministry in 2003 after the Catholic Diocese of Buffalo received a complaint that he had sexually abused a child, a diocese spokesman said Friday. The photo is from the 1995 Priests' Pictorial Dictionary by the Diocese of Buffalo.



Three men have told The Buffalo News they were sexually abused as boys by the Rev. Donald W. Becker, a Catholic priest removed from the ministry in 2003.

On Friday, a spokesman for the Catholic Diocese of Buffalo told The News that Becker was barred from performing priestly duties then because of sexual abuse allegations against him.

Bishop Richard J. Malone made a similar statement Friday to a reporter from WKBW television news station.

But Becker, now 75 and living in Florida, denied the allegations.

"No, I did not," Becker told The News, when asked if he had ever molested children. "Certainly not sexual…This is quite shocking."

Becker's three accusers said the priest molested them after getting them drunk. Two of the men told The News they were in their teens when they were molested, and the third said he was 10 or 11 years old. One said he recently received a financial settlement from the diocese. Another said the diocese agreed to pay for his psychological counseling, his medical care and his medications after he made a complaint against Becker more than a year ago.

Becker said "illness" was the sole reason why he stopped practicing as a priest. He said he suffers from Parkinson's disease. "It's debilitating and it's progressing," Becker said.

Becker said he can't explain why diocese officials said he was removed because of abuse allegations.

"I haven't talked to the bishop about this. I'd have to talk to him about it," Becker said.

Although he no longer practices as a priest, he added, "I'm still a priest."

Informed of Becker's comments, diocese spokesman George Richert said, "We confirmed that he was removed from ministry because of abuse allegations." Richert declined to provide further details.

In July 2002, the diocese issued a press release stating that Becker was leaving his last parish, St. Mary's Church in Batavia, because of a "medical leave of absence."

But in recent weeks, reporters from The News interviewed three men who alleged that they were sexually abused by Becker when they were boys. Citing embarrassment over the incidents, all three spoke on the condition that The News not publish their names.

Molested at St. Bonaventure Church

A Buffalo businessman in his early 60s said Becker twice molested him in the rectory of St. Bonaventure Church in West Seneca in the late 1960s. He said he was 10 or 11 years old.

"In my home, where I grew up, a priest was like God," the man told The News. "My parents were impressed that a priest would take an interest in me. They allowed me and my brother to go with Becker when he invited us to go to his parish for the weekend. He said there would be other kids there and we would be able to play basketball in a gym with real hardwood floors."

After arriving at the West Seneca church, no other kids were there. He said Becker told him and his brother to take a shower. When the boys were in the shower, Becker stepped into it and "grabbed" him by his genitals, the man alleged.

He said Becker gave him and his brother "lots of wine" with dinner and got him "extremely drunk." In the middle of the night, Becker came into his bedroom and molested him, he said.

"The next morning, I called my mother and asked her to pick us up right away. I told my brother, 'We can never tell Mom what happened. We'll burn in Hell.' I was sick to my stomach."

The man and his attorney said that they recently reached a confidential, out-of-court financial settlement with the Buffalo diocese. They would not disclose the amount of the settlement.

The businessman said his life was also deeply affected by what happened to him. He said he was "virtually homeless" at one point and considered suicide several times.

"I hated him, I hated the church," the man said. "I went to see 'Spotlight' by myself when it came out. It was an afternoon show, I just sat there by myself, crying."

He said he has recently learned to live with what happened and try to focus on positive things in his life.

"Now, I go to church again," the man said.

Raped around 1975

A Southtowns resident in his late 50s said Becker raped him around 1975 after inviting him to spend a weekend in a Java cabin that Becker owned. He said he was 15 years old and heavily intoxicated when Becker forcibly had sex with him.

"He was giving me beer and whiskey that night. I trusted him because he was a priest. I had no experience with sex or no idea what sex was all about at that point in my life," the man said.

He said he met Becker when Becker was a priest at SS. Peter & Paul Church in Hamburg, a few months before.

Afterward, the man said he broke off all contact with Becker and never saw him again.

"This incident messed me up for my entire life. I thought about suicide many times. I had a divorce, I had problems with relationships, I had problems with authority figures. I bounced from one job to another," the man said.

The man said the Buffalo diocese has been paying for his health care, counseling and medications since he made a complaint about Becker more than a year ago. He said he is trying to negotiate a settlement with the Diocese under a program recently announced by the bishop to help victims of sexual abuse by priests.

Although the man said he continues to feel anger toward Becker and has never attended church since the incident, he said he has been treated fairly by the diocese and its lawyers.

Abused in late 1970s

A 54-year-old Buffalo man told The News he was abused by Becker when he was a teenager when the priest served as pastor of SS. Peter & Paul in Hamburg in the late 1970s.

The man said he was an altar boy there. Becker gave him a summer job painting at the church. The man recalled twice going with Becker on trips to a cabin. On both occasions the priest gave him alcoholic drinks until he was drunk, he said.

"He would walk around the cabin stark naked. He said, 'Hey, take off your shorts.' You're drunk, so I did," the man said.

The man said he didn't tell his parents about the sexual abuse by Becker until he was an adult.

He stopped going to church or having anything to do with church after he was confirmed. He said he's been in counseling "on and off for decades."

The man said he met in the early 2000s with a Buffalo diocese official to report the abuse. He also said he has contacted a lawyer and is planning to seek compensation from the diocese.

Where Becker served

According to diocese records, Becker served in at least nine parishes in the Buffalo diocese from 1968 through 2002, including St. Mark's in Rushford, St. Mary's of the Assumption in Lancaster, St. Bonaventure in West Seneca, SS. Peter & Paul in Hamburg, Nativity of Our Lord in Orchard Park, St. Stephen's on Grand Island, St. Agatha's in Buffalo and St. Joseph's in Fredonia. His last position was pastor of St. Mary's in Batavia.

In 2003, the diocese's annual directory listed him being assigned to the diocese headquarters. After that, the directory listed Becker residing in Java Center.

The directory said he retired in 2007.