Second Saginaw Diocese priest suspended amid sexual abuse probe
By Michael Kransz
Michigan Live
March 17, 2018

http://www.mlive.com/news/saginaw/index.ssf/2018/03/second_priest_suspended_in_sag.html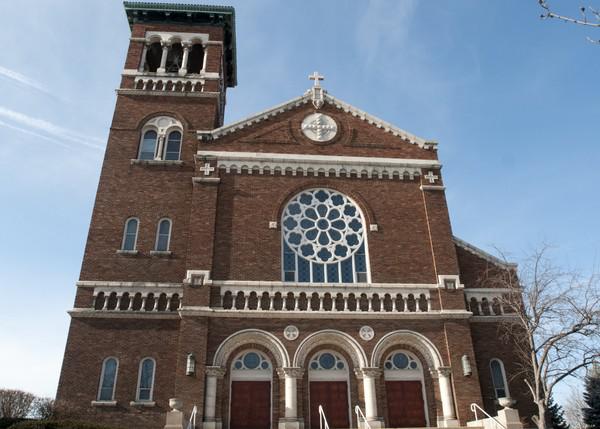 Holy Family Catholic Church at 1525 S. Washington Ave. in Saginaw where Rev. Ronald J. Dombrowski preached before his suspension.
Photo by Brittney Lohmiller
Another longtime priest in the Catholic Diocese of Saginaw has been suspended amid sexual abuse allegations, according to a statement from the diocese.
The Rev. Ronald J. Dombrowski, 72, was recently suspended as a "precautionary measure" after a person told the diocese on Thursday, March 15, that Dombrowski allegedly sexually abused them when they were a minor, according to the statement.
The diocese forwarded the complaint to law enforcement. Saginaw County Assistant Prosecutor Mark Gaertner said Saturday that no charges have been filed against Dombrowski.
The Rev. Joseph R. Cistone, bishop of Saginaw, ordered Dombrowski not to wear his clerical attire, present himself as a priest in public or perform ministry while the allegation is investigated.
Cistone also said he cannot have contact with people under 21, barring him from going on school properties and participating in school and parish activities and functions.
Before his suspension, Dombrowski preached at Holy Family Parish in Saginaw. Since 1972, Dombrowski has held numerous positions and posts within the Diocese of Saginaw.
Dombrowski is the second priest from the Catholic Diocese of Saginaw to be suspended this year on allegations of sexual abuse.
The Rev. Robert DeLand was suspended after he was arrested and charged Feb. 26 with three felonies on accusations he sexually assaulted a 21-year-old man and 17-year-old boy in his Saginaw Township condominium within the past year.
He is charged with attempted second-degree criminal sexual conduct, gross indecency between males and a single count of second-degree criminal sexual conduct causing injury.
DeLand most recently was assigned to St. Agnes Church in Freeland. He also has led Catholic churches and schools in Bay County.
Since DeLand's arrest, numerous tips and allegations about further sexual abuse dating back as far as three decades have flooded area police departments, investigators previously said. Among the tips were allegations against other clergymen.
The Saginaw County Assistant Prosecutor's Office recently formed a special investigative team to coordinate and investigate allegations of abuse involving "officials" within the Catholic Diocese of Saginaw.
The diocese includes the counties of Saginaw, Bay, Arenac, Clare, Gladwin, Isabella, Midland, Gratiot, Tuscola, Huron and Sanilac.
Contact: mkransz@mlive.com