CONFUSED, Disappointed and Angry but Still Believing: Catholics Struggle to Cope
By Barbara O'Brien
Buffalo News
March 23, 2018

http://buffalonews.com/2018/03/23/confused-disappointed-and-angry-but-still-believing-catholics-struggle-to-cope/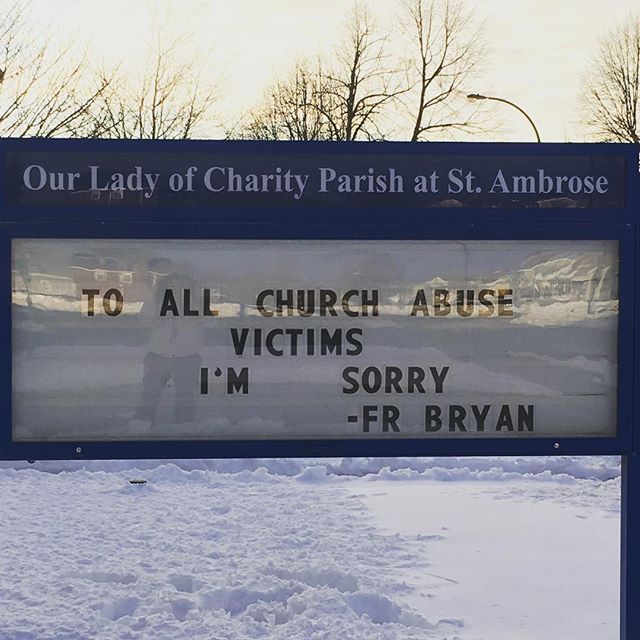 The Rev. Bryan Zielenieski, pastor of Our Lady of Charity at St. Ambrose, placed this sign in front of the church for two Sundays. (courtesy Our Lady of Charity Parish)



Catholics in Western New York have had less than a month to digest the re-emergence of the priest sexual abuse scandal, and less than a week to come to terms with the list of names released by the Buffalo Catholic Diocese of priests accused of misconduct.

And it's not easy.

Some are resolute: "I'd never leave the church and certainly not over an issue like this," said Jen Krey of Clarence. "If anything, this makes me feel like the Church needs faithful Catholics now more than ever to get involved and make sure that the ones responsible for this are purged from the Church.

But others, even those who serve in religious orders, are struggling.

"I feel a confusion, a disappointment, even an anger, and then I take it to prayer and I pray that I may have a forgiving heart. And again it comes to mind, Who am I to judge?" said Sister Mary Johnice Rzadkiewicz, who runs the Response to Love Center on Kosciuszko Street.

Sister Johnice's likely words ring true for Catholics across Western New York, who will head to Mass tomorrow on Palm Sunday for the start of the holiest weeks of the year on the church calendar, culminating with the celebration of Easter next Sunday. But they will do so carrying the weight of a string of news stories about priests who have sexually abused children and the Buffalo diocese's release last week of more than 40 names of those who have been accused.

Michael Whalen, a former West Seneca resident, gave renewed voice to the scandal Feb. 27 when he stood outside the headquarters of the Buffalo Catholic Diocese and spoke publicly for the first time about being sexually abused by a priest when he was 14. Later that day, the Rev. Norbert F. Orsolits, the man he accused, told a Buffalo News reporter he had abused "probably dozens" of teenage boys.

Other victims came forward with their stories, and the diocese last Tuesday released the names of 42 priests facing allegations of sex abuse, including 27 whose names had not previously been linked in public to molestation complaints. Some question whether there are more accused priests, and have called on the diocese to release more information.

Bishop Richard J. Malone acknowledged the great impact the release of the names has on Catholics.

"This list has likely triggered feelings of great distress, and even betrayal. I share those emotions," the bishop said in a video released Friday. "Please know that your priests feel the same way."

The Rev. Bryan Zielenieski, pastor of Our Lady of Charity at St. Ambrose, was not only distressed, he was shocked when he learned the Rev. Roy K. Ronald was on the list.

Zielenieski, raised in Arcade, was a senior in high school when Ronald was transferred to two Arcade parishes in 1992.

"I'm very torn. One of the priests, Father Roy Ronald, served as an inspiration to me," he said. "He's one of the reasons I became a priest."

He said the Roy he knew had inspired him.

"If there is a victim out there I still am sincerely sorry, but that does not diminish how great of a priest he was for me," he said.

Bob Kendia, 82, is retired and a lifelong member of St. John de la Salle in Niagara Falls, where he was an altar boy for 12 years.

"I think it should have been exposed. They shouldn't keep anything secret in the church, I don't think and my family doesn't think," he said.

Jim Palazzo of St. Vincent de Paul, Prince of Peace site, said he also is glad the names of the priests were revealed.

"I was in the service all over the world. Most of them are good priests, but some are sick, so I'm glad he revealed it," he said. "It's better to bring it out in the open and straighten out the situation, but I still believe in my Catholic religion. I'm still going to come to church and be a Catholic."

Bonnie Huntz of the Town of Tonawanda said the Catholic Church should not be judged by the actions of bad priests.

"I don't condone their actions at all, but I do resent the implications that the Catholic Church is rotten to the core," she said. "Ask yourself who is the devil going to go after. Certainly not the ones he already has, but he will go after the church."

Ryan Smith, of St. Vincent de Paul, Prince of Peace site, said the scandal will not deter him from following his faith.

"What they did is terrible. The cover-up is obviously what turns people off. I'm sure they did that with the best intentions, but it's not the way to handle it," Smith said. "You're talking about children here and maybe destroying their faith forever. I think the best way to deal with it to be open and move forward."

Zielenieski felt so strongly about the issue that he was moved to place a sign outside his church: "To all church abuse victims I'm sorry, Fr. Bryan."

"I had a lot of people say that 'It brought tears to my eyes.'" he said. "At my parish, people are asking me how I am doing."

"When you're a Catholic and you believe in Catholicism, you're going to have ups and downs," Kendia, the former altar boy, said.

Jane Kwiatkowski Radlich, Thomas J. Prohaska and Mary Kunz Goldman contributed to this story.