Dino Cinel, disgraced ex-Catholic priest, found murdered in Colombia
By Maria Clark
NOLA.com/Times-Picayune
March 26, 2018

http://www.nola.com/crime/index.ssf/2018/03/dino_cinel_murdered_colombia_s.html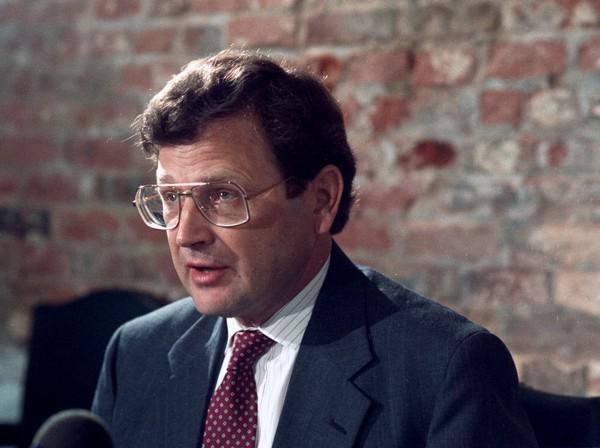 Dino Cinel at a press conference in 1991.
Disgraced ex-priest Dino Cinel, 76, was stabbed to death last month by his 18-year-old lover in Medellin, Colombia, according to reports from several international news outlets.
The former Catholic Priest rattled New Orleans in 1991 when a fellow priest discovered a collection of child pornography and homemade videotapes Cinel had filmed of himself having sex with young men in the Uptown rectory he lived in until 1988.
Cinel's homicide was confirmed by the chief of security of Medellin, Andres Felipe Tobon, who said that local authorities were unaware the former priest had been living in the northern Colombian city for the past five years and that he had been charged with possession of child pornography, according to Colombian news outlet El Tiempo.
Local police told El Tiempo that the young man called emergency services after stabbing Cinel confessing to the crime. Police arrived at the home and found Cinel tied to his bed with a stab wound to his abdomen according to news reports. The young man had been threatening to commit suicide by jumping from the sixth floor of the apartment building where he had been living with Cinel.
He told police that they had had an argument and had been in a relationship for about a year.
While living in New Orleans, Cinel worked as a historian and was a faculty member at Tulane University. He was living at the rectory of St. Rita Catholic Church until late 1988 when his colleague discovered in his room a collection of child pornography and homemade videotapes of Cinel having sex with young men.
The former priest had been vacationing in Italy at the time, when he was fired via a phone call from former Archbishop Phillip Hannan. It was call many at the time say amounted to a tip off to Cinel that authorities were after him, according to news reports from 1991.
Meanwhile, District Attorney Harry Connick allowed the church to hold onto the videotapes for weeks to try and identify the young men in the videotapes. Connick decided that the case was too weak to prosecute.
The case was brought out to light when one of Cinel's former lovers filed a civil suit alleging that he had been underage during a videotaped sexual encounter with the former priest.
Around that time Connick conceded in an interview that a desire not to embarrass the church was "an absolute consideration on my mind" in declining initially to proceed with charges against Cinel.
Cinel was eventually prosecuted for charges of commercial child pornography but he was acquitted when he convinced the court he had acquired the pornography before a 1986 law made it illegal to possess it.
His priesthood was formally revoked in 2010.