Deceased Priest Accused of Sexual Abuse Not on Buffalo Diocese's List
By Aaron Besecker and Jay Tokasz
Buffalo News
March 27, 2018

http://buffalonews.com/2018/03/27/deceased-priest-accused-of-sexual-abuse-not-on-buffalo-dioceses-list/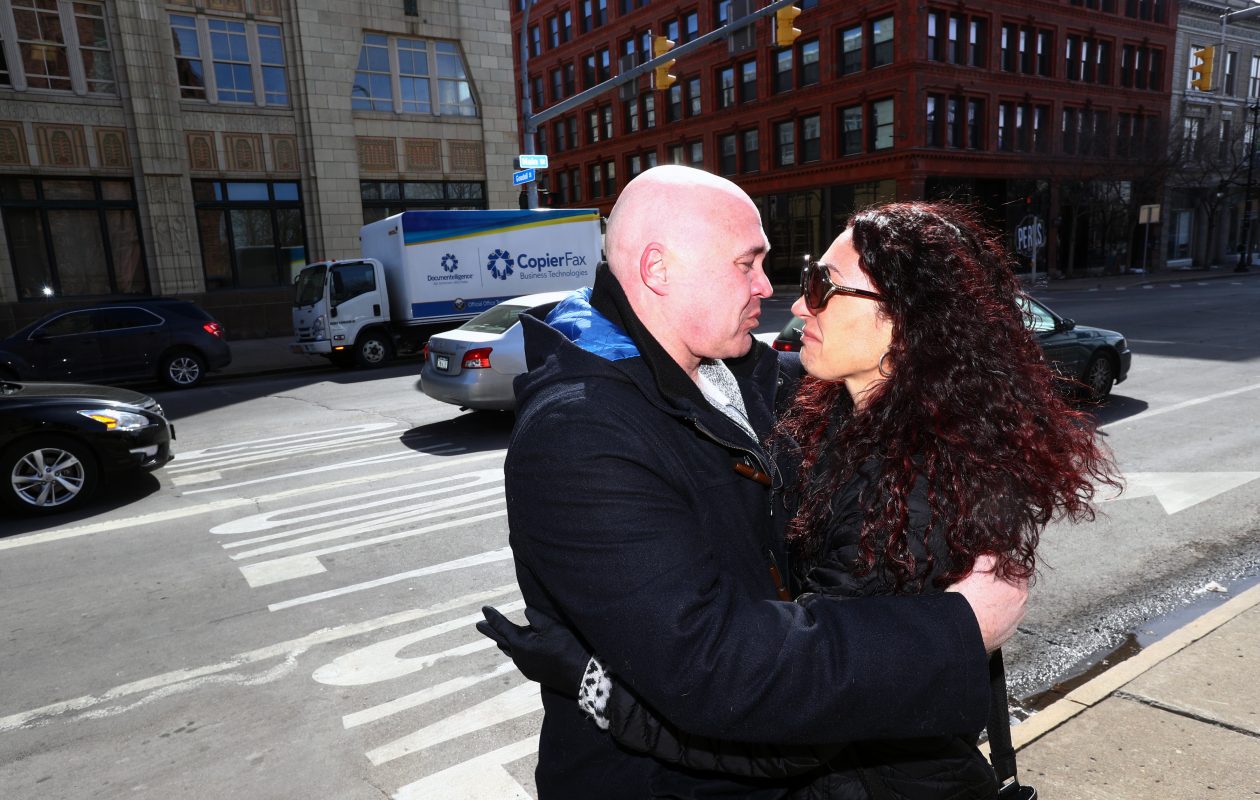 Wayne Bortle is hugged by his wife Stacey after he publicly accused for the first time the Rev. Robert P. Conlin of sexually abused as a teenager. Conlin, who is deceased, was not on the Buffalo Diocese's list of 42 priests who had credible allegations brought against them. Bortle held a news conference Friday, March 23, outside the diocese's headquarters at 795 Main St. in Buffalo (John Hickey/Buffalo News)



A former Genesee County man has accused a dead Buffalo Diocese priest of sexually abusing him as a teenager.

The Rev. Robert P. Conlin was not on the list of 42 priests whom the diocese recently said had credible allegations against them.

Wayne Bortle, 53, publicly accused Conlin of sexually abusing him in the rectory of St. Mary Church in Pavilion more than three decades ago, when Bortle was about 16.

Bortle said Conlin frequently hosted boys inside the rectory to watch television and to play pool, foosball and ping pong. Bortle said he was alone in the rectory with Conlin watching television the night he alleges the priest molested him.

"That was the only time I was there I can remember no one else was there," he said. Bortle said he never went back to the rectory.

Conlin was pastor of St. Mary from 1978 to 1997, when he died at age 66. Prior to St. Mary he served at various other parishes, including Our Lady of Loretto and Nativity of the Blessed Virgin, both in Buffalo, and St. Joseph Church in Albion.

Bortle has not filed a lawsuit against the diocese. His attorney, Mitchell Garabedian, said he notified the Buffalo Diocese of Bortle's claims on Jan. 18.

Bortle and Garabedian have not provided The Buffalo News with any correspondence from the diocese that acknowledged Conlin molested Bortle, offered Bortle compensation or agreed to pay for his counseling.

"Based on correspondence to me, counsel for the Diocese of Buffalo is looking into the matter," Garabedian said.

The Buffalo Diocese released its list of 42 priests on March 20. Bortle publicly accused Conlin three days later at a news conference on the sidewalk in front of St. Louis Church on Main Street, across from the diocesan headquarters.

George Richert, a spokesman for the diocese, would not directly answer when asked why Conlin wasn't on the list of 42 priests. Instead, he pointed to the parameters the diocese used when it released the names.

The list, the diocese said at the time, included "diocesan priests who were removed from ministry, were retired or left ministry after allegations of sexual abuse of a minor." The list also included deceased priests who had more than one allegation made against them.

"We stand by that description," Richert said.

No one else has contacted The News making allegations against Conlin.

Bortle moved away from Pavilion with his family in 1980. He said the incident still haunts him.

"I've got social anxiety now. I take medication for that every day," he said. "When you have a secret like that, you think about it more often than not."

Bortle now lives in New Hampshire and is married with two teenaged children. He said he feels some guilt for not coming forward earlier to help other victims. He also said he decided to talk publicly about what happened to him to bring some healing for himself and to support the proposed Child Victims Act, which he said would help prevent sexual abuse of children in the future.