Lawsuit Alleges Archbishop Walsh Was Aware of Priest's Child Sex Abuse, but Did Not Stop It
By Tom Dinki
Olean Times Herald
March 28, 2018

http://www.mdjonline.com/neighbor_newspapers/extra/news/lawsuit-alleges-archbishop-walsh-was-aware-of-priest-s-child/article_f3c5e7c9-66b8-5449-9282-ebc29161b71b.html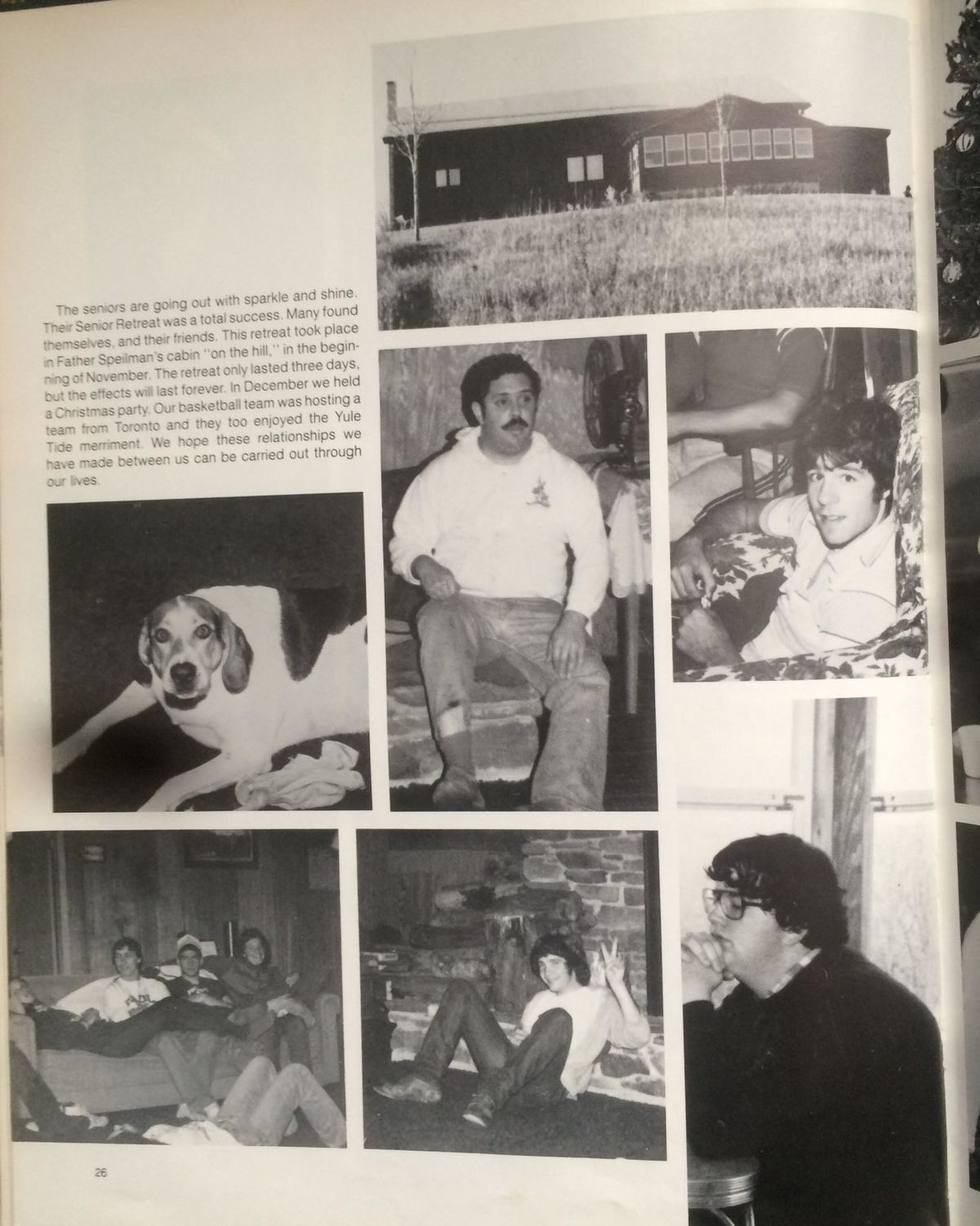 A page from the 1981-82 Archbishop Walsh High School yearbook details the senior class' retreat to the Rev. James A. Spielman's "cabin on the hill." Spielman is pictured in the center photo that is second from left.



A lawsuit filed by a former Archbishop Walsh High School student alleged the Rev. James A. Spielman abused him from approximately September 1979 through 1982 when he was 14 to 17, and that school officials were aware of the abuse but did nothing to stop it.

The lawsuit, filed in 2014 in the U.S. District Court for the District of Hawaii, includes allegations Spielman molested the victim, including by sexual intercourse, and that the former Walsh priest and religion teacher supplied minors with alcohol and pornography.

Both Catholic Diocese of Buffalo and Walsh officials were aware Spielman "had an unusual interest in minor boys," yet allowed him to have frequent, unsupervised contact with them, according to the lawsuit.

Photos from the 1982-83 Walsh yearbook obtained by the Olean Times Herald state senior classes would go on annual, three-day retreats to Spielman's "cabin on the hill." Students even dedicated that entire yearbook to Spielman for "acting not only as a teacher but as a friend as well."

The lawsuit further alleged several Walsh students reported to teachers and staff that Spielman was also abusing them, but nothing was done. It even mentioned a particular Walsh nun who allegedly at times walked in on Spielman hugging and kissing the victim in a classroom.

The lawsuit also made accusations Spielman had a known history of sexually abusing children even before he arrived at Walsh in 1979, stating the diocese transferred him from parish to parish and to receive treatment at Southdown Institute due to the allegations.

It states Spielman was at Southdown, located outside of Toronto, sometime between being ordained in 1970 and leaving the ministry in 1993. The Rev. Norbert F. Orsolits, a former St. Mary of the Angels Church assistant pastor who last month admitted to The Buffalo News he abused "probably dozens" of teenage boys, was also sent to Southdown.

However, Southdown, which was named a defendant, was granted a summary judgment due to available records only accounting for Spielman's 1989 stay at the facility, years after his alleged abuse of the victim.

The Catholic Diocese of Honolulu is also named as a defendant in the suit, as it is alleged Diocese of Honolulu officials also witnessed Spielman abuse the victim at several Hawaii parishes during a 1982 trip. Spielman was assigned as a visiting or supply priest to several parishes in Hawaii.

The Diocese of Honolulu was ordered to pay the victim $25,000, according to the bankruptcy filing.

The victim was only able to file the suit because in 2012, Hawaii passed a law giving child sex abuse victims a two-year window to file lawsuits in cases that had passed the statute of limitations.

In New York state, victims of childhood sexual abuse only have until they are 21 to sue the institution where the abuse took place and until they are 23 to sue the perpetrator. The Child Victims Act is currently being considered by state lawmakers in Albany and would allow victims to sue until they turn 50, as well as create a one-year window during which cases regardless of age could be pursued.

"The only reason everybody knows about this is this one particular survivor happened to have been taken by an offender into a jurisdiction where the courts we're open to him all the way out in Hawaii," said attorney Mike Reck, who is representing several victims of Buffalo diocesan clergy, but not Spielman's victim. "There's something that's fundamentally unfair when the vast majority of the survivors who were still within the Diocese of Buffalo are denied that type of justice."

The Diocese of Buffalo announced a fund to settle claims of child sexual abuse against its clergy shortly after allegations against Orsolits came to light. However, only individuals who have previously made claims are eligible.